Dennis Hastert's Portrait Removed From House Of Representatives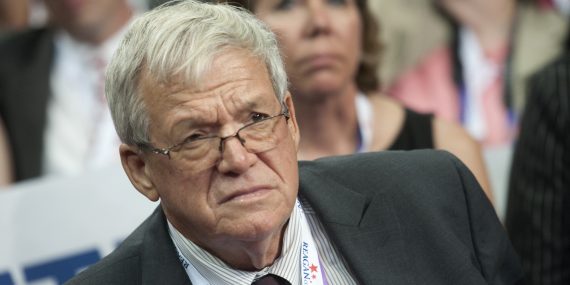 Politico reports that one of the first notable impacts of Paul Ryan's Speakership has been the removal of the portrait of Dennis Hastert from the group of portraits of former Speakers Of The House that are displayed in an area just off the House Floor. Hastert, you will recall, was indicted over the summer on Federal banking law charges that, it was soon revealed, involved him making payments to cover-up allegations of misconduct while he was a teacher an wrestling coach in Illinois before being elected to Congress in the 1980s. Last week, the former Speaker entered a guilty plea to the charges, not the least because going to trial would have mean that those allegations would have been aired in a public trial.
This is a move that appears to be without precedent since there doesn't seem to be any other former Speaker whose portrait is not included in the collection. It also means that the portraits displayed now go from Newt Gingrich, who served from 1995 to 1998, to Nancy Pelosi, who served from 2007 to early 2011, and eventually to John Boehner whose portrait will no doubt be added in the near future. Dennis Hastert's tenure of nearly eight years, which ranks in the top five of the longest Speakerships in American history has, at least for now, been sent down the memory hole. Ryan, of course, spent roughly his first six years in Congress with Dennis Hastert as Speaker.