Despite Bankruptcy, Detroit Subsidizing New Red Wings Stadium
Detroit is bankrupt, but that isn't stopping the Red Wings from getting $400 million in taxpayer subsidies for their new stadium.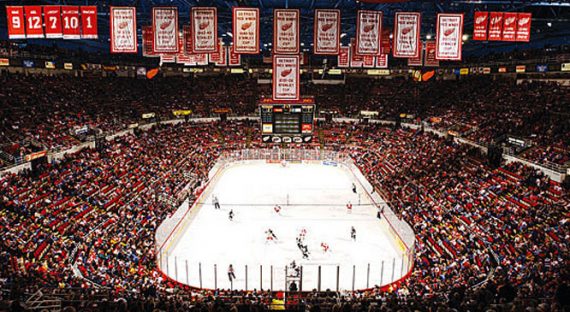 Despite the fact that Detroit's financial situation is so bad that the city was forced to file for Chapter 9 bankruptcy protection, plans are still moving forward for a new stadium for the Detroit Red Wings that includes the expenditure of more than $400 million in taxpayer dollars:
Detroit's financial crisis hasn't derailed the city's plans to spend more than $400 million in Michigan taxpayer funds on a new hockey arena for the Red Wings.

Advocates of the arena say it's the kind of economic development needed to attract both people and private investment dollars into downtown Detroit. It's an argument that has convinced Michigan Gov. Rick Snyder and Kevyn Orr, the emergency manager he appointed to oversee the city's finances, to stick with the plan. Orr said Detroit's bankruptcy filing won't halt the arena plans.

"I know there's a lot of emotional concern about should we be spending the money," said Orr. "But frankly that's part of the economic development. We need jobs. If it is as productive as it's supposed to be, that's going to be a boon to the city."

But critics say the project won't have enough economic impact to justify the cost, and that it's the wrong spending priority for a city facing dire economic conditions.

Detroit city services are already stretched extremely thin. On average, police take about an hour to respond to calls for help, and 40% of street lights are shut off to save money.

"If you want people to live in the city, and not just visit to go to games, you have to invest in schools, in having the police to respond to calls," said Gretchen Whitmer, the Democratic leader in the state senate. "There are so many investments that should trump a sports stadium."

Additionally, Orr wants to make deep cuts to both the pensions and health care coverage promised to city employees and retirees.

The state legislature approved the taxpayer funding for the arena in December. The controversial vote split Detroit's own legislative delegation. Whitmer argues that the matter should be reconsidered given the city's worsening finances.

(…)

The arena will be paid for with a $450 million bond issue that will be repaid over the next 30 years. Taxpayers will be paying almost two-thirds of the cost of the arena — $283 million — and private developers will cover the rest. Including interest, it's projected that there will be a total of $444 million in taxpayer funds spent on the project.

Additionally, the developer has committed to spending another $200 million to build retail, office, residential and hotel space as part of the project. The construction is expected to create about 8,000 construction jobs with work due to start next year.

Most of the tax money going into the project would otherwise be going into Detroit schools, which are also under state control due to their dire finances. But the lost money is slated to be made up for by the state government according to Michigan's school-funding formula.
The arguments in favor of the stadium are the same ones that one typically hears when the issue of subsidized sports stadiums. One advocate for the project claims that a new arena for the Red Wings would bring in as much as $1 billion in economic development over 30 years, for example. However, one would expect an advocate or the project to be making such claims. Reality, as it turns out, is really quite different. Independent economic studies, such as this one by sports economists Roger Noll and Andrew Zimbalist, have shown that taxpayer subsidies for sports stadiums do not lead to significant economic benefits for the community as a whole.  Instead, the benefits go mostly to team ownership and those businesses that benefit directly from the presence of the stadium in a given neighborhood.
With respect to the Red Wings stadium specifically, critics have called the estimates of the alleged benefit to the wider community into question:
Time and time again, new stadiums or arenas in American cities either spur little to no new development around them, or the new surrounding development merely sucks business from elsewhere in the city or metropolitan area.

That's according to economics professors, who say the economic impact numbers hung on a new, $650 million Detroit Red Wings arena and entertainment district, revealed in greater detail Wednesday, will not only have a far less of an impact as stated by its proponents, but its impact in Detroit could be a wash.

"Generally speaking, anything that happens in or around the arena is drawn away from the community or metropolitan area," said Dennis Coates, a professor of economics at University of Maryland in Baltimore County. "In this case it's obvious what will happen: So you build a new arena. Instead of people going to places near the old place, they go to places near the new place."

Coates said that he has never seen a boost in overall economic activity from a new arena. As an example, he pointed to the Verizon Center near him in Washington D.C. The 20,000-seat complex housing the Washington Wizards, built in the mid-1990s, has spurred some trendy businesses around it, but has taken business away from other parts of the capitol such as Georgetown or Adams Morgan.

"You can always find places where development occurred around them, but you can also find places that lose business to it," he said.

The agency says it will have a statewide economic impact of $1.8 billion.

Coates called those numbers "way inflated." He said that because there are typically about 50 home hockey games per year (42 regular season games plus possible playoffs), that "it's hard to imagine 5,000 full-time employees being needed to operate and run and manage a place that's used 50 times a year."

Current positions at the Joe Louis Arena also need to be taken into account, Coates said, as those will either be shifted to the new space or lost altogether.

Rod Fort, a professor of Sports Management at the University of Michigan, said it is important to focus on what the public is paying for the arena and district – and then subsequently getting out of it.

"The only reason this is interesting is they're asking for public money," Fort said, roughly estimating the net public investment from Michigan tax payers at $250 million. "If they weren't asking for public money we wouldn't care one iota. So the real question, is what is the public going to get for 250 million?"
The most egregious thing about all of this, of course, is that this plan is going forward at the same time that the City of Detroit is in the middle of a massive financial crisis that has forced it to file for bankruptcy protection. Before this crisis is over everyone who has a claim against the city, from bondholders to public employees is going to end up paying some kind of price to try to get the city out of its mess. At the same time, the Red Wings, owned by a man with a net worth over $2 billion, will end up getting a huge subsidy from the city for a stadium that they could easily afford to pay for themselves. It's bad enough when a team extracts this kind of benefit from a city that is generally in good fiscal health, it's positively insane when a city like Detroit ends up getting stuck with a deal like this and the City Fathers have decided that the deal is going to stand even though the city as a whole really can't afford it. It's generally true that there are better things than any city could be spending money on rather than a sports stadium, that is doubly true in Detroit where spending money on luxuries like a new stadium is pretty much the last thing the city should be doing.