Scott Walker's Crony Capitalism
"Fiscal conservative" Scott Walker is handing Wisconsin taxpayers a $400 million bill for a new arena for the Milwaukee Bucks.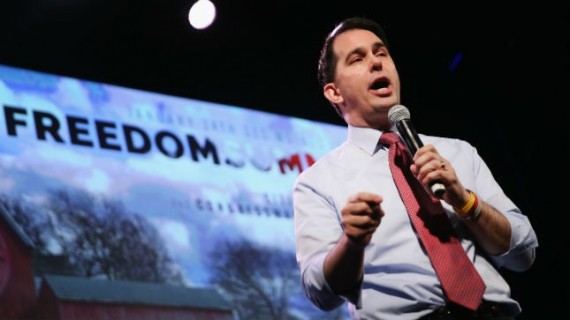 Wisconsin Governor Scott Walker took a break from the campaign trail today to sign into a law a bill that puts Wisconsin taxpayers on the hook to the tune for $400 million to build a new stadium for the NBA's Milwaukee Bucks:
Governor Scott Walker's fiscal conservatism will collide with the reality of sports-team subsidies when he commits Wisconsin taxpayers to pay $400 million for a new basketball arena.

At Wednesday's signing, the Republican presidential candidate's message of being a tightfisted taxpayer champion will be weighed against public costs spread over 20 years. The ceremony also may draw attention to the $200,000 that the co-owners of the National Basketball Association's Milwaukee Bucks donated to a group backing his campaign.

Walker is reaching this intersection of principle and pragmatism as he travels early-primary states to prove his low-tax, small-government mettle in a crowded field of Republicans. He runs the risk of rankling conservatives in those places who believe government shouldn't choose economic winners.

"I don't think taxpayer money should be used for things like that," said Tom Thomson of New Hampshire, who is son of a governor and organizer of an effort to get candidates to take a no-tax-increase pledge.

"Why should you burden all the rest of the taxpayers?" said Thomson, whose state holds the first primary Feb. 9. "Let the private sector in Milwaukee work on that."

The state would put $250 million toward the arena, with interest adding up over decades. The subsidy, approved last month with bipartisan support in Wisconsin's Republican-controlled legislature, wasn't addressed in the first presidential debate Thursday. That might change in future forums — or attack ads.

"I don't think it's a killer of his presidential ambitions, but it does raise some concerns about what is an appropriate government expenditure," said Oran Smith, executive director of the conservative Palmetto Family Council, in South Carolina's capital, Columbia. That state is tentatively set to hold its Republican primary Feb. 20.

Walker, 47, argues that the subsidy is a "good deal," partly because Wisconsin would lose revenue if the Bucks leave, as they had threatened. The owners of the Bucks, a team whose value Forbes pegged at $600 million, will pick up half the cost of the $500 million arena.

The governor has friendships among the team's owners, including some who contributed to his presidential effort. Through a limited-liability corporation registered under his son's name, Bucks co-owner Jon Hammes on May 27 donated $150,000 to the super political action committee backing Walker, according to state and federal records.

Hammes didn't return a phone call to his office seeking comment on the donation.

The super-PAC also received $50,000 on May 15 from Ted Kellner, another Bucks owner, Federal Election Commission records show. Kellner didn't return a phone message seeking comment on the deal.
Walker is hardly the first public official on either side of the aisle to sign on to a deal for a sports stadium that is either fully or partially financed by taxpayers, of course. All across the country, you can find examples of such facilities that team owners, who are typically billionaires, have managed to convince public officials to put taxpayer money behind. Typically, of course, the argument is made that the stadium will generate revenue and jobs for the surrounding community.  It's an argument that has worked in Washington, D.C. both with the Nationals Stadium that was built several years ago and the new stadium being built for the city's professional soccer team. It worked in New York City, which provided public financing both for the new Yankee Stadium and the Mets' Citi Field when they were rebuilt, and it worked in New Jersey when the Jets and Giants wanted a new stadium at the Meadowlands. It even worked in Detroit in the midst of a bankruptcy, where the city pumped some $400 million into a new stadium for the Detroit Red Wings. There have been some cases where an owner's appeal for public funds for a private sports stadium were unsuccessful, of course, but for the most part politicians have fallen for the pleas of the team owners. Mostly this seems to due to the a combination of not wanting to be the politician who shoulders the blame if a team follows through a threat to relocate if they don't get public assistance with a new facility and, of course, the fact that the team owners are often quite generous donors to local politicians. This last fact is quite apparent in Walker's case.
The reality, of course, is that the economic arguments in favor of publicly financed sports stadium are largely nonsense.  Independent economic studies, such as this one by sports economists Roger Noll and Andrew Zimbalist, have shown that taxpayer subsidies for sports stadiums do not lead to significant economic benefits for the community as a whole. University of Maryland-Baltimore County economist Dennis Coates, meanwhile, has calculated that sports stadiums end up costing taxpayers and that people who live in cities with publicly financed stadiums have a per capita income on average that is $40 less than those who do not. While that may not sound like a lot of money, it becomes quite substantial when multiplied over an entire metropolitan area. Other studies have reached very similar conclusions, and seem to establish decisively that the purported economic benefits for localities from publicly financed stadiums are largely a chimera. Unsurprisingly, the people who tend to benefit from publicly financed stadiums are the people who have an immediate interest in the team(s) in question, such as the owners, players, and others that directly benefit from the revenue generated by a sports palace that taxpayers have built for teams owned by billionaires that employ millionaires.
Given the fact that a large part of Walker's message in his Presidential campaign revolves around the fiscal discipline he supposedly introduced to Wisconsin since he became Governor in 2010, the fact that he is saddling future Wisconsin taxpayers with a $400 million burden seems significant. As Paul Waldman correctly points out, this is exactly the kind of crony corporate capitalism that conservatives claim to be against, and yet here is Walker doing exactly what he claims to be opposed to. Will things like this hurt him as we move forward in the race for the Republican nomination? That will depend on the voters and on whether or not his opponents make him answer for why he is saddling future Wisconsintes with the burden of building an arena for a bunch of billionaires and millionaires.