Despite Successful Endorsements, Palin's Own Prospects Remain Dim
Sarah Palin has done pretty well at helping Republicans win primaries this year, but her own political popularity isn't any better than it was after she left office last year.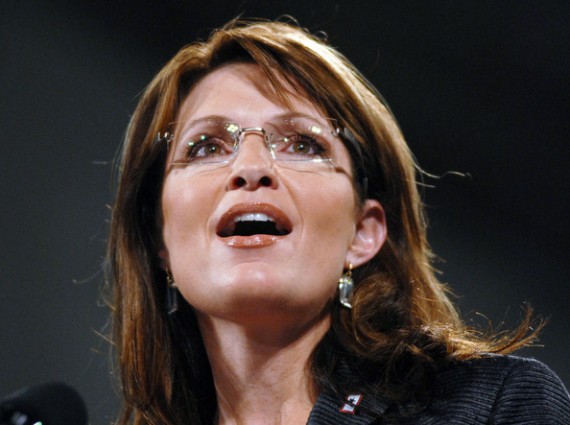 It's been a fairly good primary season for Sarah Palin, most recently with the surprise performance of Joe Miller in Alaska, but her own personal political prospects aren't nearly as rosy as the people she's endorsed:
Almost three out of five Americans believe former Alaska Gov. Sarah Palin (R) would not be an effective president, a new poll found Monday.

59 percent of U.S. adults said they don't think Palin, the 2008 Republican vice presidential candidate and potential 2012 candidate, would be an effective president of the United States.

26 percent of adults, by contrast, said they believe Palin would be effective, according to a 60 Minutes/Vanity Fair poll conducted earlier this August.

(…)

Even Republicans — and conservatives within the GOP — appear split over whether Palin would be well-suited to occupy the nation's top political office.

Republicans on balance believe, 47-40 percent, that Palin would be an effective president. 41 percent of conservatives said they thought Palin would do well in the White House, while 40 percent said she would not — a close margin among those within the GOP who are seen as Palin's base of support.

If Palin were to run for president in 2012, she might also face difficulty in winning over independents, 63 percent of whom told the poll that Palin would not have the ability to be effective in the Oval Office. 21 percent of independents said Palin would have those skills.
It's numbers like this that make me think that Palin won't run for President, only because any rational person looking at numbers like this would realize that they have no chance of winning a General Election. Especially when their unfavorable numbers have only gone up the longer they've been in the public eye: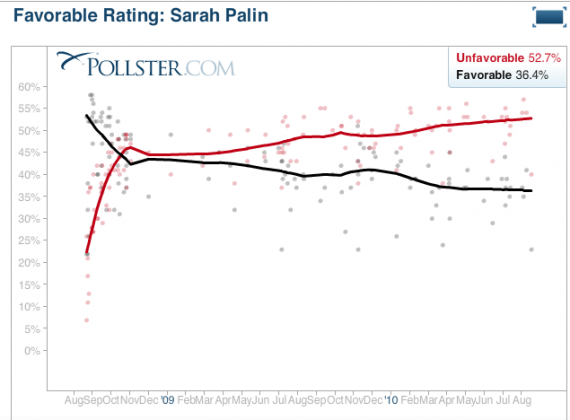 But then, Sarah Palin hasn't exactly shown a proclivity for behaving like a traditional, rational politician, so anything is possible at this point. If she does run, it's sure to be an unconventional campaign, unlike anything the Republican primaries have ever seen, which is why any kind of "stop Palin" movement among the GOP establishment may be too little, too late.