Detroit To Start Turning Out The Lights
The City of Detroit appears ready to abandon vast sections of itself to the metaphorical jungle.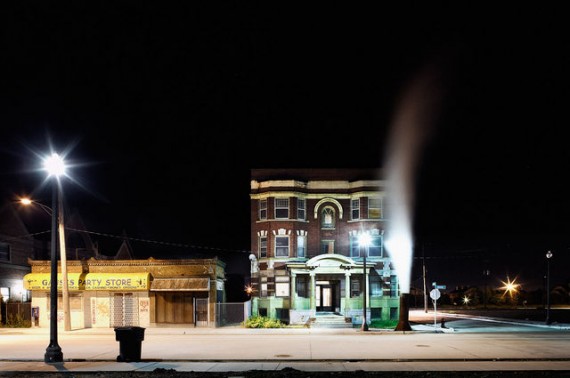 In the latest sign of the continued decline of what used to be a great city, Detroit is considering turning off nearly half it's streetlights:
Detroit, whose 139 square miles contain 60 percent fewer residents than in 1950, will try to nudge them into a smaller living space by eliminating almost half its streetlights.

As it is, 40 percent of the 88,000 streetlights are broken and the city, whose finances are to be overseen by an appointed board, can't afford to fix them. Mayor Dave Bing's plan would create an authority to borrow $160 million to upgrade and reduce the number of streetlights to 46,000. Maintenance would be contracted out, saving the city $10 million a year.

Other U.S. cities have gone partially dark to save money, among them Colorado Springs; Santa Rosa, California; and Rockford, Illinois. Detroit's plan goes further: It would leave sparsely populated swaths unlit in a community of 713,000 that covers more area than Boston, Buffalo and San Franciscocombined. Vacant property and parks account for 37 square miles (96 square kilometers), according to city planners.

"You have to identify those neighborhoods where you want to concentrate your population," said Chris Brown, Detroit's chief operating officer. "We're not going to light distressed areas like we light other areas."
Of course, once you make the decision to "darken" those run-down sparsely populated areas of a given city, all you're really doing is ensuring that those areas go into further decline. Without sufficient lighting at night, those parts of the city will inevitably decline even further as criminal elements take advantage of the situation, which in turn will cause more people to leave the areas completely, thus abandoning it to further decline and decay. It may make sense right now, when funds are short and the logic of spending more money in parts of town that are already havens for street crime and drug gangs admittedly very compelling. In the long term, though, this essentially means that there will be entire areas of what was once known as "Detroit" that most likely will never come back. Perhaps there's else left to do at this point, and this is the inevitable result of a city that failed to modernize in the face of a declining auto industry thanks in no small part to the fact that people kept electing a series of corrupt officials to run the city.
Jonathan Turley laments the whole darn thing:
It is truly shocking and sad. Having grown up in Chicago, I remember Detroit when it was a thriving city. It was one of the world's great cities. It is a wonderful location near the Canadian border and has some beautiful areas. I love the history surrounding the city. For that reason, I am very angry over its demise and frankly blame a long line of shockingly bad politicians. It is not that any politician could stop the economic slide due to the decline of the auto industry, but the Detroit leadership has lurched from one criminal investigation to another over the years. It now stands as a cautionary tale for all cities, particularly in losing their tax base and diversity in population. Many black and white families moved out of Detroit to avoid rising taxes and crime rate in what became a downward spiral for the city. That reduces jobs in the city and led to more people fleeing the city (in addition to the loss of auto jobs). With whole areas of the city now being abandoned, it is hard to see how the city can recover significantly in the near future
Writing the Etan Patz post I wrote late yesterday afternoon, I was reminded of how different a place New York City was in 1979 from what it is today.  The city's financial situation was never nearly as  bad as things are in Detroit today, but New Yorkers were only a few years removed from a financial crisis that had nearly bankrupted the city. During the 60s and 70s New York had become a grity, dirty city. Few people would've believed, I think, that the city was only a few years away from the beginning of a transition that would return the Big Apple to its former glory. Times Square, which used to be among the seediest places on the East Coast, is now a thriving tourist area, and the New York City subway system puts mass transit in any other major American city to shame. I doubt the same thing can happen in Detroit (or Gary, Indiana or any of the other number of Midwestern cities that have found themselves in situations like Detroit's), but we've also seen smaller cities turn themselves around. Go to a city like Pittsburgh or Cleveland and you'll see what can happen when an industrial city in a post-industrial nation finds ways to adjust to the new world. It hasn't been perfect, but those cities are certainly in better shape than Detroit has been in a decade, or is likely to be a decade from now. That, it seems, is what happens when a city has leaders who aren't primarily in office to line their own pockets. 
Photo via Businessweek