Did Obama Plagiarize State of the Union?
Was the 2011 SOTU a blatant rip-off of past speeches? Or simply banal?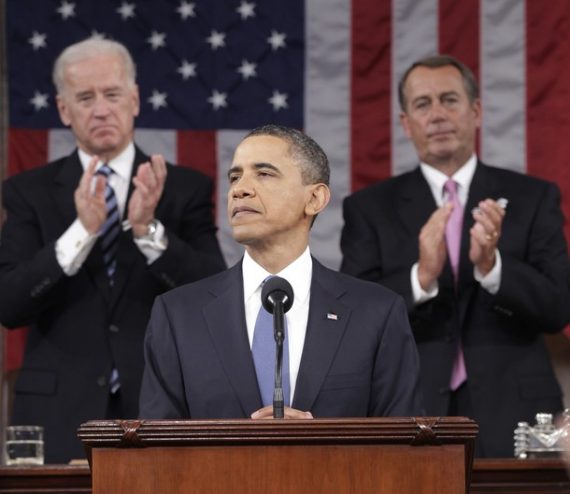 Alvin Felzenberg argues that "Obama's State of the Union Was Tantamount to Plagiarism."
Had the president submitted the text of his second State of the Union Address in the form of a college term paper, he would have been sent forthwith to the nearest academic dean. Once again, our public affairs are such that we have one standard for presidents and another for undergraduates.
That's a bold claim.  How so?
Early in his address, Obama said that he wanted the nation he leads to be a "light to the world." The last president who set such a mission for the nation he led, and in those exact words, was Woodrow Wilson.
Variations on this theme go back to our colonial days and John Winthrop's "shining city on a hill" — a phrase re-purposed by Ronald Reagan.  No undergraduate would be docked for failure to footnote a common platitude.
Obama's concept of the "American family" may well have had its origins in the first State of the State address New York Governor Mario Cuomo delivered in 1983. Cuomo proclaimed the state of New York as a "family." He also talked about multiple partnerships, both public and private.
Seriously?  Every athletic coach argues that his team is a family, too.
In an address to the Heritage Foundation in the early 1990, Margaret Thatcher delivered what might go down as the most memorable line in Obama's second State of the Union address. The British Prime Minister told her American audience that the United States was the "first nation to have been founded on an idea." It took the president a few additional words to get this idea across.
Again, this is a major thread in the American myth.  Some variation on this has probably been in every SOTU in my lifetime.
Obama's pointed mutterings about a second "Sputnik Moment" being upon us and his recollection of how American policymakers responded to the last one with increased expenditures on infrastructure, science, technology, and education were clearly intended to evoke the spirit of Dwight D. Eisenhower. His setting of specific deadlines and goals was vintage JFK, but for the absence of any sense of challenge to his audience, list of benefits the United States would derive from them, or any semblance of a shared adventure the American people were about to embark upon.
So, he's being dinged for using an obvious historical allusion?  And accused of plagiarism for not copying it properly?
There was a certain Back to the Future feel to the masterful tributes Obama paid those Ronald Reagan might have described as "ordinary heroes." After all, it was Reagan who began the practice of inviting citizens who had done extraordinary things to sit beside the first lady in the House gallery as the president recited their achievements. It was also Reagan who reminded his listeners that the greatness of America emerged not from the hand of government, but through the entrepreneurial spirit of the American people.
I find the "ordinary heroes" bit annoying. But, then, I'm hyperanalytical.  Most people love this stuff, which is why every president since Reagan has stolen this bit.
Obama received his most sustained applause when he said, "I know there isn't a person here who would trade places with any other nation on Earth." Leaving aside the faulty grammar (people change places with people, not with nations), the poaching from John F. Kennedy's immortal inaugural address was obvious enough for the most historical of Obama's listeners to notice. ("I do not believe that any of us would exchange places with any other people or any other generation.") That Obama could utter almost identical words days after paying tribute to Kennedy on the 50th anniversary of the delivery of that famous speech and not making reference to it suggests a self-absorption rare even among presidents.
Hell, Jimmy Carter said much the same off the cuff when confronted by Latin American protestors.  Again, it's a standard theme of American politics.  It's objectively true:  Anyone in the room who wanted to live in another country could easily do so.  It's also mythological:  Whatever was once true, there are now plenty of countries with comparable standards of living and sense of freedom. And that's a good thing.
Most pointedly, the low point of Obama's speech came when he brought back government re-organization from the ash heap of failed efforts of previous presidents who sought to save money without inflicting pain on a public that had grown accustomed to government largesse. This one, like all that talk about all those green energy jobs that lay before us, had fallen out of the presidential repertoire with retirement of Jimmy Carter. Obama might have had the decency to have Carter on hand to witness the moment. He will have another chance should he, when he delivers his budget, bring back that other Carter flop from yesteryear, "zero based budgeting."
Uh, this has been a mantra of every Democratic president or presidential nominee in my memory.
Even Obama's feigned attempt at humor had an antecedent in the remarks of a predecessor who spun better yarns than this president. Obama informed his listeners that salmon comes under the jurisdiction of one department when swimming in fresh water and under another when swimming in salt water. He rhetorically inquired what happened to the fish when "smoked."

Somewhere in the White House library resides a published letter Franklin Roosevelt wrote to an adviser in which he complained that some bears were the property of the Interior Department, while others belonged the National Parks System. FDR, tongue in cheek, warned of a pending custody battle over cubs that emerged from illicit unions of bears crossing departmental jurisdictions.
I used variations of this old saw when I was teaching American Government 101. It's funny because it's true.
Feltzenberg's charges of intellectual dishonesty here are, well, intellectually dishonest.  And that's a shame, because he's inadvertently made the case for a critique that's actually true: The speech was a long, banal list of platitudes without much in the way of substance.
Then again, that's only an indirect critique of Obama.   While he could have broken with recent tradition and actually said something, he instead followed suit and delivered a laundry list of vague policy goals that few could disagree with but that, alas, are unlikely to be achieved.