Diversity on TV Talk Shows
MSNBC's Chris Hayes uses a quota system to make sure his guests aren't all white dudes.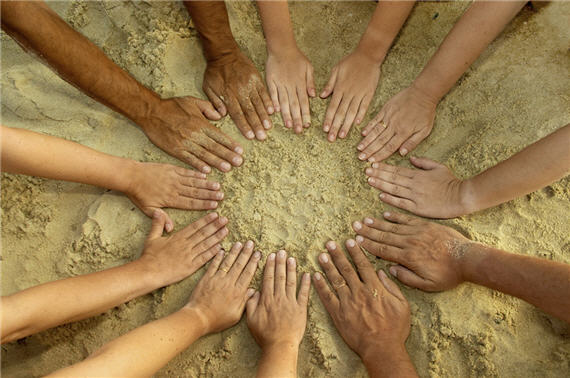 MSNBC's Chris Hayes uses a quota system to make sure his guests aren't all white dudes.
CJR ("Quotas get results"):
[E]arlier this month, after MSNBC announced it was giving Chris Hayes his own daily primetime news show, Media Matters published a chart that showed how his weekend show, Up with Chris Hayes, differed from its cable-news competitors: It wasn't all white dudes. Specifically, 57 percent of the show's guests were not white men. (Full disclosure: I have, in the past, been one of the non-dudes featured on said program.) To hear lots of journalists tell it, this is an impossible feat. So I called up Hayes to ask how he and his team created a shining oasis of diversity in a cable-news desert of sameness.

"We just would look at the board and say, 'We already have too many white men. We can't have more.' Really, that was it," Hayes says. "Always, constantly just counting. Monitoring the diversity of the guests along gender lines, and along race and ethnicity lines." Out of four panelists on every show, he and his booking producers ensured that at least two were women. "A general rule is if there are four people sitting at table, only two of them can be white men," he says. "Often it would be less than that."

If they did end up booking a show that featured a majority of white men, they'd call it "taking a gender hit." Hayes explains, "and then we'd be like, well, we have to make up for that either in the second half of the show or on the Sunday show."
This is a radical concept, but it's certainly made his show stand out from the competition. Aside from the quotas, though, this is possible because of another decision: Hayes simply covers different topics than the other shows.
"The editorial decisions, the content we decided to pursue, also dovetailed with that," he continues. "We had three Iraqis join us when we talked about the 10-year anniversary of the war. We did a full show about feminism. And so, part of it is that we weren't talking about the Ryan budget every week. Often we were discussing topics on which there was a natural affinity between people of backgrounds different than the standard one that is often presented on television."

But sometimes national politics is the hottest topic, and some argue that media can't be held to a diversity standard when women and people of color are so drastically underrepresented in relevant spokesperson and leadership positions. Hayes acknowledges that, for shows like Meet the Press, there's probably something to that excuse. But most news outlets aren't only talking to senators and CEOs. There's a wide range of perspectives that can be brought to bear on any number of political issues. And, without a quota, it's easy to default to the same handful of big names.
To me—and granted, I'm a white dude, although not one who's on national television all that often—this is more important than the racial and gender diversity. One of the main reasons I so seldom watch these shows is that they're so incredibly repetitious and predictable. Frankly, if Hayes were talking about the same subjects as "Meet The Press" and "This Week," I'm not sure that the conversation would be radically different simply because some of the faces are other-than-white or because half the guests wore dresses instead of business suits. Sure, race and sex have an impact on perspective. But, since we'd likely be pulling from the same pool of bicoastal elites, we'd still get a pretty narrow perspective.
For that matter, the reason that it gets tiresome to constantly see John McCain, Lindsey Graham, and Chuck Shumer on every show isn't because they're white dudes of a certain age. Rather, it's because we already know what they think and have heard their views ad infinitim. If instead they had Dan Drezner, John Cole, Glenn Greenwald, and Daniel Larison on the panel, we'd get a far more diverse and refreshing set of viewpoints—even though all of them are white and male.
Indeed, moreso than making sure he gets women and people of color—even women of color!—on his show what makes "Up With Chris!" so different is that his guests typically aren't national politicians, grizzled old pundits, and political operatives but rather actual subject matter experts whose voices seldom reach a national audience.