Do Conservatives Think The Poor 'Have It Easy?'
Coming across as uncaring doesn't help advance your political arguments.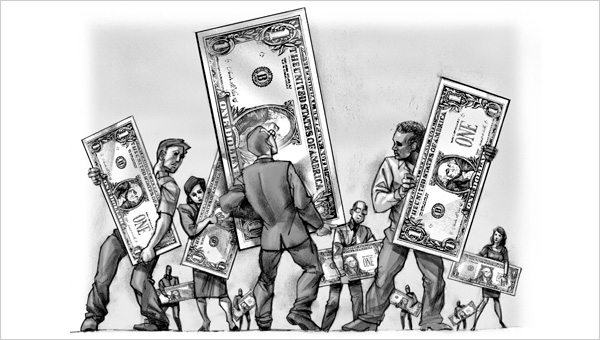 Christopher Ingraham picks apart newly released data from the Pew Research politics poll and finds something, well, quite odd about the attitude that many people on the right have toward the poor:
More than three quarters of conservative Americans – those in the steadfast conservative, business conservative, and young outsider typology groups - agree that "poor people have it easy because they can get government benefits without doing anything." Only seven percent of steadfast conservatives say that the poor "have hard lives."

Even a not-insignificant share of left-leaning groups say that the poor have it easy. But overall the widespread agreements among conservatives on this point is what's really striking here. There are reasonable, well-intentioned arguments on either side of many poverty-related issues – about the causes of poverty (see the right half of the chart), or whether government benefits provide a leg up or simply perpetuate poverty, for instance.
Ingraham goes on to list the way that being poor isn't exactly easy:
This kind of attitude toward the less fortunate isn't new on the right, and its something that I see repeated on a regular basis. People who are among the long-term unemployed are seen as living off the government dole and thus not motivated to find a job, hence the Republican opposition to extended long-term unemployment benefits. People who receive food stamps are, allegedly, using their money to pay for unnecessary items, therefore they are leeches. If you have a minimum wage job and can't make ends meet, then you should go out and get another job, get an education, or find another way to make more money. Granted, there are policy analysts on the right who make arguments regarding these types of programs who don't frame their arguments this way, and indeed reject the premises of these arguments, however, if you pay even a little bit of attention to the rhetoric of "the base" on the right, it becomes very clear very quickly that the results of this Pew poll are a largely accurate reflection of what many people on the right think about the poor.
In some cases, I think, the issue isn't so much lack of sympathy for people who have fallen on hard times as a seemingly tone deaf inability to realize that there are good and bad ways to frame arguments, and to do so in ways that don't cause you to come across as a heartless jerk. This, in the end, was the problem that Mitt Romney faced in 2012. I've never met the man, but I honestly don't believe that he doesn't care about the oft-discussed "47%." Indeed, there were plenty of testimonials regarding his own private acts of charity on his own and in connection with his Church that make it clear that the opposite is true. Similarly, many of the same people on the right who will make the "lazy" argument about people in poverty that I noted above are also very generous with their own time and money when it comes to charity toward those less fortunate, especially through their churches. For some reason, though, they seem to forget about all of that when it comes time to discuss public policy issues related to the poor and even the middle class. In 2012, Mitt Romney paid the price for that.
None of this is to concede the argument that more government and more money are the only or the best solutions to the problems of poverty. A half century of the so-called "War On Poverty" provides ample evidence to show that this is not the case, while reforms that have been implemented in the last 20 years at the state and local level have shown that there are things that can be done to help the poor that don't involve more "welfare" as we traditionally understand it. Given poor parents more choice when it comes to their children's education, for example, would go a long way toward improving the economic prospects of future generations and giving people a leg up out of poverty rather than just keeping them stuck in the same mire that their family came from. In some cases, such as parts of Appalachia, the stark truth of the matter is that economic opportunity is going to have to be found elsewhere, which perhaps means that small subsidies that enable people to move to areas of the country that are more economically prosperous makes more sense than pouring more money into a region that has always been dirt poor, and will likely stay that way. Most importantly, in the end the way out of poverty isn't going to come from a government check, it's going to come from education and gainful employment.
In the process of making arguments for these policies, though, it strikes me that conservatives would do themselves a favor if they laid off the argument that the poor are "lazy" or "have it easy." Not only is it not true, but it makes you come across as a cold, heartless jerk and that's not really the way to convince people to give your argument serious consideration.