Does Being A National Leader Shorten Your Lifespan? Maybe, Maybe Not
A new study suggests that being a national leader may shorten your expected lifespan.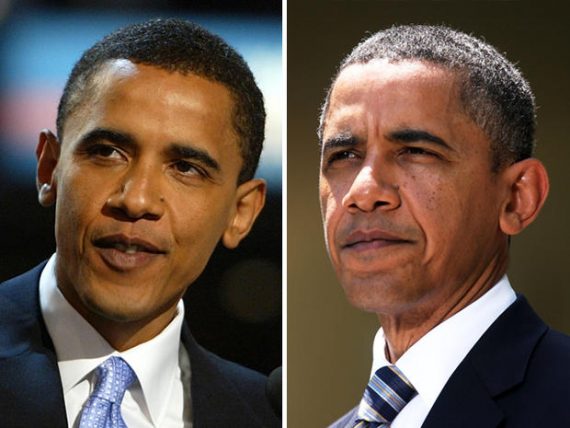 Winning an election to become your nation's leader may be hazardous to your health, or at least lead to a shorter lifespan,  a new study suggests:
New research may offer a consolation prize for whichever presidential nominee comes up short next November: Losing could mean a longer life.

Whether heads of government die prematurely is a long-debated question, and research has yielded conflicting results. For example, one study held that presidents might age twice as quickly as the overall American population while in office. Another study found no significant effect on the life expectancies of American presidents.

Now, the largest statistical study of its kind, examining elections held in 17 countries from 1722 to 2015, has found that elected heads of government lived 2.7 fewer years and experienced a 23 percent greater risk of premature death than the defeated office seekers. The BMJ, a British medical journal, published the paper in its Christmas issue, which traditionally features peer-reviewed papers that examine quirky topics.

The analysis tested the hypothesis that elected presidents, prime ministers and chancellors experience accelerated aging and premature death because of the stresses of political life. The authors compared 279 elected heads of government with the 261 runners-up whom they defeated and who never served as heads of state. The researchers determined the number of years each competitor lived after the last election in which they ran, and compared the findings with the average life span for an individual of the same age and sex in each candidate's country during the election year.

The team did not specify in the paper whether the candidates who lost did so in primaries or final elections. Dr. Anupam B. Jena of Harvard Medical School, the study's senior author, said in an email that his team defined the runners-up as candidates who were never president or prime minister but could have served in Congress or parliament or held other offices. The paper did not address whether congressional or parliamentary leadership positions might affect longevity.

Dr. Jena's team said earlier studies of elected leaders that found no ill effects on health and longevity had sample sizes that were too small to detect statistically significant differences. So his team devised its study to overcome such limitations.

In one of those earlier studies, from 2011, S. Jay Olshansky, an expert in aging at the University of Illinois at Chicago, reported that most presidents of the United States lived longer than other American men their age.

Dr. Olshansky said in an interview by email that he welcomed the new study because it was broader and set out to answer questions his analysis was not made to address.

But Dr. Olshansky said he was disappointed by the new study for two principal reasons.

First, he said, the authors did not eliminate "causes of death that were unrelated to aging, such as being at the wrong end of a gun," which could have affected the findings.

Second, he said, authors of the new study "provide no measure of accelerated aging" and thus could not effectively test that part of their hypothesis. Although his study began with the assumption that a United States president lost two days of life for every day in office, he still found that such leaders "did not experience accelerated aging."

"Most of the changes we see in the form of gray hair and wrinkles observed in presidents and other political leaders during their time in office is normal aging that occurs to everyone during this phase of life," Dr. Olshansky said. "We don't die of gray hair and wrinkled skin."
Another potential objection to this study, even though it's sample size is larger than previous such studies, is the fact that measuring the life expetency of winning candidates solely against those of the people they ran against is somewhat of a limited universe that doesn't necessarily tell us much of anything about the impact of leadership on life expectancy. A better measure, arguably, would be to measure the life expectancy of winning candidates and national leader against that of the population of the nation they lead as a whole. In that case, one suspects that, thanks to the fact that national leaders tend to be better off economically, and have access to superior health care, someone serving in an office of national leadership is likely to have a better life expectancy than other individuals in the nation they're leading.This is likely even more true in third-world and less-developed nations where leaders frequently take advantage of their position to seek medical care outside the country that their fellow citizens will almost never have access to, something we see frequently in reports of national leaders who travel to the United States and elsewhere for treatment, or in other nations where leaders are treated at medical facilities that are generally closed to the general public and people not in government or the military.
All that being said, a study like this is likely to seem familiar to Americans who have seen their Presidents in particular age in office at what seems like a faster rate than you might expect. The energetic, if out of shape, Bill Clinton that entered office in January 1993 looked quite different eight years later when he handed off the reins of power to George W. Bush. The same was true of Bush himself, who certainly aged over the eight years of war and dealing with the legacy of the September 11th attacks that he presided over. Finally, President Obama enter office at a youthful 48 and looks for all the world somewhat older than the 55 he will be when he leaves office in January 2017. The media and, indeed, most Americans have taken these outward signs as evidence of the stresses and strains of being President to the point where they've largely come to be expected. At the same time, of course, it's worth noting that each of these men has had access to some of the best doctors in the nation and, indeed, round the clock monitoring of their health in a manner that most other Americans will never have access to. Of the last three Presidents, none of them has had anything approaching a serious health scare while they were in office, although President Clinton did have several health scares four years after leaving office that ultimately led him receiving coronary stents implanted in his heart in 2010. For the most part, though, each of these men, and indeed most of them men that served in the two decades before them, were in generally excellent health throughout their time in office.
So, while people in positions of power may have shorter lifespans according to some statistical measurements, overall they've still got it better than most of the rest of us.