Joe Biden is Aging (Developing Story)
The 79-year-old will be 80 on his next birthday.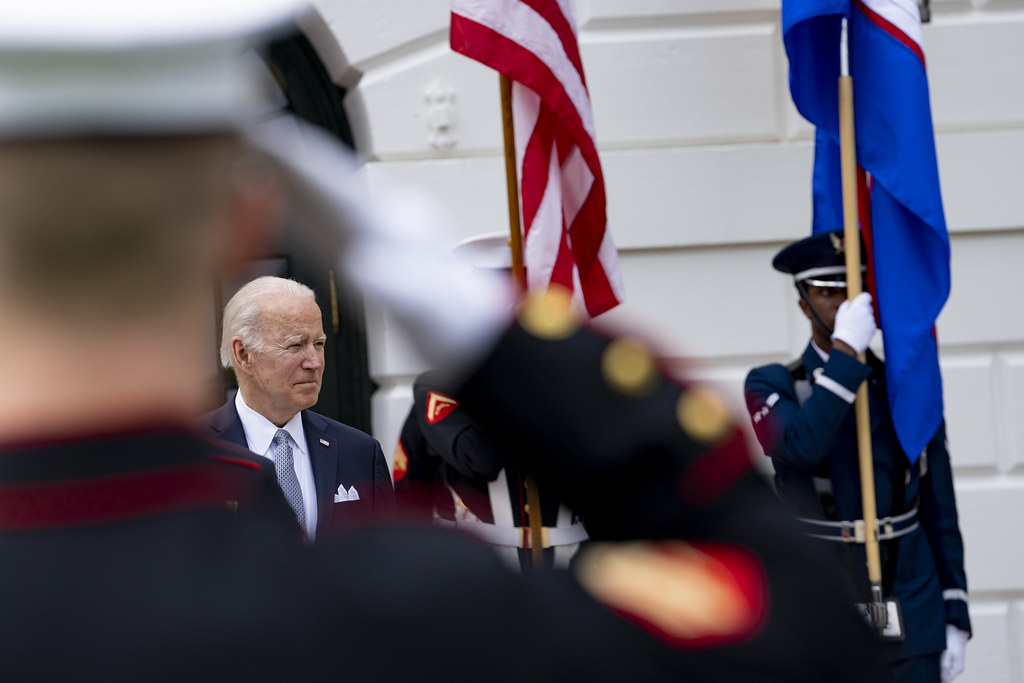 In a front page story in today's New York Times ("At 79, Biden Is Testing the Boundaries of Age and the Presidency") Peter Baker breaks the news that Joe Biden is even older today than he was yesterday.
When President Biden leaves Tuesday night for a four-day swing through the Middle East, he will presumably be more rested than he would have been had he followed the original plan.

The trip was initially tacked onto another journey last month to Europe, which would have made for an arduous 10-day overseas trek until it became clear to Mr. Biden's team that such extended travel might be unnecessarily taxing for a 79-year-old president, or "crazy," as one official put it.

Aides also cited political and diplomatic reasons to reorganize the extra stops as a separate trip weeks later. But the reality is that managing the schedule of the oldest president in American history presents distinct challenges. And as Mr. Biden insists he plans to run for a second term, his age has increasingly become an uncomfortable issue for him, his team and his party.
His age was a campaign issue in 2019 during the Democratic primaries and again in 2020 during the general election against then-President Trump. He won both. Consequently, most of us presumed he would age one day every day throughout his term, thus emerging four years older at its end. Thus far, those predictions have proven prescient.
Just a year and a half into his first term, Mr. Biden is already more than a year older than Ronald Reagan was at the end of two terms. If he mounts another campaign in 2024, Mr. Biden would be asking the country to elect a leader who would be 86 at the end of his tenure, testing the outer boundaries of age and the presidency. Polls show many Americans consider Mr. Biden too old, and some Democratic strategists do not think he should run again.
Sure enough, if you Google "Is Biden too old?" you will find outlets ranging from the Washington Examiner to Fox News to National Review to The Hill affirming that he is. Why, even the Mormon-owned Deseret News grudgingly admits it—and the church is run by a man who turns 98 in two months.
It is, unsurprisingly, a sensitive topic in the West Wing. In interviews, some sanctioned by the White House and some not, more than a dozen current and former senior officials and advisers uniformly reported that Mr. Biden remained intellectually engaged, asking smart questions at meetings, grilling aides on points of dispute, calling them late at night, picking out that weak point on Page 14 of a memo and rewriting speeches like his abortion remarks on Friday right up until the last minute.

But they acknowledged Mr. Biden looks older than just a few years ago, a political liability that cannot be solved by traditional White House stratagems like staff shake-ups or new communications plans. His energy level, while impressive for a man of his age, is not what it was, and some aides quietly watch out for him. He often shuffles when he walks, and aides worry he will trip on a wire. He stumbles over words during public events, and they hold their breath to see if he makes it to the end without a gaffe.
I'm 56 and don't have the energy I once had. If I make it to 79, I suspect I'll be less energetic still. And I'll almost certainly look older then than I do now, just as I look older now than I did when I was 39. Unless you're Tom Cruise, that's just how this works.
And, look, I sometimes cringe when I watch Biden speak. He overcame a stutter in his youth but he's always had a penchant for gaffes. And, yes, he's more slurry and rambling than he once was. That's not great on a campaign trail. But, if he's still intellectually engaged, asking sharp questions, and the like, that's ultimately what matters.
Although White House officials insist they make no special accommodations the way Reagan's team did, privately they try to guard Mr. Biden's weekends in Delaware as much as possible. He is generally a five- or five-and-a-half-day-a-week president, although he is called at any hour regardless of the day as needed. He stays out of public view at night and has taken part in fewer than half as many news conferences or interviews as recent predecessors.
Trump went most of his presidency without holding a news conference and, when he did hold them, as during the COVID crisis, they were a disaster. I don't recollect Biden advising anyone to drink bleach.
When Mr. Biden fell while dismounting a bicycle last month, White House officials ruefully noticed that it was among the top stories of the week — never mind that the president works out five mornings a week, often with a physical trainer, or that many men his age hardly ride bikes anymore.
The man is President of the United States and he fell off a bike on a Saturday. That's gonna hit the papers.
Mr. Biden himself has said questions about his fitness are reasonable to ask even as he reassures Americans that he is in good shape. Even for some admirers, though, the question is whether that will last six more years.
I agree with Biden. I wish he were 20 years younger. And, to be clear, I think 79 is too damn old to be President. But, honestly, I don't know that a 59-year-old Biden would be doing any better right now considering all of the forces arrayed against him.
"I do feel it's inappropriate to seek that office after you're 80 or in your 80s," said David Gergen, a top adviser to four presidents. "I have just turned 80 and I have found over the last two or three years I think it would have been unwise for me to try to run any organization. You're not quite as sharp as you once were."

Everyone ages differently, of course, and some experts put Mr. Biden in a category of "super-agers" who remain unusually fit as they advance in years.

"Right now, there's no evidence that the age of Biden should matter one ounce," said S. Jay Olshansky, a longevity specialist at the University of Illinois Chicago who studied the candidates' ages in 2020. "If people don't like his policies, they don't like what he says, that's fine, they can vote for someone else. But it's got nothing to do with how old he is."

Still, Professor Olshansky said it was legitimate to wonder if that would remain so at 86. "That's the right question to be asking," he said. "You can't sugarcoat aging. Things go wrong as we get older and the risks rise the older we get."
I'm honestly not sure what Gergen's analysis contributes to this story. And Olshansky, who has far more standing than Gergen or me to assess Biden's fitness, is just spouting common sense: aging is a bitch but some people do better than others.
Questions about Mr. Biden's fitness have nonetheless taken a toll on his public standing. In a June survey by Harvard's Center for American Political Studies and the Harris Poll, 64 percent of voters believed he was showing that he is too old to be president, including 60 percent of respondents 65 or older.

Mr. Biden's public appearances have fueled that perception. His speeches can be flat and listless. He sometimes loses his train of thought, has trouble summoning names or appears momentarily confused. More than once, he has promoted Vice President Kamala Harris, calling her "President Harris." Mr. Biden, who overcame a childhood stutter, stumbles over words like "kleptocracy." He has said Iranian when he meant Ukrainian and several times called Senator Mark Warner, Democrat of Virginia, "John," confusing him with the late Republican senator of that name from Virginia.
I'm 56 and call people by the wrong names and substitute one word for another all the time. I do that more than I used to, I think, but suspect it's a function of having more stressors rather than the onset of dementia. I can, however, pronounce "kleptocracy" with the best of them.
Republicans and conservative media gleefully highlight such moments, posting viral videos, sometimes exaggerated or distorted to make Mr. Biden look even worse. But the White House has had to walk back some of his ad-libbed comments, such as when he vowed a military response if China attacks Taiwan or declared that President Vladimir V. Putin "cannot remain in power" in Russia.
I criticized those "gaffes" as well but don't attribute those to his aging as much as to his personality. His exuberance sometimes overcomes his judgment. I'm prone to the same tendency, tending to speak more bluntly and directly than prudence might dictate. But I'm not the President.
Until now, the oldest president was Reagan. When a poor debate performance in 1984 briefly threatened his re-election, he recovered in his next encounter by joking that he would not exploit "my opponent's youth and inexperience."

"Reagan understood this issue, both intuitively and he had thought it through," said the biographer Lou Cannon. "And he told me, 'Age will be an issue if I act old and it won't if I don't.'"

By Reagan's final years, a new set of aides secretly assessed whether he might have to be removed from office under the 25th Amendment's disability clause, but ultimately concluded he was still fit. (Five years after leaving the White House, he was diagnosed with Alzheimer's disease.)

Still, aides tried to limit his schedule, monitored sharply by the first lady, Nancy Reagan. "That's one of the first lessons we had, to not overschedule," recalled Tom Griscom, one of those aides. Nor should they send excessive briefing papers at night. "After a couple weeks," he said, "a message came back down from Mrs. Reagan asking us not to send so much up in the evening because he would read it all," staying up late.

Mr. Biden's advisers say he resists such management and pushes in the other direction. "He's driving additions to his schedule all the time, whether it's new C.E.O. calls or night meetings with members," said Jennifer O'Malley Dillon, the deputy chief of staff who oversees his calendar.

But aides are cautious about exposing him to the coronavirus. Aides are tested once a week and wear colored wristbands on the day of their test; if they plan to attend a meeting with the president on another day, then they must test that morning, too, and wear N95 masks.
Reagan is indeed a cautionary tale in this regard. Then again, he was elected 40 years before Biden; we've had tremendous medical advances and people are living longer, healthier lives. Regardless, it absolutely makes sense for his staff to take extra precautions to protect his health and give him extra recovery time away from the cameras and microphones.
Biden says he's running for a second term and I believe him. If he's not going to do so, he'll need to at least privately convey that pretty soon, as the 2024 campaign will be kicking off any minute now. But he would immediately become a lame duck, even less able to enact his policy agenda than his is now. Absent tragedy, he's almost certainly going to be the Democratic nominee two years from now.
His Vice Presidential running mate, almost certainly Kamala Harris again, will be under unusual scrutiny. That was true to some extent of Reagan's running mate, George H.W. Bush, and John McCain's running mate, Sarah Palin. Harris won't have anything like Bush's wide-ranging experience even after four years as Veep but she's certainly no Palin.