Does Decapitating Terrorist Leaderships Work?
Killing their leaders doesn't seem to be impacting the ability of jihadi groups to recruit and motivate more terrorists.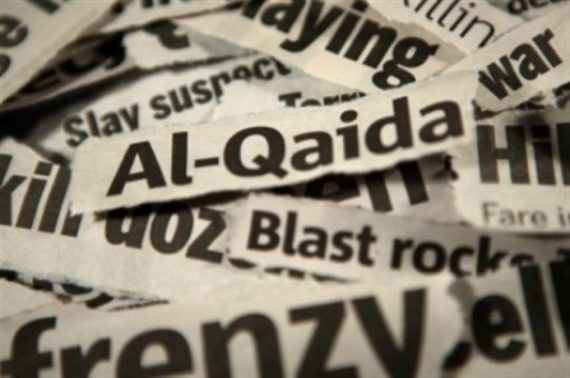 Anne Speckhard, a clinical psychologist specializing in post-traumatic stress, asks, "Does Decapitating Terrorist Leaderships Work?"
According to many, the militant jihadi (or Al-Qa'ida-inspired) terrorist threat has been severely degraded – this due to over a thousand declared and covert US drone strikes in Yemen, Pakistan, Iraq, Somalia and Afghanistan over the past five years decapitating the operational and ideological leadership of Al-Qa'ida and affiliated groups.[1] With leaders from Bin Laden downwards killed or arrested, one might ask what might motivate today's militant jihadi terrorist? And will decapitating the leadership work in the long-term?

To answer that questions one must look at the 'lethal cocktail' of terrorism that relies on the complex interaction of: 1) a group that is, by definition dedicated to attacking civilians on behalf of advancing its political cause; 2) the ideology the group uses to justify attacking civilians; 3) the social support that exists for the group and its ideology; and 4) the individual vulnerabilities of those who are exposed to these three. In the case of Al-Qa'ida inspired ideology-it has already found a firm foothold in the hearts and minds of many. Thus the ideology of Al-Qa'ida inspired terrorism might suffer little from decapitating the ideologues/instigators. Their words and teachings live on and continue to inspire, indoctrinate and teach their ideas and methods in the 'virtual university of jihad' existing on the Internet, (as Reuven Paz so aptly names it).[2]

Likewise for each leader that is killed by a drone strike, a 'martyr' lives on in the minds of his followers and many more may join the movement when angered by the so called 'collateral damage' occurring in the loss of civilian life – particularly when it's women or children that are killed. Thus it is not so clear-cut what the long-term gains will be.
Her research seems to offer more questions than answers:
So what can we expect in the coming year? Given that we've seen an increasing trend for Al-Qa'ida central to call for attacks on Western targets, particularly in the US by so-called homegrown terrorists, it's likely we will see more of these types of attacks – given they are low cost and rely at a minimum on vulnerable individuals interacting over the Internet.

It will be interesting to see, in the next year, if militant jihadi terrorist groups continue to focus on taking down airliners and blowing up large symbolic targets or if they will become more creative, going after equally crippling – but less dramatic targets – such as taking down electrical grids which could potentially cause the deaths of many (in hospital, on transit, etc.) as well as cause serious disruption on multiple levels.  Cyber attacks may in the end be far more devastating than attacking an airliner, but may not have the same fiery war-like action that draws many of today's terrorists, so it remains to be seen if they will engage on those levels.

The Arab Spring, while opening up democratic hopes and aspirations for a better life, have left many in the Arab world still in search of leadership that can bring increased freedoms and economic possibilities.  Where, or if, they will find this leadership still remains to be seen. Likewise, conflicts such as we face now in Yemen, Mali and Syria leave openings for Al-Qa'ida inspired groups to flourish and to continue to showcase their fights against what they claim are non-true Islamic regimes while they also potentially create havens and militant training for terrorist cadres.  Swift and strong foreign policy actions to keep societies from disintegrating in conflicted areas may help to reduce terrorist threats in the coming year, although everywhere we place troops also has the potential for radicalising effects if things do not go smoothly.

The continued use of US drone attacks to decapitate terrorist leadership in Yemen, Pakistan, Afghanistan, etc. is doing significant damage to Al-Qa'ida central but is also likely to continue to fuel the militant jihadi practice of identifying with the secondary victims of such attacks and this will likely offset any positive boost we might have seen in countering militant jihadi propaganda from a US drawdown in Afghanistan.  Likewise as the US shifts its presence from Afghanistan more focus will likely shift back to the Palestinian/Israeli conflict.  And Israel already finds itself facing uncertain allegiances due to the conflicts in Syria, the potential threats from Iran, the political changes in Egypt etc.  A leader of the Muslim Brotherhood in Egypt in fact recently stated that he does not expect Israel to exist in the coming ten years.  Any Israeli heavy-handed response to the Palestinians or to any of its neighbours-whether justified or not-may act as a lightening rod in the region.

The EuroZone crisis is also important to watch, as it increases pressure on European Muslim immigrant communities already challenged with discrimination and marginalisation.  A growing group of well-educated Muslim second-generation immigrants potentially face long-term unemployment as their parents also face economic challenges.  This combined with the growth of far right groups upping societal tensions and a general feeling of hopelessness could create a substantial pool of disenfranchised, alienated and vulnerable individuals for terrorist recruiters. Shock austerity programs in the Euro Zone, while providing the answer for some, may increase vulnerabilities for others.
On the face of it, al Qaeda has conducted far fewer high profile attacks on Western targets since the Global War on Terror got underway than before. Then again, the flip side of fighting them there rather than fighting them here is that they don't have to come here to fight us. Al Qaeda and their affiliates and fellow travelers have had plenty to do killing Americans and our allies and partners in Iraq and Afghanistan. Moreover, they've morphed from a centralized organization into a franchised one. Al Qaeda 1.0 is a shadow of its former self but Al Qaeda 2.0 has risen and, while maybe less capable to carrying off high profile attacks, they're next to impossible to defeat because they're everywhere.
She concludes:
Continued vigilance is called for and well thought out and well-informed policies that keep in mind all four levels of the terrorist cocktail – decreasing the political grievances that fuel the existence of groups as well as shutting them down, fighting the ideology of terrorism and social support for it and addressing individual vulnerabilities are going to be ever more important to keep us safe in the coming year.  Simply decapitating the leadership is not likely to be enough.
So, the old "drain the swamp" solution. Which is both almost certainly right and virtually impossible.