Donald Trump Formally Names Rex Tillerson As Secretary Of State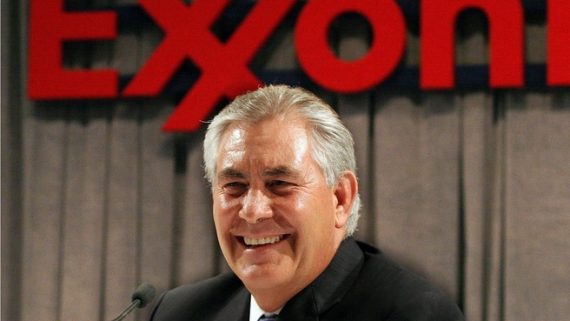 As expected, Donald Trump has formally named Rex Tillerson as his Secretary of State:
WASHINGTON — President-elect Donald J. Trump on Tuesday officially selected Rex W. Tillerson, the chief executive of Exxon Mobil, to be his secretary of state. In saying he will nominate Mr. Tillerson, the president-elect is dismissing bipartisan concerns the globe-trotting leader of an energy giant has a too-cozy relationship with Vladimir V. Putin, the president of Russia.

A statement from Mr. Trump's transition office early Tuesday brought to an end his public and chaotic deliberations over the nation's top diplomat — a process that at times veered from rewarding Rudolph W. Giuliani, one of his most loyal supporters, to musing about whether Mitt Romney, one of his most vicious critics, might be forgiven.

Instead, Mr. Trump has decided to risk what looks to be a bruising confirmation fight in the Senate.

In the past several days, Republican and Democratic lawmakers had warned that Mr. Tillerson would face intense scrutiny over his two-decade relationship with Russia, which awarded him its Order of Friendship in 2013, and with Mr. Putin.

The hearings will also put a focus on Exxon Mobil's business dealings with Moscow. The company has billions of dollars in oil contracts that can go forward only if the United States lifts sanctions against Russia, and Mr. Tillerson's stake in Russia's energy industry could create a very blurry line between his interests as an oilman and his role as America's leading diplomat.

Mr. Tillerson has been publicly skeptical about the sanctions, which have halted some of Exxon Mobil's biggest projects in Russia, including an agreement with the state oil company to explore and pump in Siberia that could be worth tens of billions of dollars.

Senator John McCain, Republican of Arizona, said on Saturday that Mr. Tillerson's connections to Mr. Putin were "a matter of concern to me" and promised to examine them closely if he were nominated.

"Vladimir Putin is a thug, bully and a murderer, and anybody else who describes him as anything else is lying," Mr. McCain said on Fox News.

(…)

If confirmed as secretary of state, Mr. Tillerson would face a new challenge: nurturing alliances around the world that are built less on deals and more on diplomacy.

That could prove to be a special test when it comes to Russia, where Mr. Tillerson has fought for years to strengthen connections through business negotiations worth billions of dollars. Under his leadership, Exxon has entered into joint ventures with Rosneft, a Russian-backed oil company, and donated to the country's health and social programs.

In his new role, Mr. Tillerson would have to manage the difficult relationship between the United States and Mr. Putin's Russia, including the economic sanctions imposed after Moscow intervened in Ukraine and occupied Crimea. Last month, President Obama and European leaders agreed to keep sanctions in place until Mr. Putin agrees to a cease-fire and to the withdrawal of heavy weapons from front lines in eastern Ukraine.

Other Republicans who have challenged Mr. Tillerson's potential selection include Senator Marco Rubio of Florida, who expressed concern in a Twitter post on Monday about his relationship with Mr. Putin.
With the stories about possible Russian influence over the election likely to remain in the news for some time to come, Tillerson could face a rough nomination fight over his ties to Russia in general and Vladimir Putin in particular. However, it seems unlikely that the Republican-controlled Senate will block his nomination, especially if it is focused on more controversial issues, such as the potential selection of John Bolton as the second most powerful person at the State Department. Whether Tillerson has what it takes to succeed as Secretary of State is, of course, another question that we won't know the answer to for some time to come.