Donald Trump To Moderate Republican Debate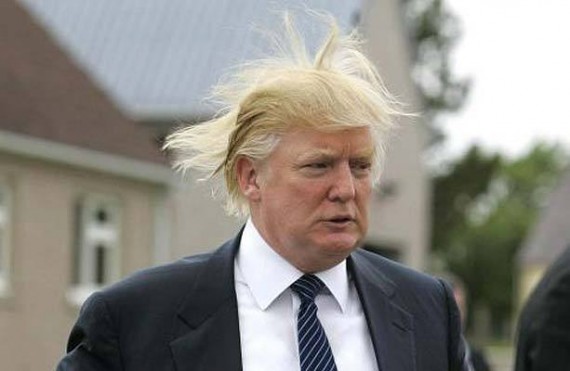 To the extent that the 2012 Presidential campaign wasn't already a farce, it will become one on December 27th:
It's officially a reality television Republican primary now.

Donald Trump is pairing up with Newsmax, the conservative magazine and news Web site, to moderate a presidential debate in Des Moines on Dec. 27.

"Our readers and the grass roots really love Trump," said Christopher Ruddy, chief executive of Newsmax Media. "They may not agree with
him on everything, but they don't see him as owned by the Washington establishment, the media establishment."

Mr. Trump's role in the debate, which will be broadcast on the cable network Ion Television, is sure to be one of the more memorable moments in a primary season that has already delivered its fair share of circus-like spectacle.

(…)

Though presidential candidates may initially balk at the idea of appearing in a debate where Mr. Trump – with his bombast and The Hair – is the one posing the questions, they may ultimately see it as an invitation they can't refuse. In fact many of the candidates have already met with him, some more publicly than others. Representative Michele Bachmann has sat down with Mr. Trump several times this year. Gov. Rick Perry of Texas had dinner with him at Jean Georges, the posh Manhattan restaurant. And Mitt Romney paid a visit but carefully avoided being photographed.

And Newsmax is a powerful player itself. It has a broad reach into the conservative base, with monthly Web traffic second only to Fox News among sites with conservative-leaning audiences.
I can think of a very good reason why a serious Presidential candidate would not show up for this debacle-in-waiting. The center of attention will, as it always be with events in which he is involved, Donald Trump, not the candidates on the stage. It should make for good television, but only because it will be so laughingly absurd.
Update: Jon Huntsman has already announced he will be skipping the Trump debate:
The conservative news magazine Newsmax announced Friday that it would co-sponsor a Republican presidential debate moderated by media personality and real estate tycoon Donald Trump on Dec. 27th in Des Moines, Ia., but they may have trouble convincing candidates to show up.

Former Utah Gov. Jon Huntsman is the first to send his regrets.

"We look forward to watching Mitt Romney and Newt Gingrich suck up to Trump with a big bowl of popcorn," Huntsman spokesman Tim Miller told Yahoo News.
As will we all, as will we all