Donald Trump: Working Hard, Or Hardly Working?
New reports indicate that the President is spending more and more time watching television and tweeting. That's not what he was elected to do.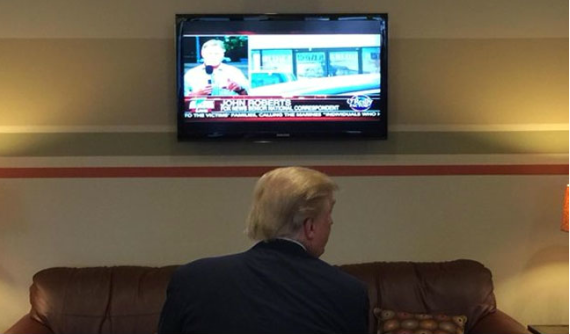 Axios is reporting that Donald Trump's workday has shrunk considerably in recent months:
President Trump is starting his official day much later than he did in the early days of his presidency, often around 11am, and holding far fewer meetings, according to copies of his private schedule shown to Axios. This is largely to meet Trump's demands for more "Executive Time," which almost always means TV and Twitter time alone in the residence, officials tell us.

The schedules shown to me are different than the sanitized ones released to the media and public.

The schedule says Trump has "Executive Time" in the Oval Office every day from 8am to 11am, but the reality is he spends that time in his residence, watching TV, making phone calls and tweeting. Trump comes down for his first meeting of the day, which is often an intelligence briefing, at 11am.

That's far later than George W. Bush, who typically arrived in the Oval by 6:45am. Obama worked out first thing in the morning and usually got into the Oval between 9 and 10am, according to a former senior aide.

Trump's days in the Oval Office are relatively short - from around 11am to 6pm, then he's back to the residence. During that time he usually has a meeting or two, but spends a good deal of time making phone calls and watching cable news in the dining room adjoining the Oval.
As an example, Axios offers these examples from Trump's schedule last week:
On Tuesday, Trump has his first meeting of the day with Chief of Staff John Kelly at 11am. He then has "Executive Time" for an hour followed by an hour lunch in the private dining room. Then it's another 1 hour 15 minutes of "Executive Time" followed by a 45 minute meeting with National Security Adviser H.R. McMaster. Then another 15 minutes of "Executive Time" before Trump takes his last meeting of the day — a 3:45pm meeting with the head of Presidential Personnel Johnny DeStefano — before ending his official day at 4:15pm.
Other days are fairly similar, unless the president is traveling, in which case the days run longer. On Wednesday this week, for example, the president meets at 11am for his intelligence briefing, then has "Executive Time" until a 2pm meeting with the Norwegian Prime Minister. His last official duty: a video recording with Hope Hicks at 4pm.
On Thursday, the president has an especially light schedule: "Policy Time" at 11am, then "Executive Time" at 12pm, then lunch for an hour, then more "Executive Time" from 1:30pm.
Reports like this, of course, mirror other reports that we've heard about Trump and how he spends his day, which has likely come from some of the same anonymous sources that Axios is relying on for it's reporting here. Virtually from the day he entered office, it's been reported that Trump spends an inordinate amount of time in both the mornings and the evenings watching cable news and, as his Twitter feed demonstrates quite aptly the extent to which he is effectively tweeting in real time in response to what he sees on Fox & Friends and the other cable news programs that make up his daily news diet. In the beginning of Trump's Presidency, there was some speculation that these habits were due largely to the fact that Trump was alone in the White House residence at the end of the day given the fact that his wife and youngest son spent the first six months living in New York City so that Barron Trump could finish out the school year. Melania and Barron Trump moved to Washington D.C. in June, though, and if anything Trump's seeming obsessions with cable news and Twitter have only increased since then. Moreover, as several reporters have noted, it is fairly easy to coordinate Trump's Twitter feed with things he has clearly seen on TV. There have also been plenty of reports, most recently in Michael Wolff's new book, that Trump never believed he would actually win the election and that being President has not been something he's enjoyed very much..
As I noted in a post before Christmas, Trump is living in a real-life version of the movie Being There:
The idea that the President of the United States can be influenced primarily by what he sees on cable news broadcasts is both bizarre and somewhat scary. It's as if we're living in a real-life version of Being There, the 1979 Peter Sellers film in which Sellers played a simple-minded man whose knowledge about the world was derived entirely from what he saw on television. In the film, Sellers's character is suddenly forced into the outside world after his benefactor dies and, though, series of seemingly absurd events, ends up becoming a top adviser to the President of the United States. As the movie ends, the Sellers character is being seriously considered as the successor to that President. Now, we are living in a world where that character, Chance or "Chauncey" as he is known later in the movie, has actually become President. Trump's cable news viewing habit is well-known, of course, and it can be seen in his Twitter habit, where his posts quite often correlate with what has just been aired on one of the three major cable news networks. It is an utterly bizarre world, but apparently completely normal for the Trump Era.
Aaron Blake makes similar observations in the wake of this Axios report:
[T}he reason Swan's scoop paints such a bleak picture of Trump is because it suggests he's not particularly interested in the official duties of being president. Whatever you think about Trump's policies or his fitness for the job, the job requires one to be fully engaged, to be processing information (preferably from sources other than cable news), and to always be, for lack of a better word, on. The idea that Trump doesn't take his daily intelligence briefing until 11 a.m. is shocking just by itself. And whoever leaked his official schedules to Swan seems to be concerned that Trump just isn't up to the job right now.

It also is completely counter to Trump's brand and the promises he made on the campaign trail. Trump said he wouldn't really take time off as president. "I would rarely leave the White House, because there's so much work to be done," he told the Hill newspaper in June 2015. He added in January 2016: "Somebody says, 'Why don't you take a vacation before you become president?' I said because I like doing this." (As in Sanders's statement, the White House insists Trump is working even when he's at Mar-a-Lago or at his property in New Jersey.)

The question increasingly is what "this" is. And judging by the Axios report, "this" is increasingly spending time outside the Oval Office and tweeting. It suggests that, relative to past inhabitants of the Oval Office, we have a part-time president.
Some might argue that the more time Trump spends away from the Oval Office the better for America, but for better or worse Americans elected him President and, as Harry Truman put it, the buck is supposed to stop with him. The fact that he seems to be spending so much of his time engaged in pursuits other than being President and paying attention to the details of policy, something that both of his most recent predecessors were known for doing even if one disagreed with the decisions they made. That's clearly not true with this President. Instead, he appears to be the captive of whatever he's seen on television most recently and whatever his staff tells him. This also means that, more so than with any recent President, day-to-day operations in the White House are in the hands of unelected staffers and Cabinet members. While many of these people, such as Chief of Staff John Kelly, Secretary of State James Mattis, Secretary of State Rex Tillerson, and National Security Adviser H.R. McMaster, are no doubt highly qualified to do their jobs, they weren't elected and they aren't the final authority under the Constitution. That's the Presidents role and the fact that he is spending increasing amounts of his time watching television and tweeting rather than doing his job is not something that should be lightly dismissed.