Working Hard? Or Hardly Working?
President Trump's detailed schedules reveal a man who doesn't seem to spend a lot of time actually working.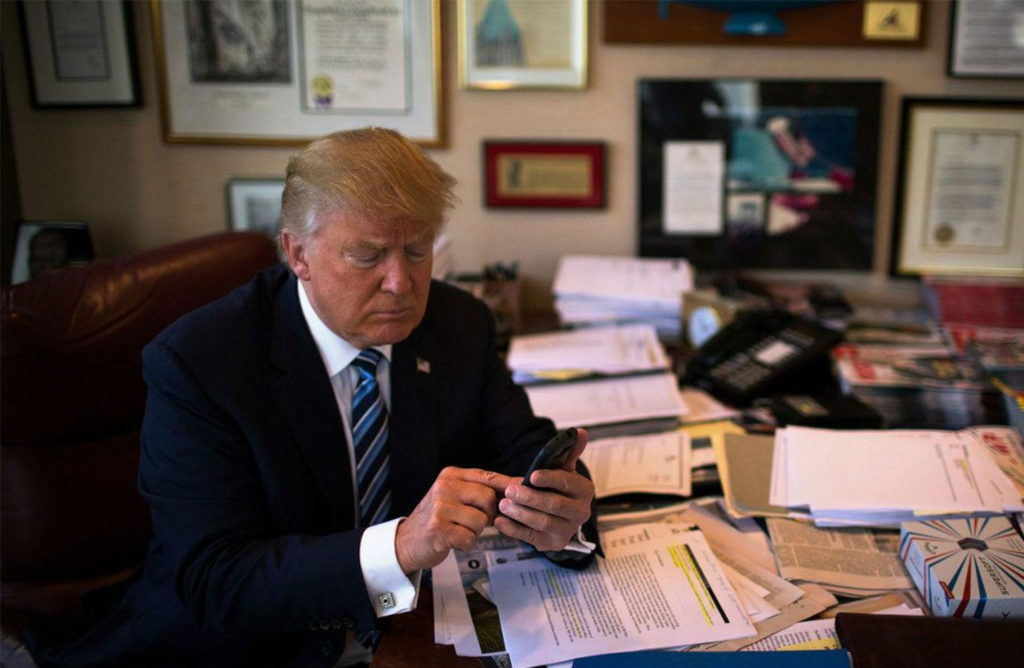 President Trump seems to spend an inordinate amount of his time in so-called "Executive Time" during which he apparently watches cable news, tweets, calls friends, and generally seems to avoid the duties commonly engaged in by other Presidents:
Since the day after the 2018 midterm elections, President Donald Trump has spent around 60% of his scheduled time in unstructured "executive time," Axios reported Sunday.

Axios cited 51 private schedules provided by an unnamed White House source that include "nearly every working day since the midterms." During that time, the President spent 297 hours in "executive time," a period during the day that he uses to watch TV, make phone calls and hold meetings.

According to Axios, those same schedules revealed that the President "has had about 77 hours scheduled for meetings that include policy planning, legislative strategy and video recordings."

"He's always calling people, talking to people," a senior White House official told Axios. "He's always up to something; it's just not what you would consider typical structure."

Noting that the private schedules it obtained do not include all of the President's meetings since the midterms, Axios said that some meetings are listed as "executive time" to keep them hidden from West Wing staff members out of fear of possible leaks.

In one such case, a detailed schedule Axios obtained listed an interview Trump had last week with The Daily Caller, while a private, more available schedule alternatively contained a "media engagement" in that same time slot.

The outlet also said that according to the schedules it obtained, the day after the midterms, Trump's schedule contained a 30-minute meeting with then-chief-of-staff John Kelly and more than seven hours for "executive time."

Last year, CNN reported that the President — whose day begins at 5:30 a.m. — would often spend most of his mornings in the Yellow Oval

Room in the White House residence where he skimmed the headlines of The New York Times, The Washington Post and the Washington Times as "Fox & Friends" played in the background.

On some mornings, Trump would summon select staffers to the residence to meet with him, including Kelly, Ivanka Trump and former communications director Hope Hicks.

As the day neared 12 p.m., the President would finish up his time in the residence and then head to the West Wing for a day of meetings, briefings and phone calls.
Additional details can be found in the original Axios report and in a much longer report on the President's schedule for the past three months, which both break down in detail the extent to which President Trump seems to be engaged in a completely unstructured manner that appears to leave little room for actual detailed discussions about policy issues such as national security and domestic policy. According to these reports, more than 60% of the President's scheduled time, including not only the mornings when he is most famously known for tweeting randomly but also mid-afternoons and on other occasions throughout the day, are filled with this so-called "Executive Time." We can see this sometimes in Trump's Twitter feed which will often explode at random points in the afternoon, no doubt fueled by something he saw on Fox News, which he reportedly has on the television at all times while he's in the Oval Office or anywhere else in the West Wing. Even more interesting is the extent to which Trump's officials schedule reveals just how unstructured his time is and how little time he actually appears to spend in policy discussions or reviewing briefing material.
As Axios goes on to note, this stands in stark contrast to the tightly regimented and detailed schedules followed by Presidents Barack Obama and George W. Bush, although they do somewhat resemble the unstructured schedule that Bill Clinton was notorious for, something which often made him late for meetings or public engagements and led to the expression among White House personnel that they were operating on "Clinton Time." Even with Clinton, though, that unstructured time was due largely to the President's penchant for getting involved in the details of governing. As time went on, Clinton ended up becoming more disciplined in his schedule. One does not get the impression that this President will follow that route.
To be fair, Presidential schedules don't always tell us everything that goes on during the Chief Executive's day, of course, but these materials do appear to reveal something that has been long suspected about this President. Specifically, it appears apparent that he is largely not interested in engaging in the hard work of governing, doesn't really care to listen to the advice of others, and most obviously seems to think that the most important thing he can do is watch Fox News, send out his Twitter rants, and communicate via back channels that his staff may or may not be aware of with unnamed advisers that, most likely, are Fox News hosts and other right-wing commentators who tell him what he wants to hear and offer little in the way of criticism. This clearly isn't a way to govern, and it's likely to lead to chaos if and when the time comes that this President is required to make decisions that actually matter.