Doug Jones' Personal Appeal
Alabama's junior Senator needs my help.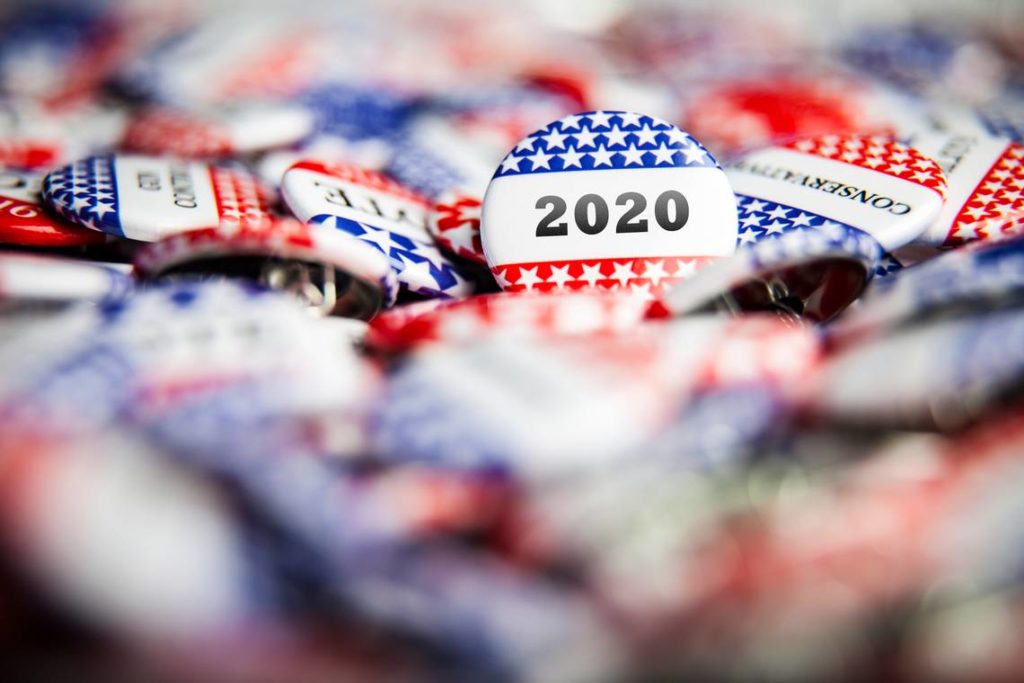 So, I just received an email from Senator Doug Jones with the subject line "I'm personally asking for your support in this tight race, James." While it's been more than eighteen years since I lived in Alabama, I graduated public high school there and earned three degrees from the state's universities. Plus, his Republican opponent was not only the head coach at rival Auburn but kind of a dick about it. Topping it all off, he's running as a Trumpist.
Still, I was surprised to hear that it was a tight race. Indeed, I had written off Jones' chances of winning it. So, imagine my surprise when I found out—from the horse's mouth—that he was in fact holding on to a narrow lead.
One point. According to one of the latest polls, that's the sliver of a lead I have over my Trump-endorsed GOP opponent. Now, with just 10 days to go, that one point — and this grassroots team — is all that's standing between the working families of Alabama and another Trump 2.0 in the United States Senate.

We always knew it'd come down to the wire, but this is just too close for comfort. We're calling, texting, and organizing voters around the clock to ensure we leave no stone unturned and no vote uncounted. I won't lie, James, that work is expensive. And with my opponent's dark-money PACs breathing down our necks, we can't afford to slow down in this final moment.

Whether or not Democrats like me can pull off a victory will come down to the number of voters we can reach in these final 10 days — especially since folks have already started casting their ballots. My win in 2017 was thanks in no small part to this grassroots team, so I have to ask:

James, will you split a $10 donation between my campaign and the DNC today so that our party has the resources it needs to get out the vote in this final stretch of the race and expand the map for Democrats nationwide?
Now, it happens that I can afford $10. But, still, I was skeptical. Alabama isn't touted as one of the battleground states in changing control of the Senate. And, last I checked, it was actually the Democrats with a massive financial advantage in this race.
So, I checked the trusty folks at Nate Silver's FiveThirtyEight, where pretty much everyone is rooting for Jones and his party to do well, and confirmed my previous suspicion: Jones is not only way behind but has little chance of winning.
Here's how they handicap the race: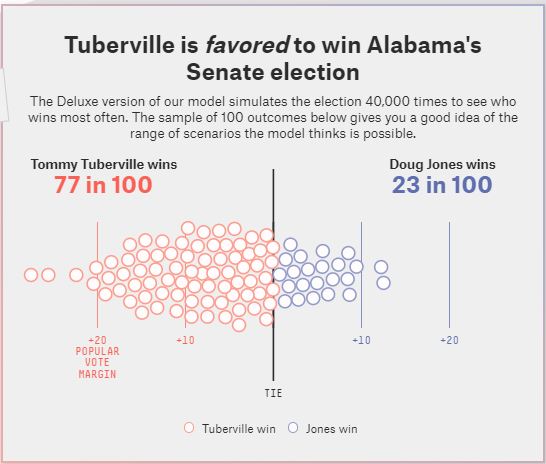 And here's the polling trend throughout the race: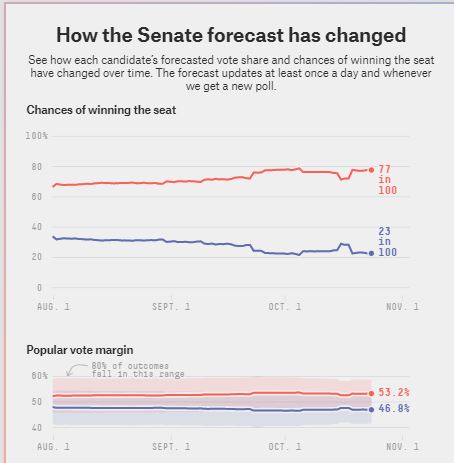 But, yes, it turns out that one poll does give Jones a 1-point lead: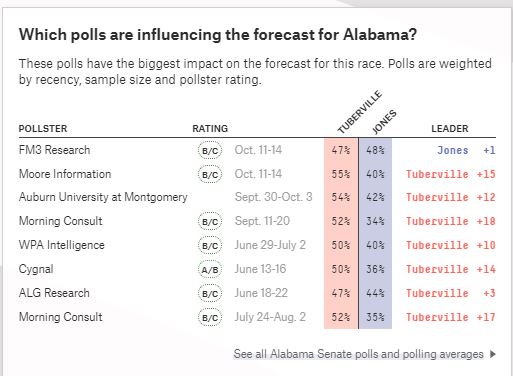 That there are so few polls, given the number of research universities in the state, is remarkable. That the three recentish polls are so disparate is interesting. Still, the rather clear trend is that all polls in the race by companies with at least four letters in their name show a double-digit lead for Tuberville.