Douthat Attempts a Defense of the Electoral College
Ultimately, it isn't a very good one.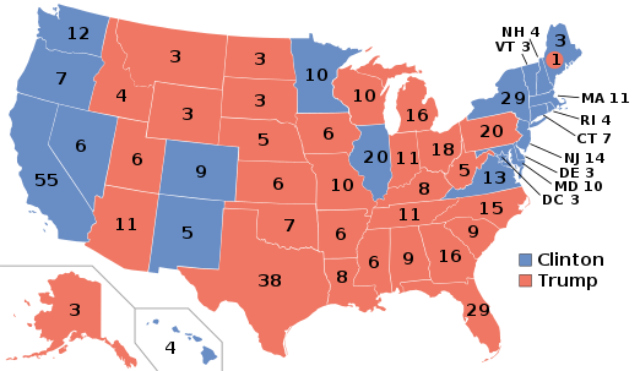 I consider the current surge in discussion about the Electoral College to be a good thing because while the chances of change in the short term are essentially non-existent, the only long term chance for change requires public awareness of the EC's problems.
A major problem for defenders is that it is really quite difficult to generate a compelling defense of the system.  Most attempts seem to be based on the intent of the Framers and the genius of its design.  But, as I have noted repeatedly, it doesn't take a lot of research to note that the process the Framers designed never worked as intended.  So, even if one accepts that intent arguments are the gold standard for understanding constitutional functionality (they are not, BTW),  appeals to intent have to be tossed out the the window.
Other defenses include the notion that it protects small states against large ones (this really isn't the case) or that somehow it requires candidates to pay attention to the whole country, not specific states (which it doesn't).
Quite frankly, the best defense I can personally conjure is: it historically has mirrored the popular vote, so why worry about it? The problem with that defense is that we are in an historical moment in which two of the last five outcomes have not worked out that way.  Another defense is that by having votes contained within states you do not have any scenario in which there would be a national recount (but that strikes me more as an elections management issue, rather than a reason for the EC, per se).
Personally, from a democratic theory point of view, I would assert that any pro-EC argument has to provide a defensible reason as to why two votes, cast in the same election, should have a different value.  I have yet to see such a defense.
Meanwhile, Ross Douthat has taken to the pages of the NYT to make A Case for the Electoral College.
Is there a case for a system that sometimes produces undemocratic outcomes? I think so, on two grounds. First, it creates incentives for political parties and candidates to seek supermajorities rather than just playing for 50.1 percent, because the latter play is a losing one more often than in a popular-vote presidential system.

Second, it creates incentives for political parties to try to break regional blocs controlled by the opposition, rather than just maximizing turnout in their own areas, because you win the presidency consistently only as a party of multiple regions and you can crack a rival party's narrow majority by flipping a few states.

According to this — admittedly contrarian — theory, the fact that the Electoral College produces chaotic or undemocratic outcomes in moments of ideological or regional polarization is actually a helpful thing, insofar as it drives politicians and political hacks (by nature not the most creative types) to think bigger than regional blocs and 51 percent majorities.
Here's the problem with these suppositions: parties and politicians are going to aim for the easiest to obtain goal, not the hardest.  If I can win with a minority, then I am going to shoot for winning by minority (that is easier than winning by super-majority).  Expanding support is harder than motivating existing support.  There is also the pesky fact that the nature of voter turnout patterns in the US (as well as partisan identification) means that the best route to victory is a turning out one's supporters, not trying to convince new voters to vote.
Also, the notion of regional blocs is pointless:  no Democrat is going to win in the Deep South, for example.  The focus in this system is for Democrats to ignore the South as a result and go hunting for votes in swing states.  This actually deepens, therefore, the lack of attention parties play to certain locations.  Why campaign somewhere a party knows it will lose (or knows it will win)?
And, of course, none of this explains why we should defend a system that counts the votes of different voters in the same contest as having different value.
Douthat's own defense is half-hearted, as he notes:
However: This defense of occasional countermajoritarian presidencies assumes that the political system will, over the medium-term, be responsive to the Electoral College's incentives — that parties will be capable of overcoming polarization and addressing specific regional grievances, that politicians will be capable of working toward Rooseveltian or Reaganesque majorities, that presidents who win with a popular-vote minority will either adapt and gain a majority the next time (as George W. Bush did) or lose like Benjamin Harrison and John Quincy Adams.

And neither political party has responded to 2016 the way my defense of the Electoral College predicts they should. A countermajoritarian outcome has not produced supermajoritarian ambitions. Instead of trying to expand its base, the Trump-era G.O.P. seems to be relying on the Electoral College to actively avoid any sustained outreach, while Trump's likely Democratic rivals seem to be taking Clinton's popular-vote margin as a license to march leftward.
To be honest, he is making up the whole virtue of countermajoritarian outcomes out of whole cloth to defend an institution that continues to be indefensible.