Dylann Roof Found Guilty In Federal Court Trial
To nobody's surprise, Dylann Roof was convicted of the race-motivated murders in a Charleston church.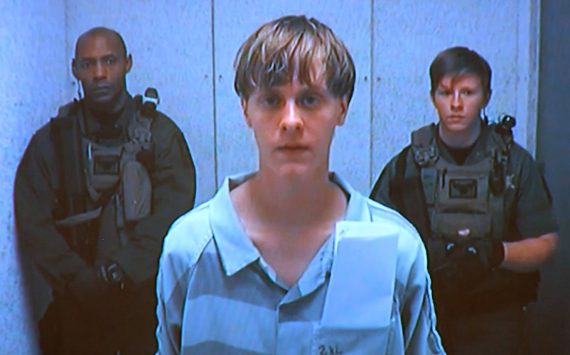 Not at all surprisingly, Dylann Roof has found guilty by a Federal District Court jury in the shootings at a historically African-American church in South Carolina:
CHARLESTON, S.C. — Dylann S. Roof, a self-radicalized young white supremacist who killed nine black parishioners last year when he opened fire during a long-planned assault on Emanuel African Methodist Episcopal Church, was found guilty by a federal jury here on Thursday.

Mr. Roof, 22, stood, his hands at his side and his face emotionless, as a clerk read the verdict aloud in Federal District Court, where he had been charged with 33 counts, including hate crimes resulting in death.

Mr. Roof, whose lawyers conceded his guilt, will face the same jurors when they gather on Jan. 3 to begin a more suspenseful phase of his trial to decide whether he will be sentenced to death or life in prison without parole.

The jury deliberated for only about two hours on Thursday afternoon, and as a clerk began to read the guilty verdicts, one after the next, a few women in the courtroom nodded with satisfaction. After the court adjourned, the two adult survivors of the attack, Felicia Sanders and Polly Sheppard, shared a long embrace.

"I wasn't expecting anything less," Ms. Sanders told reporters later. "I knew it was going to be guilty, guilty, guilty, all the way through."

Ms. Sanders's husband, Tyrone, called Mr. Roof "pure evil" as he held his wife's hand.

"My thoughts were if I could get to him, what would I do," said Mr. Sanders, whose son died in the attack. "But the Lord kept me from charging."

The outcome seemed a foregone conclusion from the first minutes of the trial, which began on Dec. 7 and included a swift acknowledgment from the chief defense lawyer, David I. Bruck, that Mr. Roof was responsible for the "astonishing, horrible attack" on June 17, 2015.

Mr. Roof had chillingly confessed to investigators nearly 18 months earlier and revealed his purpose in a blatantly racist manifesto that he published online. His choice of targets seemed intensely premeditated — he scouted the church half a dozen times — although he also researched other black churches and a festival elsewhere in South Carolina before settling on Charleston because, he wrote, it is the "most historic city in my state."

Prosecutors and defense lawyers agreed on the basic contours of Mr. Roof's march toward racial animosity. He belonged to no hate groups and acted alone in Charleston, but they said he had been an avid consumer of racist materials online.

"You can easily give him way too much credit for thinking of this stuff if you don't see where it came from," Mr. Bruck said of Mr. Roof, who had declared in his writings that he had not been "raised in a racist home or environment."

In a 53-minute closing argument, an assistant United States attorney, Nathan S. Williams, depicted Mr. Roof as "a man of hatred, a man who's proven to be a coward and a man of immense racial ignorance."

The prosecutor's voice often rose in outrage, and the jurors were again shown photographs of the carnage Mr. Roof left behind: blood, bodies, and bullet-scarred tables. "He must be held accountable for each and every action he took in that church," Mr. Williams urged.

Mr. Roof has said he intends to represent himself during the penalty phase, so Mr. Bruck, as he has done throughout the trial, did his best on Thursday to suggest that his client was unstable, and thus not fully accountable.

Mr. Bruck, who called no witnesses, peppered his closing argument with words like "abnormal," "delusional," and "suicidal." Mr. Roof told the F.B.I. in a confession shortly after being arrested that he had saved ammunition to kill himself if, as he expected, he confronted the police when he left Emanuel.

The Wednesday night assault on the oldest A.M.E. congregation in the South began less than an hour after Mr. Roof entered through an unlocked side door and took a seat at a weekly Bible study meeting. The congregants, including the church's pastor, the Rev. Clementa C. Pinckney, were studying the parable of the sower. When the congregants closed their eyes for a familiar benediction, the sound of gunfire roared through the fellowship hall.

When they looked up, they saw Mr. Roof holding a semiautomatic pistol he had bought about two months earlier and concealed in a pack on his waist. Mr. Pinckney was the first wounded, and the churchgoers began diving below the room's circular tables. Mr. Roof kept firing, striking the victims at least 60 times. One photo showed a table bearing an opened Bible, a study sheet and an empty magazine.

It was one of the most unfathomable racial attacks in decades, and it upended the notion of a postracial America that some had imagined after the election of the country's first black president. But fears of street violence eased when family members of five victims appeared at Mr. Roof's bond hearing less than 48 hours after the killings and expressed forgiveness for the accused. President Obama flew here for Mr. Pinckney's memorial service and delivered a eulogy in the form of an indignant and sorrowful meditation on race.
Given Roof's confession and the evidence against him, there was never any real doubt that he would be found guilty of the underlying charges against him, of course. Much like previous cases, such as the Boston Marathon bombing and the shootings at the movie theater in Aurora, Colorado, the Defendant's guilt here was exceedingly clear and, as in those cases, the defense didn't do much to question the prosecution case based on the reports I've read. Indeed, the guilt phase of the trial was so short largely thanks to the fact that the defense declined to engage in much rigorous cross-examination during and that it declined to call any witnesses of its own. In most murder cases, of course, this is a highly unusual step, but this is unlike most murder cases in many respects, not the least of them being the fact that there was never any real doubt about Roof's doubt or of the appropriateness of first-degree murder charges given the facts of the case.
As I've said before, though, the trial in this case has never been about whether or not Dylann Roof was guilty or innocent. We already know the answer to that question. The main purpose of the trial is to determine whether he will be put to death for his crimes, or sentenced to life in prison without the possibility of parole. That question will be decided in the sentencing phase of this case, which will apparently begin shortly after the holidays end at the start of the new year rather than starting immediately after the trial as is often the case in state court. In that part of the case, the same jury that determined Roof's guilt will sit through what could end up being many weeks of testimony by victims and the surviving family members of those who died regarding the impact that Roof's actions have had on them over the past 18 months. They will also likely hear from psychiatrists and other professionals who have spoken to Roof regarding his mental state, an important factor in determining an appropriate sentence. The one factor that could make this portion of the case go less smoothly than the guilt phase is the fact that the Defendant has said he wishes to represent himself in this phase of the trial. The Court, of course, had previously granted Roof's request to represent himself prior to the start of the trial, but Roof ultimately decided that he wanted his court-appointed attorneys to represent him in the guilt phase of the trial even though they ultimately ended up not doing very much. So far, though, Roof is clinging to his insistence that he would represent himself during the sentencing phase. This seems like a foolish decision if he wants to avoid the death penalty, but of course he may not care about that and may instead view the sentencing phase to push his racist ideas in open court. In any case, unless the defense presents some rather convincing mitigating evidence, my expectation is that it's likely that Roof will be sentenced to death.