Charleston Shooter Dylann Roof Indicted On Federal Hate Crimes Charges
Dylann Roof has been indicted in Federal Court for completely unnecessary reasons.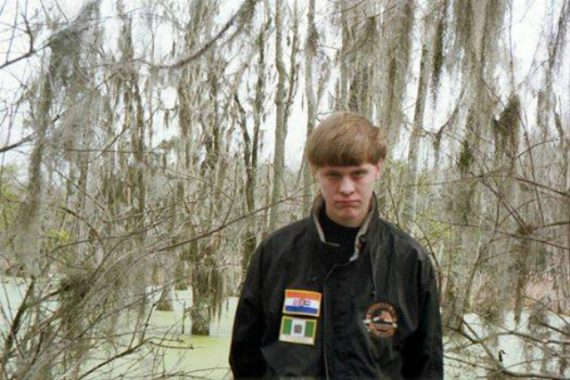 Dylann Roof, the shooter who killed nine people and injured three others in a racially motivated attack on at an historically African American church in Charleston, South Carolina, has been indicated by a Federal Grand Jury on thirty-three counts that include hate crimes charges:
The man accused of gunning down nine people inside a historic African American church in Charleston, S.C., last month has been indicted on federal hate crime charges, Attorney General Loretta E. Lynch announced Wednesday.

Some of these charges carry the death penalty, though Lynch said no decision has been made yet on whether the federal government would seek that sentence.

Dylann Roof was indicted by a federal grand jury in South Carolina and charged with killing and attempting to kill African American parishioners "because of their race and in order to interfere with their exercise of their religion," Lynch said during a news conference in Washington, D.C.

The 33-count indictment alleges that Roof decided months before the shooting to attack and kill black people, picking the "Mother Emanuel" church in Charleston because of its larger renown and significance. In addition to killing people due to their race, the indictment also states that he attacked people who were exercising their religious beliefs.

"Met with welcome by the ministers of the church and its parishioners, he joined them in their bible study group," Lynch said. "The parishioners had Bibles. Dylann Roof had his .45-caliber Glock pistol and eight magazines loaded with hollow point bullets."

Roof, 21, had already been charged with nine counts of murder and three counts of attempted murder for the shooting spree. Lynch did not say how the federal charges would affect the state's prosecution, describing them as "parallel" processes that would make their way through the courts. The office of the prosecutor for Charleston County did not respond to requests for comment Wednesday.

The indictment notes that three of the victims of the shooting were between the ages of 70 and 87 years old. According to the federal death penalty statute, one of the aggravating factors that can warrant a death sentence is if the victims are "particularly vulnerable due to old age."

Lynch said that before the federal government determines whether or not to seek the death penalty, the families of the church victims would be consulted. Ultimately, Lynch will make the final decision.

Days after the massacre, authorities confirmed that Roof had posted a racist manifesto on his Web site, filled with racial stereotypes and diatribes against black, Jewish and Hispanic people. In one part of the rant, Roof criticized people who only talked online and declared his desire to take action.

"We have no skinheads, no real KKK, no one doing anything but talking on the internet," he wrote. "Well someone has to have the bravery to take it to the real world, and I guess that has to be me."

The site was also laden with photos of Roof holding a .45-caliber Glock pistol and a Confederate flag. One official said it was last modified just hours before the shooting attack inside the church.

"I have to do it," the church gunman told his victims, according to Sylvia Johnson, who spoke to a survivor and is a cousin of a pastor who died in the attack. "You rape our women, and you're taking over our country. And you have to go."

The Post and Courier first reported Wednesday that they were imminent, while the New York Times first reported that Roof was indicted.

A law enforcement official had said last month that Roof was likely to face hate-crime charges stemming from the attack, and an official Justice Department statement said that authorities were investigating the shooting "from all angles, including as a hate crime and as an act of domestic terrorism."
Of the many high profile cases in recent years that have been reviewed by the Justice Department, such as the George Zimmerman/Trayvon Martin case and the shooting of Michael Brown in Ferguson, Missouri, this is the first time in some time that case like this has resulted in a Federal Court indictment. In this case in particular, it's an atypical event simply because Roof is not a government employee such as a police officer but instead a civilian. In these cases, the Federal Government is required to prove, essentially, that Roof targeted the victims in this case because of their race and/or religion and that he acted in a manner designed to deprive of their civil rights, including their right to life. Given some of the facts that have come out about this case, this probably isn't going to be very hard to prove. Roof apparently admitted to officers after he was arrested not only that he committed crime but that he did so for reasons rooted in racial hatred. There has also been evidence uncovered from his blog and from searches of his residence evidencing his immersion in white supremacist ideology and, apparently, the fact that he had been planning this attack for some time prior to June 17th. Given all of that, the U.S. Attorney seemingly has a very strong case against Roof should the Federal charges ever actually go to trial.
While all of this is going on, of course, Roof is also facing charges for murder and attempted murder in the state court's of South Carolina. Last week, the Judge presiding over those charges set a preliminary trial date for July 11, 2016, although it's likely that this date will be delayed for any of the numbers that one would expect in a high profile criminal case such as this. These state charges also carry with them the possibility of the death penalty, but it's unclear when or if Roof would be executed if were sentenced to die under South Carolina law. While the state does have the death penalty. there hasn't been an execution in the Palmetto State since 2011, and the process is effectively under a moratorium right now because South Carolina, like many other states, is unable to obtain the drugs necessary for lethal injection due to the fact that drug companies are increasingly unwilling to sell them. This apparently isn't a problem in the Federal system, although it has been some time since there has been an execution under Federal as well and its unclear how long the Federal Government will be able to have access to these lethal injection drugs. Whether this issue will play a role in deciding which jurisdiction goes first when it comes to proceeding against Roof is unclear, but the availability and likelihood of the death penalty is likely to play role in making that determination.
As is usually the case with these types of situations, the inevitable double jeopardy questions arise when a Defendant like Roof is charged for what are essentially the same crimes in two different courts. Outside of the fact that the Federal charges will require prosecutors to prove the elements regard racial and religious bias, there is no substantive difference between what will happen in Federal Court and what will happen in the state courts of South Carolina. Indeed, given the fact that the Federal indictment originates in the District Court based in Charleston, both the Federal trial and state trial will be drawing from the essentially the same pool of prospective jurors. They will be using the same evidence, largely the same witnesses, and dealing with the same facts. Even the facts related to racial and religious bias are not essential to convicting Roof under state law, it is seems obvious that the prosecutor will attempt to bring these things out at trial and will most assuredly bring them to the jury during the sentencing phase of the proceedings. In a past era, where racially motivated crimes like this would not be perused vigorously by prosecutors in the South, there was perhaps an argument for using Federal law as a backstop to ensure that justice prevails in these types of cases. That's not the situation today. The prosecutor in Charleston is aggressively prosecuting these murder charges, and has the backing of every political leader in the state as well as the people of South Carolina. The Federal prosecution is, as Jonathan Blanks and Scott Shackford put it, utterly superfluous and unnecessary. Ideally, the Justice Department will let the state go first here and, assuming that Roof is convicted an sentenced as anticipated, just let the matter die. There's no need for two trials in this case.
Here's the Indictment: