Economic Forecaster Says U.S. Is Headed Into A Recession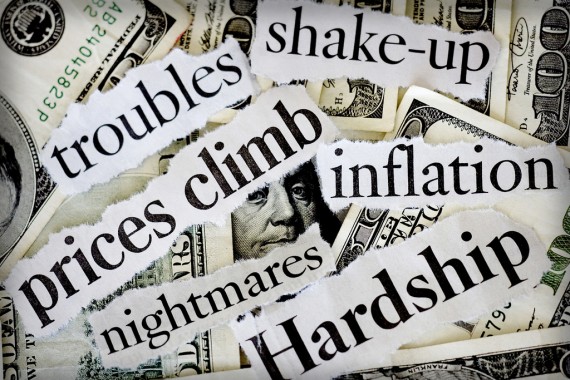 The Economic Cycle Research Institute is out with a very gloomy forecast for the U.S. economy:
The U.S. economy is staring down another recession, according to a forecast from the Economic Cycle Research Institute.
"It's either just begun, or it's right in front of us," said Lakshman Achuthan, the managing director of ECRI. "But at this point that's a detail. The critical news is there's no turning back. We are going to have a new recession."

The ECRI produces widely-followed leading indicators which predict when the economy is moving between recession and expansion. Achuthan said all those indicators are now pointing to a new economic downturn in the immediate future.

His recession call puts him ahead of most other forecasters. A CNNMoney survey of economists this week pointed to a one-in-three chance of a new recession in the next six months. The most bearish predictions put the odds at 50-50.

Achuthan said it is still possible that the recession will be mild this time, lasting less than a year with relatively limited job losses. But he said if there are shocks to the system, such as another financial meltdown due to the European sovereign debt crisis, it could become a very serious and deep recession.

His call comes the day after the government's final report on second quarter gross domestic product, the broadest measure of the nation's economic health, showed weak growth of only 1.3% in the three months ending in June. Achuthan said he's confident that the recession either began in the third quarter, which ends today, or will begin in the fourth quarter.
If Achtuthan turns out to be right, the implications of a downturn should be rather obvious. All those deficit and revenue projections in everybody's budget forecasts can be thrown out the window, the worst work of the Joint Select Committee on the Deficit (the "Super-Committee") will become even more difficult, and the political landscape will become even more of a minefield for President Obama and the Democrats. More importantly, though, the psychological impact of a contracting economy so soon after one of the most painful recessions since the end of World War II should not be underestimated. Voters will be pessimistic and scared when they walk into voting booths in 2012, and there's no telling what could happen then.
Actuthan puts it best, I think:
"The reason some people feel like the previous recession never ended is no mystery; the jobs that were lost have not been recovered," he said. "But we've added more than 1 million jobs in the last year, which only happens if we're in a recovery. If you think this is a bad economy, you haven't seen anything yet."
I'm pretty sure I join everyone in hoping that he's wrong, but I get the feeling that he isn't.