Edgar Mitchell, Sixth Man On The Moon, Dies At 85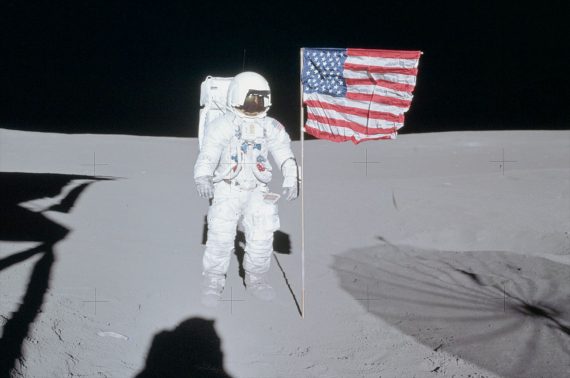 Edgar Mitchell, the Commander of Apollo XIV and the sixth man to walk on the Moon, has died at the age of 85:
Edgar D. Mitchell, who became the sixth man to walk on the moon as a member of NASA's first lunar mission devoted exclusively to scientific research, died Thursday at a hospice in West Palm Beach, Fla. He was 85.

NASA announced his death, which came one day before the 45th anniversary of his moon landing.

The Apollo 14 flight, launched on Jan. 31, 1971, took Commander Mitchell and his fellow Navy officer, Capt. Alan B. Shepard Jr., to the moon's Fra Mauro highlands. Captain Shepard had been America's first man in space 10 years earlier.

Maj. Stuart A. Roosa of the Air Force remained in orbit snapping photographs of potential sites for future missions while awaiting his colleagues' return in the lunar module.

The first two flights to the moon — the epic Apollo 11 of July 1969 with Neil Armstrong and Buzz Aldrin, and Apollo 12 four months later — were largely devoted to testing whether men could survive there, albeit for a brief period. Apollo 13's scheduled moon landing had been aborted by a near-disastrous oxygen tank explosion.

For the 14th mission, scientists were counting on Commander Mitchell and Captain Shepard to be the first astronauts to return with a large collection of rocks from high elevations, where some might be old enough to provide clues to the moon's origin and its evolution. (Apollo 11 and Apollo 12 had landed in fairly level areas.)

Spending just over nine hours on two moonwalks, the astronauts collected more than 94 pounds of rock samples, piling them in a two-wheeled cart they were hauling. But they missed out on completing one important task.

NASA had hoped that they could climb to the rim of the nearly 400-foot-high Cone crater and collect especially significant rock samples there. But in lugging the cart the astronauts found the climb to be difficult and experienced rapid heartbeats. Mission control, concerned about exhaustion and wary of time constraints, ordered them to turn back. Unbeknown to the men at the time, they were only about 20 yards from their goal.

(…)

Edgar Dean Mitchell was born on Sept. 19, 1930, in Hereford, Tex., and grew up in Artesia, N.M. He became fascinated by flight when he watched crop duster pilots flying biplanes from an airfield near his home.

He received a bachelor of science degree in industrial management from Carnegie Institute of Technology (now Carnegie Mellon University) in Pittsburgh in 1952 and joined the Navy the next year.

After flying fighter planes, he obtained another bachelor's degree, in aeronautics, from the Naval Postgraduate School in 1961. He earned his doctorate, in aeronautics and astronautics, from the Massachusetts Institute of Technology in 1964. He graduated from test pilot school, then joined the astronaut corps in April 1966.

Apollo 14 was Commander Mitchell's only spaceflight. He retired from NASA and the Navy in 1972 and at his death lived in Lake Worth, Fla., south of West Palm Beach.

Mr. Mitchell's two marriages ended in divorce. Survivors include four daughters, Karlyn, Elizabeth, Mary and Kimberly, and a son, Paul, according to the South Florida website TCPalm.com. Kimberly Mitchell is a former city commissioner of West Palm Beach.

Mr. Mitchell owned a business consulting firm in South Florida but retained his interest in studying the mind.

In 1973 he founded the Institute of Noetic Sciences, a California-based nonprofit that supports research in the field. Its name is derived from the Greek word variously defined as intellect or inner wisdom.

Mr. Mitchell created a stir in 2008 when he told a British radio station that his contacts in military and intelligence circles had told him that "we've been visited on this planet, and the U.F.O. phenomena is real," but that governments had "covered up" the matter for at least 60 years. (His boyhood home was 40 miles south of Roswell, N.M., site of the celebrated claim of an unidentified flying object crash and government cover-up in 1947.)
Mitchell is one of only twelve people who have walked on the Moon's surface. Of those, five have already passed away, including Neil Armstrong, the first man on the Moon, and Alan Shepard, who was Mitchell's Apollo XIV crew mate on the lunar surface. The dean of the remaining men is, of course, Buzz Aldrin who continues to travel the world at the age of 86 talking about the future of space travel and his involvement in advocating for a manned mission to Mars. The youngest of the surviving men to walk on the lunar surface is Apollo XVI astronaut Charles Duke, who is 80 years old.