Effort To Name Moon Of Pluto 'Vulcan' Fails, Captain Kirk Not Pleased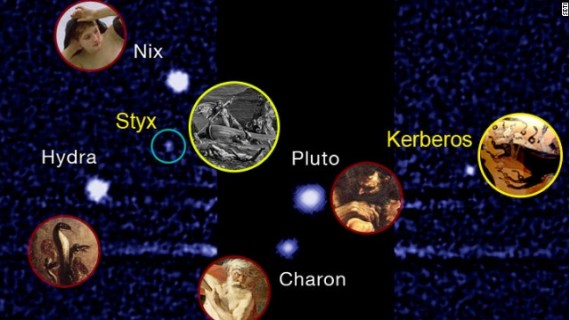 Earlier this year, I noted that there was an effort to name one of the newly discovered moons of not-really-a-planet-anymore Pluto Vulcan, and it had gotten the endorsement of William Shatner himself. Sadly, that effort has failed:
(CNN) – It wasn't the best day for Trekkers.

After a successful online campaign that propelled "Vulcan" – the most well-known planet from "Star Trek" – to the top of a poll to name two moons orbiting Pluto, fans found out on Tuesday that the moons would be named "Kerberos" and "Styx" (which placed second and third) instead.

The SETI Institute explained that despite the popularity of "Vulcan" (in large part due to a Twitter campaign by "Trek's" own William Shatner and endorsed by castmate Leonard Nimoy), the name was not new to the world of astronomy.

"The (International Astronomical Union) gave serious consideration to this name, which happens to be shared by the Roman god of volcanoes," SETI stated in a press release.

"However, because that name has already been used in astronomy, and because the Roman god is not closely associated with Pluto, this proposal was rejected." (IAU rules state that the moons must be named after characters from the underworld of Greek or Roman mythology.)

The name was given to a hypothetical planet, which was believed to exist near Mercury, but that theory has since been discredited.

Shatner made no bones about his displeasure with the decision on his Twitter feed.

"I'm sad," he tweeted. "So they name a moon Kerebus because there's already a Cerebus asteroid but a mythological planet knocks out Vulcan?"

He went on, "Star Trek fans have had it rough. First JJ (Abrams) blows up Vulcan and now SETI finds a loophole to deny it from coming back!"

He also said, "I think they used us for promotional purposes! They're probably Star Wars fans!"
I don't know IAU and SETI, getting Captain Kirk upset is generally not a good idea.