Electoral College 2012 – Ridiculously Early Handicapping
Looking at the state-by-state map way too early.
Stephen Green revives his Wargaming the Electoral College series. Sure, the election is fifteen months away and it will be a long time before we even know who the candidates are. But getting a marker down early is required for keeping one's pundit license.  His starting point: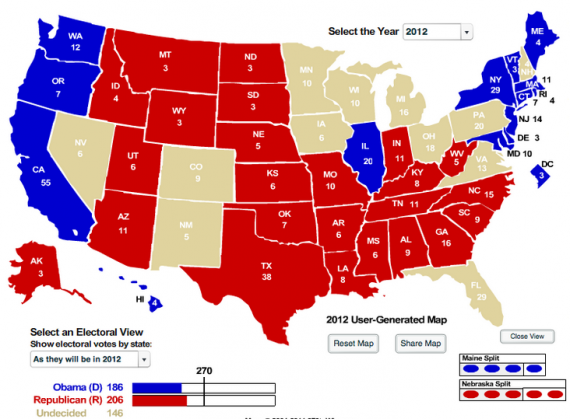 Steve wisely ignores the state-by-state polls entirely at this point, figuring that they're worse than useless. Instead, he follows my own rule of thumb in using the last election as a baseline and extrapolating from there.
1. President Obama will not win any states he didn't win in 2008.

2. North Carolina and Indiana are gone for the Democrats. Indiana was a fluke — due to proximity to Illinois, lack of enthusiasm for McCain, and the economic panic. North Carolina was won by a scant 14,000 votes against a demoralized GOP. Both states will go red this time around.

3. Virginia is traditionally GOP-friendly, but has been trending purple. Also, there's been a huge influx of money and power and more money into the Northern VA 'burbs around DC. That helps the state's economy (at the expense of the rest of the nation), and makes Virginia a tough state for the GOP to pick off of Obama's 2008 column.

4. Obama put together an amazing ground game in the Mountain West last time around, and intends to rally Latino voters to do it again. The region should be all-red, given the state of the economy and Obama's negatives — but a billion dollars can buy a lot of ground game.

5. There's a wave of disgust and despair in the industrial Great Lakes and Midwest. I believe this wave hurts both parties, making the region the battleground for 2012.
Presuming that the Republicans nominate a plausible candidate (Romney, Perry, Huntsman, or Pawlenty would all qualify) and no serious Tea Party type joins the race as a spoiler, I think these presumptions are right. Additionally, I'd go out on a short limb and add Virginia's 13 Electors and Florida's 29 to the Red column. 2008 was a perfect storm for Democrats and 2012 won't be.
Barring this turning into a landslide–and I don't think that happens, given Obama's enormous strengths as a campaigner and fundraiser–that means were down to Ohio once again being the key tossup state and several other combinations available for keeping Obama in office or turning him out.