Elmo Sex Scandal: Not A Crime, Just Creepy
Kevin Clash was falsely accused of having sex with an underage boy. He merely had sex with a boy who was too young.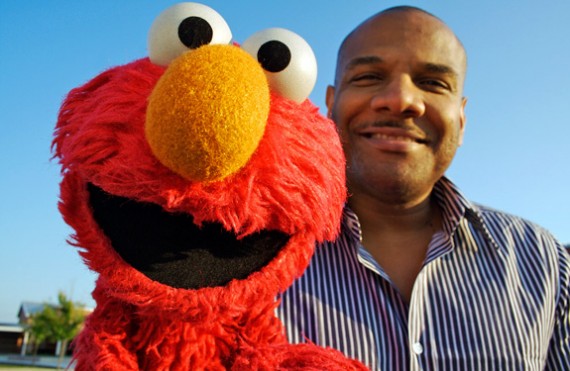 Kevin Clash, the puppeteer who voices Sesame Street's Elmo, was falsely accused of having sex with an underage boy. Instead, he merely had sex with a boy who was too young.
Last night, CSM's Dan Murphy jokingly tweeted, "Well, at least Elmo is off the hook. So one in the plus column." To which I not jokingly replied, "52 yo man* only has sex with 18-yo boys, not 16-yos. Yay."
This set off an interesting discussion.
Jayvie Canono retorted, "Older straight men bag young bimbos all the time." And Steve Hynd observed, that General Petraeus and his paramour "Broadwell are within shouting distance of that age difference. Double standards?"
We went back and forth a bit, with me clinging to the "Half your age plus seven" maxim as a rule of thumb. This morning, TAP's E.J. Graff does a better job encapsulating my instincts:
But it still makes me queasy. Why is a 45-ish-year-old man having sex with a teenager? If the 18- or 19-year-old were female, I would be appalled at the probable power imbalance, assuming that a creepy middle-aged man was manipulating a youngster's immaturity to use her sexually, to soak up the admiration of youth, promising (implicitly or explicitly) things that a more mature adult would know were lies. Why should my attitude be different if the youngster is male?

Some middle-aged men make sure they stick to the letter of the age-of-consent laws, refraining from sex with anyone a day short of 18 just to stay out of jail. But a 30-year age difference—at least, when one of the pair is a teenager—still gives the older partner far too much power. We know by now that the brain isn't fully developed until the mid-twenties. In your teens, you may think you are an adult—but the rest of us, looking back, know we were not. At that age, you're still finding your place, learning how to navigate relationships and the world. You're more likely to be vulnerable and emotionally volatile than someone who has some experience in the tilt-a-whirl of heady sexual relationships. If you're not old enough to drink alcohol, you're not old enough to get in bed with someone two or three times your age.
This is exactly right. As one gets older, the raw numbers matter less. When I was in high school, I thought that the seniors who were hitting on the freshmen girls were on the skeezy side. Similarly, when I was in college, the thought of dating high school girls seemed a little creepy. By my late 20s, age difference of 3 or 4 years didn't seem odd at all. At 39, I married a 34-year-old; at that point, a 5-1/2 year gap was so immaterial that we never really thought of ourselves as being of different ages.
There are all sorts of problems with the Petraeus-Broadwell affair. A 20 year age gap isn't one of them, though. Broadwell is a bright, highly educated, fully mature woman. And, while Petraeus is on the high side of middle age, he's not by any means old enough to create an Anna Nicole Smith-J. Howard Marshall situation.
I'm now roughly the same age as Clash was when he began his relationship with his former accuser and, alas, single again. I'm not sure exactly what my lower age limit is at this point. But it damned sure doesn't end in -teen.
______________________
*In fairness, while Clash is 52 now, he was something like 47 when the affair took place.