FBI, DOJ Knew About Petraeus Affair For Months
The David Petraeus/Paula Broadwell story gets curiouser.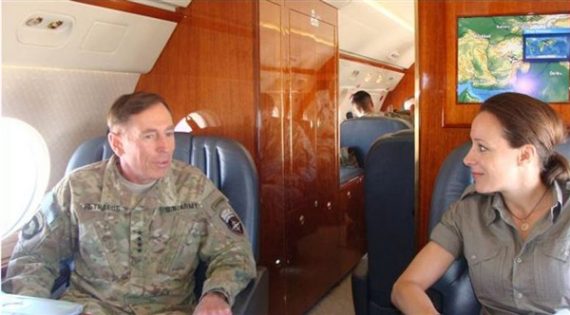 Every day seems to bringing out new revelations about the events that led to the resignation of CIA Director David Petraeus. Originally, it was reported that the story had only come to light in the days preceding the resignation, then it was reported that the FBI investigation that led to the revelations had become several weeks ago but that White House officials weren't informed until last Tuesday. Now, The New York Times is reporting that the FBI was aware of the affair since at least the summer:
WASHINGTON — High-level officials at the Federal Bureau of Investigation and the Justice Department were notified in the late summer that F.B.I. agents had uncovered what appeared to be an extramarital affair involving the director of the Central Intelligence Agency, David H. Petraeus, government officials said Sunday.

But law enforcement officials did not notify anyone outside the F.B.I. or the Justice Department until last week because the investigation was incomplete and initial concerns about possible security breaches, which would demand more immediate action, did not appear to be justified, the officials said.

The new accounts of the events that led to Mr. Petraeus's sudden resignation on Friday shed light on the competing pressures facing F.B.I. agents who recognized the high stakes of any investigation involving the C.I.A. director but who were wary of exposing a private affair with no criminal or security implications. For the first time Sunday, the woman whose report of harassing e-mails led to the exposure of the affair was identified as Jill Kelley, 37, of Tampa, Fla.

Some members of Congress have protested the delay in being notified of the F.B.I.'s investigation of Mr. Petraeus until just after the presidential election. Senator Dianne Feinstein, Democrat of California and the chairwoman of the Intelligence Committee, said Sunday that her committee would "absolutely" demand an explanation. An F.B.I. case involving the C.I.A. director "could have had an effect on national security," she said on "Fox News Sunday." "I think we should have been told."

But the bureau's history would make the privacy question especially significant; in his decades-long reign as the F.B.I.'s first director, J. Edgar Hoover sometimes directed agents to spy improperly on the sex lives of public figures and then used the resulting information to pressure or blackmail them.

Law enforcement officials, who spoke on condition of anonymity because of the delicacy of the investigation, defended the F.B.I.'s handling of the case. "There are a lot of sensitivities in a case like this," said a senior law enforcement official. "There were hints of possible intelligence and security issues, but they were unproven. You constantly ask yourself, 'What are the notification requirements? What are the privacy issues?' "
This raises several questions.
If the FBI new as long ago as summer that there was no national security breach involved in the relationship between Petraeus and Broadwell, which was apparently coming to an end at the time, then why did they continue investigating the matter? When did the "threatening" emails from Broadwell to another woman, now identified as State Department military liaison Jill Kelley, occur? Did that happen in the summer, or more recently as reports over the weekend indicated? If those emails were recent, then why was the FBI investigating the relationship between Petraeus and Broadwell over the summer, had something else come to light? And, what about the reports from some sources that Broadwell had access to Petraeus's personal (non-CIA) email account? And, finally, if the CIA Director was under FBI surveillance months ago then why wasn't someone in the White House informed? It seems to me that the fact that the FBI is investigating your CIA Director is something a President would like to be informed about.
Dylan Byers reports today that Broadwell often spoke of having access to classified information:
Paula Broadwell, the author, military reservist and West Point graduate who reportedly had an extramarital affair with former CIA director David Petraeus, told an audience this summer that she routinely had access to classified information while researching a book on Petraeus's work as the commanding general in Afghanistan.

During a panel discussion, Broadwell said her background  in the military and her continuing obligations as a major in the Army Reserve made her particularly careful not to disclose sensitive information she was privy to while an "embed" in Afghanistan in 2010 and 2011.

"I was entrusted with this opportunity to sit in on high level meetings with General Petraeus. Sitting in on SCIF [sensitive compartmented information facility] meetings in the morning, listen to classified chatter of terrorist talk and so forth. And I had that background anyhow, so I knew a lot of that information for my writing, but I knew there was a clear line that I couldn't cross when I was writing it out," Broadwell said in the July 2012 discussion at the Aspen Security Forum in Colorado.

Broadwell acknowledged that her connection to the military and her role as a writer sometimes caused confusion among military personnel she encountered while working on the book.

"I was embedded with Gen. Petraeus in Afghanistan and it was a little confusing for some of the folks there because I'm also a military reservist with a top secret/SCI clearance and then some. So, a lot of my former peers didn't know how to treat me. Was I journalist Broadwell or was I Major Broadwell?" she recalled. "I had to follow very clear lines of non-disclosure and signed non-disclosure agreements like my colleagues. I felt like I was almost held to a higher level of accountability because I could lose my clearance."
And Eli Lake notes that Broadwell may have revealed classified information in a speech last month:
The woman at the center of the alleged adultery scandal that led CIA Director David Petraeus to resign on Friday gave a speech last month asserting otherwise unreported information about the Benghazi attack that killed U.S. Ambassador Christopher Stevens and three other Americans.

Speaking on Oct. 26 at the University of Denver, Paula Broadwell—the married author of the highly favorable biography of Petraeus All In—was asked about the 9/11 anniversary attack.

"Now I don't know if a lot of you heard this," she replied, "but the CIA annex had actually—had taken a couple of Libyan militia members prisoner and they think that the attack on the consulate was an effort to try to get these prisoners back. So that's still being vetted."

(It's possible Broadwell was confusing details broadcast ealier that day by Fox News correspondent Jennifer Griffen, who'd reported that three of the Libyan attackers were briefly held at the annex—not the consulate—before being turned over to a local militia.)

As her answer continued, Broadwell seemed to speak on behalf of Petraeus: "The challenging thing for General Petraeus is that in his new position he is not allowed to communicate with the press. So he's known all of this, they had correspondence with the CIA station chief in Libya. Within 24 hours they kind of knew what was happening."
I personally don't care that David Petraeus the man had an affair, that's a private matter between him, his wife, and the "other woman." I do care that the CIA Director was hiding a potentially damaging secret for the better part of his tenure at Langley and that someone outside the organization such as Broadwell may have had access to information she should not have had access to. At that point we are talking about a National Security matter, and I really have to wonder why the FBI and the DOJ sat on this information for months.