David Petraeus Resigns As CIA Director, Admitting To Extra-Marital Affair
A surprise Friday resignation at the CIA.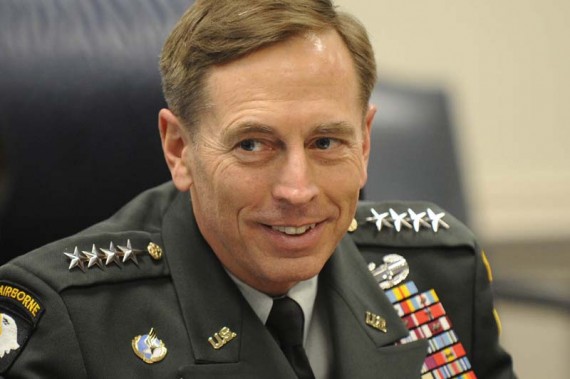 Retired General David Petraeus has resigned as Director of the Central Intelligence Agency citing "personal reasons," specifically his admission of an extra-marital affair of unknown length:
CIA Director David Petraeus resigned Friday, citing an extramarital affair he had.

Multiple sources tell NBC News that Mike Morrell, the deputy CIA director and a longtime CIA officer, would likely be offered the job as acting director but with the understanding that he may be elevated to the job permanently at some point.

That's how George Tenet got the job, first as deputy director in July 1995, then acting director following the resignation of John Deutch in December 1996 and finally as director in July 1997, staying on in the Bush Administration.
Here's the text of Petraeus's letter:
HEADQUARTERS Central Intelligence Agency

9 November 2012

Yesterday afternoon, I went to the White House and asked the President to be allowed, for personal reasons, to resign from my position as D/CIA.  After being married for over 37 years, I showed extremely poor judgment by engaging in an extramarital affair.  Such behavior is unacceptable, both as a husband and as the leader of an organization such as ours.  This afternoon, the President graciously accepted my resignation.

As I depart Langley, I want you to know that it has been the greatest of privileges to have served with you, the officers of our Nation's Silent Service, a work force that is truly exceptional in every regard.  Indeed, you did extraordinary work on a host of critical missions during my time as director, and I am deeply grateful to you for that.

Teddy Roosevelt once observed that life's greatest gift is the opportunity to work hard at work worth doing.  I will always treasure my opportunity to have done that with you and I will always regret the circumstances that brought that work with you to an end.
Thank you for your extraordinary service to our country, and best wishes for continued success in the important endeavors that lie ahead for our country and our Agency.

With admiration and appreciation,
David H. Petraeus
This is an unfortunate end to a distinguished military career, and it comes as something of a surprise. Some intelligence analysts on CNN are expressing surprise that he would resign over an affair, but it's worth noting that anyone below Petraeus at the CIA who engaged in similar behavior would likely be forced to resign themselves due the fact that they would have exposed themselves to blackmail and other security risks. It's possible that there's more to this story, such as the fact that the relationship was with a subordinate or some such thing, and I'm assuming those details will come out at some point in the future.  Interestingly, it was just over a month ago that reports began to circulate that Petraeus was eyeing the exits at Langely, possibly to take a position as President of Princeton University. Whether those rumors are related to today's events are unclear.
I can't say that it appears that Petraeus will be leaving much of a mark at the CIA given his short tenure, but his military contributions to his country are something that nobody can take away from him.
Update: Noah Schachtman has further details:
Petraeus' CIA tenure first appeared to be in jeopardy last week, when the Wall Street Journal published an article alleging that Petraeus has been, in effect, asleep at the switch during the attack on the U.S. mission in Benghazi, Libya. But Petraeus former aide insists that wasn't the reason for his departure.

"This had nothing to do with Benghazi or relationship with the White House — which by the way was excellent — or anything else for that matter," the aide tells Danger Room. "Just his flawed behavior."

In a statement released Friday afternoon, the President accepted Petraeus' resignation, and offered his "thoughts and prayers [to] Dave and Holly Petraeus, who has done so much to help military families through her own work. I wish them the very best at this difficult time."

Sen. Diane Feinstein, in a separate statement, added, "I wish President Obama had not accepted this resignation, but I understand and respect the decision."
Additionally, I'm already starting to see some people on the right putting forward conspiracy theories about this resignation based on the fact that Petraeus was scheduled to testify before the Senate Intelligence Committee next week regarding the attack in Benghazi. Consider, for example, these tweets from Laura Ingraham:
COINCIDENCE?! Petraeus is set to testify NEXT week at a closed door session on Capitol Hill abt Benghazi. Did BHO push him out? This stinks!

— Laura Ingraham (@IngrahamAngle) November 9, 2012
FNC's Chris Wallace taking Gen. Petraeus at his word re "affair" as reason for leaving CIA. But who threatened to expose the Petraeus?

— Laura Ingraham (@IngrahamAngle) November 9, 2012
Or this:
Yeah, so Petraeus will NOT testify next week. On come on. That's not fishy? Really?

— Kathleen McKinley (@KatMcKinley) November 9, 2012
I'm sure there will be more of this.
Update: The President has released a statement:
David Petraeus has provided extraordinary service to the United States for decades. By any measure, he was one of the outstanding General officers of his generation, helping our military adapt to new challenges, and leading our men and women in uniform through a remarkable period of service in Iraq and Afghanistan, where he helped our nation put those wars on a path to a responsible end. As Director of the Central Intelligence Agency, he has continued to serve with characteristic intellectual rigor, dedication, and patriotism. By any measure, through his lifetime of service David Petraeus has made our country safer and stronger.

Today, I accepted his resignation as Director of the Central Intelligence Agency. I am completely confident that the CIA will continue to thrive and carry out its essential mission, and I have the utmost confidence in Acting Director Michael Morell and the men and women of the CIA who work every day to keep our nation safe. Going forward, my thoughts and prayers are with Dave and Holly Petraeus, who has done so much to help military families through her own work. I wish them the very best at this difficult time.
Reports this afternoon say that Obama originally did not want to accept the resignation, but Petraeus insisted.
Update: At Slate, Fred Kaplan purports to identify the woman Petraeus had an affair with:
The woman with whom Gen. David Petraeus was having an affair is Paula Broadwell, the author of a recent hagiographic book about him, All In: The Education of General David Petraeus.

(…)

It had long been rumored that something was going on between Petraeus and Broadwell. Her book, co-written with Vernon Loeb, is widely regarded as a valentine to the general. When she was embedded with him in Afghanistan, they went on frequent 5-mile runs together. But Petraeus went on 5-mile runs with many reporters, and few people who knew him took the rumors seriously. In his personal life, he's always been seen as a straight shooter, a square. Few could have imagined that his end would come as the result of a morals scandal.
Indeed. Additionally, the AP is reporting, without much clarification at the moment that the affair came to light during the course of an FBI investigation and NBC News is reporting that the FBI had opened an investigation into Paula Broadwell's access to Patreaus's email. Presumably, it was during this investigation that the affair was discovered.