Emory President Extols 3/5 Compromise
Emory's James Wagner sees the 3/5 Compromise as the price for achieving a more perfect union.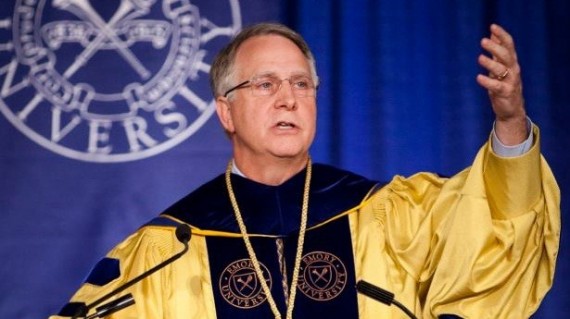 Emory University president James Wagner is in hot water for the curious citation of the infamous 3/5 Compromise as an example of the virtues of compromise:
One instance of constitutional compromise was the agreement to count three-fifths of the slave population for purposes of state representation in Congress. Southern delegates wanted to count the whole slave population, which would have given the South greater influence over national policy. Northern delegates argued that slaves should not be counted at all, because they had no vote. As the price for achieving the ultimate aim of the Constitution—"to form a more perfect union"—the two sides compromised on this immediate issue of how to count slaves in the new nation. Pragmatic half-victories kept in view the higher aspiration of drawing the country more closely together.

Some might suggest that the constitutional compromise reached for the lowest common denominator—for the barest minimum value on which both sides could agree. I rather think something different happened. Both sides found a way to temper ideology and continue working toward the highest aspiration they both shared—the aspiration to form a more perfect union. They set their sights higher, not lower, in order to identify their common goal and keep moving toward it.
This is part of a short essay for Emory Magazine arguing that our national leaders and his own campus community needs to do a better job of working together to solve complex problems. Not surprisingly, the column has sparked outrage and protest.
A faculty group censured him last week for the remarks. And in a speech at Friday's reception for the campus exhibition, "And the Struggle Continues: The Southern Christian Leadership Conference's Fight for Social Change," Dr. Wagner acknowledged both the nation's continuing education in race relations and his own.

"I know that I personally have a long way to go," he said.

His article has been seized upon by students and faculty members who say it was yet one more example of insensitivity from the Emory administration, which in September announced sweeping cuts that some say unfairly targeted programs that are popular with minorities.

About 45 students showed up to protest at the reception, silently holding signs that read "This is 5/5 outrageous" and "Shame on James" as the fight for racial equality was discussed by Dr. Wagner; Representative John Lewis of Georgia, a veteran of the civil rights movement; and leaders of the S.C.L.C.
His main point is one most of us would agree with; it is, after all, empty platitude. But that the 3/5 Compromise is the best example—indeed, it's the only example in the article!—is odd, indeed. Had been looking for an example to justify a seemingly horrendous choice that was nonetheless better than the other available alternatives, it would have been a powerful choice. But there are better illustrations from the Philadelphia convention of working together to bridge differences in order to form a perfect union.
Wagner's doctorate is in materials science and engineering and most of his career has been spent as a bureaucrat; he's not a historian or philosopher. So, perhaps he can be forgiven for not having fully grappled with the issue. Then again, a career spent managing sensitive issues should have ingrained in him a bit more caution on something this inflammatory.
And it does seem that the protests are using this unfortunate choice on Wagner's part to gain leverage on an unrelated issue: a decision to streamline poorly performing academic departments.