Russia's Short-Lived Insurrection
Well, that de-escalated quickly.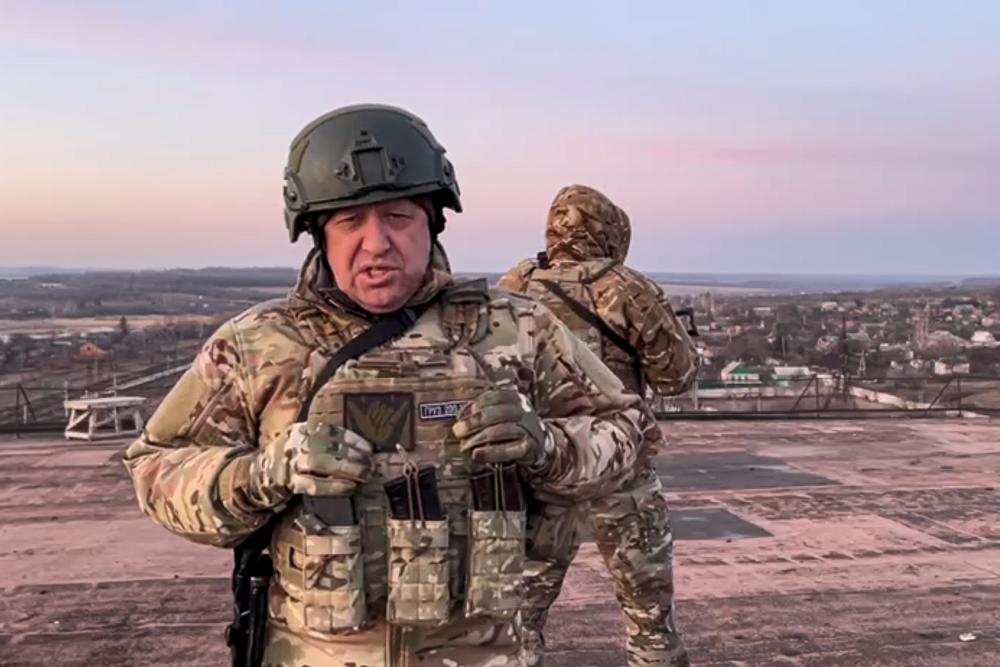 The Wagner group marched on Moscow, apparently without much resistance, and then, inexplicably, returned to garrison with its leader accepting exile in Belarus. I have no idea what to make of it.
CNN ("Moscow has stepped back from civil war with Wagner. But the danger's not over, experts warn"):
Within a remarkable day and a half, Russia faced the very real threat of an armed insurrection, with President Vladimir Putin vowing to punish Wagner fighters marching toward Moscow and occupying cities along the way – before a sudden deal with Belarus seemed to defuse the crisis as rapidly as it emerged.

But much remains uncertain, with experts warning the rare uprising isn't likely to disappear so quickly without consequences down the line.

Putin must now navigate the aftermath of the most serious challenge to his authority since he came to power in 2000, following a series of dizzying events that was closely – and nervously – watched by the world and cheered by Ukraine.

Outspoken Wagner boss Yevgeny Prigozhin is being sent to Belarus, apparently unscathed, but he may have painted a target on his own back like never before.

[…]

Prigozhin, the bombastic head of the Wagner group, agreed to leave Russia for neighboring Belarus on Saturday, in a deal apparently brokered by Belarusian President Alexander Lukashenko.

The deal includes Prigozhin pulling back his troops from their march toward the capital, said a Kremlin spokesperson on Saturday.

The criminal charges against him will be dropped, said the spokesperson. Wagner fighters will face no legal action for their part in the insurrection, and will instead sign contracts with Russia's Ministry of Defense – a move Prigozhin had previously rejected as an attempt to bring his paramilitary force in line.

Wagner troops previously claimed they had seized key military facilities in two Russian cities; by Saturday, videos authenticated and geolocated by CNN showed Prigozhin and his forces withdrawing from one of those cities, Rostov-on-Don.

It's not clear where Prigozhin is now. The Kremlin is unaware of his whereabouts, the spokesperson said Saturday.

[…]

"Putin doesn't forgive traitors. Even if Putin says, 'Prigozhin, you go to Belarus,' he is still a traitor and I think Putin will never forgive that," said Jill Dougherty, CNN's former Moscow bureau chief and a longstanding expert on Russian affairs.

It's possible we could see Prigozhin "get killed in Belarus," she added – but it's a tough dilemma for Moscow because as long as Prigozhin "has some type of support, he is a threat, regardless of where he is."

Putin now faces real problems, too.

Multiple experts told CNN that while the Russian president survived the stand-off, he now looks weak – not only to the world and his enemies, but to his own people and military. That could pose a risk if there are skeptics or rivals within Moscow who see an opportunity to undermine Putin's position.

"If I were Putin, I would be worried about those people on the streets of Rostov cheering the Wagner people as they leave," said Dougherty.
WSJ ("Putin's War on Ukraine Backfires, Leading to Wagner Uprising at Home"):
The armed insurrection launched Saturday by Russian businessman-turned-warlord Yevgeny Prigozhin has exposed the country's deep cracks caused by a war—one the Kremlin had hoped would victoriously unite the country—and poses the gravest existential threat yet to Russian President Vladimir Putin's 23-year rule.

Fighters from the Wagner paramilitary group, led by Prigozhin, seized on Saturday two Russian cities and were rolling toward Moscow for a confrontation with the country's military leadership when a deal brokered by Belarusian President Alexander Lukashenko between Prigozhin and Putin averted a potential bloodbath in the country's capital.

The agreement and tentative truce staved off the possibility that anger over the Kremlin's handling of the war in Ukraine, from its flawed planning to its first disastrous days to more recent failures, could spark civil war.

But the very sight of armed men in Russian cities calling for the removal of Moscow's military command shows how a war that was meant to achieve regime change in Ukraine could threaten the regime in Russia by harnessing deep anger over the failures of the country's political and military leadership.

"Putin's biggest miscalculation is that he started a war based on a completely inadequate understanding about the world, about his army, and about Ukraine," said Russian political scientist Konstantin Sonin, a professor at the University of Chicago. "And then he kept making miscalculations every day, by not stopping the war."

Prigozhin's uprising threatened to repeat previous instances of how unsuccessful and bloody foreign adventures trigger unrest and even a revolution—from the 1905 campaign against Japan, to World War I, to the Soviet quagmire in Afghanistan.

[…]

By launching the ill-prepared invasion of Ukraine 16 months ago, a war that he expected to conclude with a triumph days later, Putin fell into the same trap.

Social tensions over accumulated losses and military setbacks in Ukraine have fueled the rise of Prigozhin and his Wagner paramilitary group, creating the biggest threat to Putin's rule since he came to power in 2000.

[…]

The war, initially waged just by the professional military, now affects the entire Russian society. Russia has had to resort to the mobilization of hundreds of thousands of men to shore up the crumbling front lines, prompting a mass wave of emigration. Ukrainian drone attacks deep inside Russia have become commonplace, puncturing Putin's carefully nurtured image of strength.

Despite these setbacks, Putin continued to believe that time was on Russia's side. Western democracies helping Ukraine would eventually tire, the thinking went, while his regime, secured by increasingly draconian laws that eliminated the liberal opposition at home, would endure and eventually win. The Wagner uprising, however, made it obvious that Russia is far less stable than Putin believed it to be.

"The hopes of a part of the Russian elite, including, apparently, the president himself, that a long war is beneficial for Russia…are a dangerous illusion," said Ruslan Pukhov, director of Moscow-based Center for Analysis of Strategies and Technologies, a military-affairs think tank. "Prolongation of the war carries huge domestic political risks for the Russian Federation."

Lithuanian Foreign Minister Gabrielius Landsbergis said his country had existed in Russia's orbit for centuries, affected by the internal crises that had shaken Moscow. "It's only a matter of time before the next chaotic implosion," he wrote on Twitter.
WaPo ("As revolt in Russia subsides, U.S. and allies brace for what comes next"):
While they struggled to make sense of Saturday's chaotic and fast-moving events inside Russia, the Biden administration and its Western allies were keenly aware there was little they could do about it beyond watching from afar.

President Biden consulted with top national security aides and his British, French and German counterparts. Secretary of State Antony Blinken convened Group of Seven diplomats. A message was conveyed to the Russian government, reminding them of their obligations to protect the safety of the U.S. Embassy and diplomats in Moscow. Top Pentagon officials made their own calls, canceled trips abroad and sought to reassure Ukraine, transfixed by the bizarre spectacle of Russian mercenaries of the Wagner Group marching toward Moscow for a shootout with the Russian military.

And then, as quickly as it began, with Wagner head Yevgeniy Prigozhin declaring an open conflict with Russia's military leadership, it seemed to be over. As Saturday became Sunday in Russia, both Prigozhin and the Kremlin declared that a deal had been struck, Wagner troops were turning back and there would be no "Russians against Russians" battle.

Yet, just as little was clear during a day of confusion and upheaval, "we don't know if it's over," said Alexander Vershbow, a former U.S. ambassador to Moscow and former deputy secretary general of NATO. "We can speculate all we want, but the fact is we have little idea of what happens next."

While events were unfolding, the administration trod lightly in making public statements or taking any action, such as putting forces in Europe on alert, to avoid what analysts and former officials said might suggest the United States was trying to exploit the situation and play into long-standing Kremlin narratives about U.S.-led attempts to weaken Russian security.

[…]

"This will have serious consequences regardless of the outcome," a European diplomat, one of several who spoke on the condition of anonymity to describe an evolving assessment, said before Prigozhin announced his retreat. "Prigozhin will fail, if the elite stays loyal and enough troops will be ready to fight against Wagner. But even if this implodes, it is a serious sign."

Former U.S. officials who have long dealt with Russia said that even though the immediate threat from Prigozhin may have eased, the extraordinary events had dealt a serious blow to the stability of the Russian regime.

"We have just watched armed, organized Russians who have come out of [Ukraine] and done a 400 kilometer run into Russia with the whole world watching," said retired Brig. Gen. Peter Zwack, the top U.S. military official posted to Moscow from 2012 to 2014, and currently a fellow at the Wilson Center.
WaPo's David Ignatius ("Putin looked into the abyss Saturday — and blinked"):
President Vladimir Putin looked into the abyss Saturday and blinked. After vowing revenge for what he called an "armed mutiny," he settled for a compromise.

The speed with which Putin backed down suggests that his sense of vulnerability might be higher even than analysts believed. Putin might have saved his regime Saturday, but this day will be remembered as part of the unraveling of Russia as a great power — which will be Putin's true legacy.

Putin's deal with renegade militia leader Yevgeniy Prigozhin is likely to be a momentary truce, at best. The bombastic rebel will head for Belarus, in a deal brokered by his pal President Alexander Lukashenko, in exchange for Putin dropping charges against him and his mutinous soldiers, according to Kremlin spokesman Dimitry Peskov.

This was a real coup, until it wasn't. For much of Saturday, Prigozhin was marching units of his 25,000-man Wagner militia toward the gates of Moscow, rolling through Russia's Ukrainian command headquarters at Rostov-on-Don and north to Voronezh. Sources tell me the Russian FSB put up roadblocks along the way, to little effect. Putin called up the National Guard to defend Moscow.

[…]

Putin had only bad choices, and he knew it. Chechen forces commanded by Ramzan Kadyrov would have been the vanguard of his attack on Wagner in Rostov; that would have been a savage mess. Putin couldn't be sure whether regular army units would obey his orders. He was walking into a situation he couldn't control. Putin doesn't do that — with the exception of his insane miscalculation invading Ukraine.

[…]

The Biden administration's response to this mad day in Russia seemed to be a version of the advice attributed to Napoleon: "Never interrupt your enemy when he is making a mistake." That, as well as the usual Biden prescription: focus on allies and partners.

President Biden and his team stayed in contact with foreign leaders. White House and State Department officials spoke to the other major democracies, known as the Group of Seven; they added India and Australia as members of the "Quad." They consulted with NATO and the European Union.

The message in all these calls, I'm told, was "cool it." Don't make the crisis in Russia more dangerous by seeking to intervene or profit from the disarray. This message was focused especially on Ukraine; U.S. officials stressed their desire that Kyiv not seem to take advantage of the strife in Russia in ways that might spiral into an even more dangerous moment. The Ukrainians, from what we can see, followed that advice.

What comes next, surely, is more trouble for Putin in Ukraine. Prigozhin told the truth flat out in the days before his march on Moscow. Ukraine didn't threaten Russia, and Russia's invasion was unnecessary — a mistake of epic proportions. Even Putin, the ice man, can't freeze the burning truth of his Ukraine disaster.
While I agree with the general consensus that 1) this is not the end of the crisis and 2) Putin appears weaker than he did 48 hours ago, I remain baffled by the deal. While I didn't think Prigozhin could win when I assessed the situation yesterday morning, he met with much less resistance than I would have expected. And, surely, he understands that he has made a permanent enemy in Putin, a man not known for keeping promises. I simply have no idea why he agreed to a truce and exile given all that.
While I think Ignatius is otherwise spot on, this was an insurrection, not a coup. Wagner Group is not the Russian military. And, while I don't think the truce is the end of things, yesterday seems to me to be the high water mark of the chance of a successful insurrection. Will Putin's generals decide enough is enough? Given how much they've already endured—and that we're down to the most hard core Putin loyalists at this point—that seems less likely now than it did a year ago.