Wagner Mercenaries in Rebellion
A stupid move by a crackpot? Or a turning point?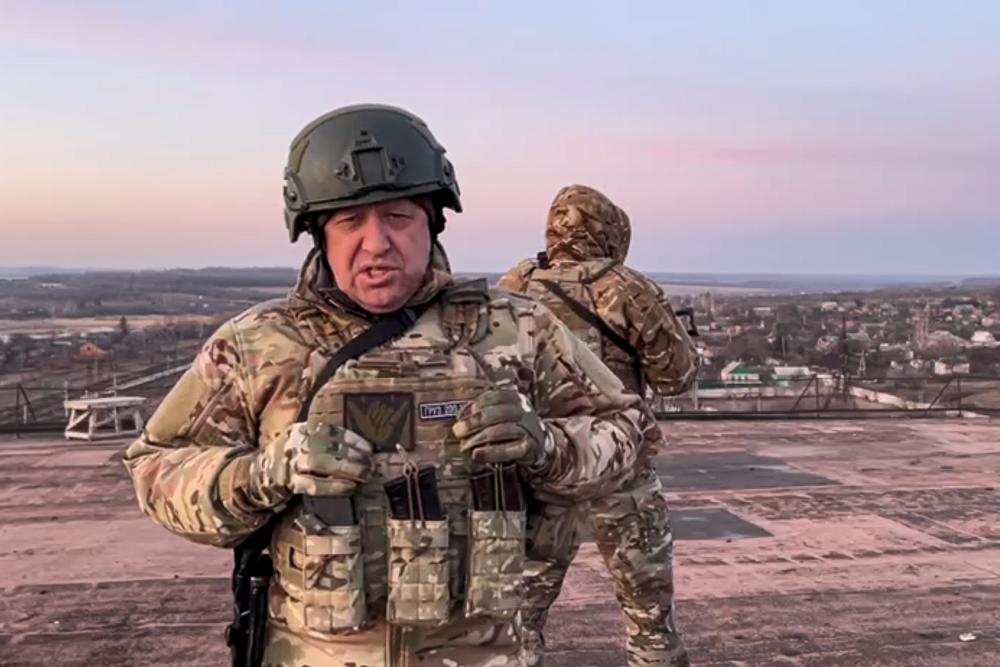 AP ("Russian mercenary chief says his forces are rebelling, some left Ukraine and entered city in Russia"):
The owner of the Wagner private military contractor made his most direct challenge to the Kremlin yet, calling for an armed rebellion aimed at ousting Russia's defense minister. The security services reacted immediately by calling for the arrest of Yevgeny Prigozhin.

In a sign of how seriously the Kremlin was taking the threat, security was heightened in Moscow and in Rostov-on-Don, which is home to the Russian military headquarters for the southern region and also oversees the fighting in Ukraine.

While the outcome of the confrontation was still unclear, it appeared likely to further hinder Moscow's war effort as Kyiv's forces were probing Russian defenses in the initial stages of a counteroffensive. The dispute, especially if Prigozhin were to succeed, also could have repercussions for President Vladimir Putin and his ability to maintain a united front.

Prigozhin claimed early Saturday that his forces had crossed into Russia from Ukraine and had reached Rostov, saying they faced no resistance from young conscripts at checkpoints and that his forces "aren't fighting against children."

"But we will destroy anyone who stands in our way," he said in one of a series of angry video and audio recordings posted on social media beginning late Friday. "We are moving forward and will go until the end."

He claimed that the chief of the General Staff, Gen. Valery Gerasimov, scrambled warplanes to strike Wagner's convoys, which were driving alongside ordinary vehicles. Prigozhin also said his forces shot down a Russian military helicopter that fired on a civilian convoy, but there was no independent confirmation.

And despite Prigozhin's statements that Wagner convoys had entered Rostov-on-Don, there was no confirmation of that yet on Russian social networks. Video posted online showed armored vehicles, including tanks, stationed on the streets and troops moving into position, but it was unclear whether they were under Wagner or military command. Earlier, heavy trucks were seen blocking highways leading into the city and long convoys of National Guard trucks were seen on a road.

The governor of the Voronezh region, just to the north, told residents that a column of military vehicles was moving along the main highway and advised them to stay off the road.

Prigozhin said Wagner field camps in Ukraine were struck by rockets, helicopter gunships and artillery fire on orders from Gerasimov following a meeting with Defense Minister Sergei Shoigu, at which they decided to destroy Wagner.

The Wagner forces have played a crucial role in Russia's war in Ukraine, succeeding in taking the city where the bloodiest and longest battles have taken place, Bakhmut. But Prigozhin has increasingly criticized Russia's military brass, accusing it of incompetence and of starving his troops of weapons and ammunition.

Prigozhin, who said he had 25,000 troops under his command, said his troops would punish Shoigu in an armed rebellion and urged the army not to offer resistance: "This is not a military coup, but a march of justice."

The National Anti-Terrorism Committee, which is part of the Federal Security Services, or FSB, charged him with calling for an armed rebellion, punishable by up to 20 years in prison.

The FSB urged Wagner's contract soldiers to arrest Prigozhin and refuse to follow his "criminal and treacherous orders." It called his statements a "stab in the back to Russian troops" and said they amounted to fomenting armed conflict.
Retired Naval War College professor Tom Nichols, a Russia hand going back decades, writing late last night, cautioned that "at this moment, almost no one—perhaps not even officials in the Kremlin—knows exactly what is happening" but assesses the situation this way:
Think of this conflict not as a contest between the Russian state and a mercenary group, but a falling out among gangsters, a kind of Mafia war.

A government doing a lot of bad things in the world can make great use of a cadre of hardened and nasty mercenaries, and Prigozhin has been making his bones for years as a tough guy leading other tough guys, ultranationalist patriots who care more about Mother Russia than the supposedly lazy and corrupt bureaucrats in Moscow. The Ministry of Defense, meanwhile, is led by a political survivor named Sergei Shoigu, who has managed to stay in the Kremlin in one capacity or another since 1991. Shoigu never served in the Soviet or Russian military, yet affects the dress and mannerisms of a martinet.

Prigozhin and Shoigu, both personally close to Putin, have good reason to hate each other. Shoigu's forces have been humiliated in Ukraine, shown up both by the Ukrainians and Prigozhin's mercenaries (a point Prigozhin hammers home every chance he gets). Prigozhin claims that Shoigu has withheld ammunition and supplies from Wagner, which is probably true; a defense minister is going to take care of his own forces first. The two men have a lot of bad blood between them, and Prigozhin might have been hoping to displace Shoigu or move up somehow in the Moscow power structure. But Shoigu is no rookie, and a Russian Defense Ministry edict was about to go into force requiring all mercenaries to sign up with the Russian military, which would place them under Shoigu's control.

This order was likely an important part of the conflict we're seeing now. I do not know why the Russians would hit Wagner's forces—or whether that is what happened—but the tension between Prigozhin and Shoigu was unsustainable. Prigozhin, however, is a hothead, and this time, he has gone too far, essentially forcing Putin to choose between them. The fact that there is now an arrest warrant out for the Wagner chief means that Putin is siding with his defense minister; meanwhile, the Russian security service, the FSB, called Prigozhin's actions a "stab in the back" for Russia's soldiers fighting in Ukraine.

My friend and veteran Russia-watcher Nikolas Gvosdev summed it up to me tonight by saying that Prigozhin might be the better fighter and leader, but Putin is choosing loyalty over competence. As Michael Corleone might say: It's the smart move.
Indeed. I know less about the situation than Nichols or Gvosdev but my instinct is that mercenaries are not the most loyal of troops. Even if Prigozhin's men are more highly trained and competent than the Russian army proper—a safe bet in the main—he only has 25,000 of them. And are they really willing to go up against Putin's vastly larger force and the backing of the Russian state apparatus? That's not the way I'd bet, at least when push comes to shove.
Nichols continues,
A full-scale civil conflict—for now—seems unlikely, if only because Prigozhin has no institutional base and no major force beyond his fighters, who are a pretty unsavory bunch. He claims that his forces have entered Rostov, but it's unclear if that's happened. (If Wagner's troops gain control of Rostov, they could seize more arms and imperil Russian military supply lines in Ukraine.) Prigozhin is, in any case, making a dangerous appeal to the anger and desolation of the regular Russian military, the men who've been taking a beating in Ukraine, asking them to stand aside as he hunts down the defense minister.
He also considers a possibility that I've raised many times since the faltering of the initial invasion:
Prigozhin in the past was always careful to avoid criticizing Putin, instead blasting Shoigu and Chief of the Russian General Staff Valery Gerasimov. After a year and a half of disasters in Ukraine, however, a lot of angry officers in Moscow may well agree with Prigozhin and want Shoigu and Gerasimov gone—and might well be holding Putin responsible for not firing them. But Shoigu is Putin's man, and while that relationship is clearly under a great deal of strain, opposing the minister of defense and threatening the stability of the ruling clique in the Kremlin during wartime are not small things.

Right now, none of this looks organized enough to be a coup. But coups sometimes look ridiculous in the offing—the 1991 coup against Soviet leader Mikhail Gorbachev was a complete clown show—so the possibility remains that Prigozhin has friends in Moscow who are working with him. Military failure has been known to threaten the stability of Russia's governments in the past, as Russian imperial leaders endured in 1905 and then again, for the last time, in 1917.
Obviously, going back more than a century for examples is fraught. I would certainly bet against a coup, much less a successful one. But the possibility is at least stronger than it has been during Putin's tenure.
Alas, ever the buzzkill, Nichols reminds us of the elephant in the room:
Instability in a nuclear-armed country is always worrying. For now, although the Kremlin is likely in turmoil, there is no evidence of imminent violence or government crack-up. Russian nuclear control is likely divided among Putin, Shoigu, and Gerasimov, and none of them have vanished or been displaced (as far as we can tell). That's the good news.

Of more concern is the possibility that Prigozhin's gambit all along was the leading edge of an effort by hard-right Russian nationalists to push Putin to be even more violent in Ukraine, more confrontational with the West, and perhaps even to provoke a conflict with NATO. So far, tonight's chaos does not seem to involve the U.S., NATO, or even Ukraine, but a fight among Russian gangsters, in part over whether Russia is being brutal enough in a war of unprovoked aggression, is something to watch.

For now, with Wagner out of the picture—or perhaps even in open revolt against Russian regular forces—the Ukrainians have caught a break. But there are still a lot of bad things that can happen in Moscow in the next few days, or even hours. As the political scientist and Eurasia Group president, Ian Bremmer, noted tonight: "Putin's never looked weaker than right now, in the Ukraine war, and at home, which is welcome—and extremely dangerous."
Be careful what you wish for.
Nichols concludes,
The fact that Prigozhin's threats could make the Kremlin's teeth clench to the point of issuing alerts and emergency news broadcasts suggests that Prigozhin is not the only angry ultranationalist out there. It's also possible that none of this is true, that this is not a coup so much as it is a settling of accounts among a group of violent and terrible men. Perhaps Prigozhin is just a hard case who thought he could move to Moscow by stomping on Shoigu's neck, literally and figuratively, and he overplayed his hand. But no matter how this ends, Prigozhin has shattered Putin's narrative, torching the war as a needless and even criminal mistake. That's a problem for Putin that could outlast this rebellion.
Let us hope. But, alas: see above.