Ukraine Openly Mocking Russia
Things are not going well in the special military operation.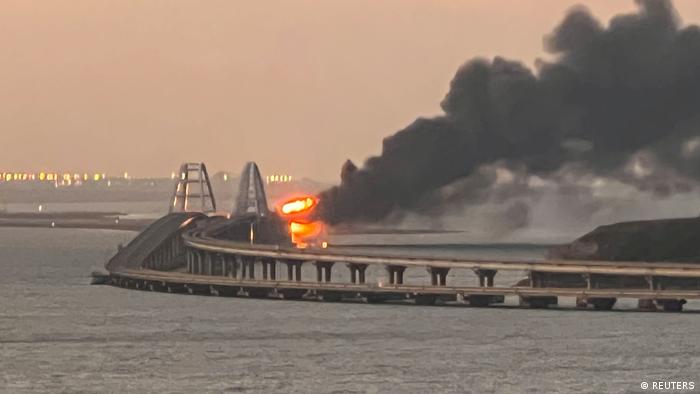 WaPo ("Explosion hits Crimean Bridge, damaging Russian supply route to Ukraine"):
A giant explosion ripped across the Crimean Bridge, a strategic link between mainland Russia and Crimea, in what appeared to be a stunning blow early Saturday morning to a symbol of President Vladimir Putin's ambitions to control Ukraine.

The damage to the bridge, which provided a road and rail connection from Russia to the Ukrainian peninsula the Kremlin illegally annexed in 2014, marks another serious setback to Russia's war effort in Ukraine by disrupting a crucial supply route.

Kremlin spokesman Dmitry Peskov acknowledged the government had no timeline for repairing the 12-mile bridge.

Russia's Investigative Committee, a top law enforcement body, said a truck explosion had ignited fuel tankers as a freight train crossed the bridge. The cause of the truck blast was not immediately clear. After the explosion, thick plumes of smoke and flames could be seen from a distance.

Putin personally opened the $4 billion bridge, also known as the Kerch Bridge because it spans the Kerch Strait between the Black and Azov seas, in 2018 — a move intended to symbolize Russia's ownership of Crimea.

[…]

The blast was celebrated in Kyiv, where government officials hailed the incident and posted images on social media of collapsed concrete spans of the bridge and footage of the apparent moment of the blast, showing vehicles driving across the bridge just seconds before a giant fireball consumed the area.

Mykhailo Podoloyak, a senior adviser to President Volodymyr Zelensky called it "the beginning." "Everything illegal must be destroyed," Podolyak added on Twitter. The Ukrainian government provided no immediate official statement on the cause of the blast. But in a taunt, the government's official Twitter account posted: "sick burn."

A Ukrainian government official told The Washington Post on Saturday that Ukrainian special services were behind the bridge attack. The Ukrainska Pravda news site first reported the government's role, citing an unidentified law enforcement official who said Ukraine's security service, the SBU, was involved.

Ukraine previously has mounted daring attacks deep into Russian-held territory, including on an air base in Crimea, and on military targets across the border in Russia's Belgorod region. But if the bridge explosion is confirmed as intentionally planned, it would mark the most stunning strike yet by Ukraine, which has been under invasion since late February by Russia's far larger and better equipped military.

[…]

Ukraine's parliament, the Verkhovna Rada, tweeted a picture of the damaged bridge and said: "@Crimea, long time no see" along with a heart emoji. And the head of Ukraine's postal service, said the agency would issue a new stamp showing a damaged bridge reading: "Crimean Bridge — Done."

Maria Zakharova, the spokeswoman for Russia's foreign ministry, addressed the spate of memes and mocking social media posts from Ukraine. "The Kyiv regime's reaction to the destruction of civilian infrastructure demonstrates its terrorist nature," Zakharova posted on Telegram. Throughout the war, Russia has repeatedly bombed Ukrainian civilian infrastructure, including railroad stations, residential housing blocks, hospitals, schools, and theaters.
WaPo ("Kremlin, shifting blame for war failures, axes military commanders"):
Russian Ground Forces Gen. Alexander Dvornikov, who over a 44-year military career was best-known for scorched-earth tactics in campaigns he led in Syria and Chechnya, was named overall operational commander of the war in Ukraine in April. He lasted about seven weeks before being dismissed as part of what appeared to be a wider shake-up in response to heavy losses and strategic failures.

Around the same time, Col. Gen. Andrey Serdyukov, another four-decade serviceman, the commander in chief of the elite airborne troops, was stripped of his post after nearly all divisions of the airborne forces suffered major losses.

And just last week Col. Gen. Alexander Zhuravlev, the head of the Western Military District responsible for Kharkiv, where Russian forces lost huge swaths of territory in early September, was removed after four years on the job, according to Russian business daily RBC.

Far from bestowing glory on Russia's military brass, the war in Ukraine is proving toxic for top commanders, with at least eight generals fired, reassigned or otherwise sidelined since the start of the invasion on Feb. 24. Western governments have said that at least 10 others were killed in battle, a remarkably high number that military analysts say is evidence of grievous strategic errors.

The upheaval in the upper ranks of uniformed officers highlights Russia's fundamental mistakes in war planning, and the dysfunctional chain of command that resulted first in Moscow's failure to achieve its primary military objective — the quick capture of Kyiv and toppling of the Ukrainian government — and more recently in the retreats on the eastern and southern fronts.

But the dismissals also reflect a scramble by political elites to place blame for the costly and faltering war as open criticism grows louder, particularly among pro-war hawks and propagandists.

Like their badly prepared forces on the front, the commanders in the Russian Armed Forces are turning out to be easy targets, even as senior political leaders, including Defense Minister Sergei Shoigu, the Chief of the General Staff Valery Gerasimov, and President Vladimir Putin himself had largely avoided direct criticism.
WaPo ("How Ukrainians, targeting by drone, attacked Russian artillery in Kherson"):
Russian forces in Ukraine's southern Kherson region are attempting to hold the front line near the town of Dudchany after a strategic retreat along the Western bank of the Dnieper River. Ukraine's military, meanwhile, is trying to take back even more ground before reinforcements from Russian President Vladimir Putin's mobilization arrive.

The "Falcon" unit of the Kryvyi Rih Territorial Defense Forces on Thursday allowed Washington Post journalists a rare look at a day of battle here through the lens of their Ukrainian-made Leleka-100 drone, which looks like a small, gray plane. Moscow has more weapons than Kyiv, so strikes on "fat" targets — armored vehicles, ammunition reserves and artillery — like the one the Falcon unit identified on Thursday is how Ukraine can weaken its enemy and advance.

In the Kherson region, where the terrain is flat with wide-open fields, hiding that sort of equipment from reconnaissance drones is a challenge for each side — one that will only increase as the leaves fall and winter arrives.

On Thursday, the Falcon unit was able to see through the trees. It located the Russian artillery battery, helped Ukraine's own artillery target it, and then watched as parts of it were destroyed.

"Our task is to determine how many reserves are coming in, how strong these Russian fortifications now are, and to track all of the military equipment," Kapli said. "Then we convey all of that to artillery forces, and they shell everything possible."

Russian forces are now massing near the town of Mylove, Kapli said, to defend their stronghold in the occupied town of Nova Kakhovka, on the opposite bank of the river. There, Moscow has seized a hydroelectric power plant that controls a vital water supply to Crimea, which Russia illegally annexed in 2014.

The artillery battery the Falcon unit spotted was near the neighboring village of Chervonyi Yar. A second drone flight confirmed the equipment was still in place, and Slobodian passed along more screenshots of the site, reading out its coordinates.

Neither he, Kapli, nor most of the rest of their unit had any combat experience before Russia's full-scale invasion. Slobodian and Garry Wagner, who operates the drone with him, were cameramen for Ukrainian television channels before the war.
CBS ("Russia's elites are increasingly critical of the war in Ukraine, and they're looking for scapegoats"):
Cracks are emerging in the solid base of support within Russia's political elite for President Vladimir Putin's war in Ukraine. As Russia's forces suffer setback after setback and a botched and highly unpopular military mobilization effort draws thousands of poorly trained men to serve on the front lines, senior military and political figures have been looking for scapegoats, and the blame game is getting closer than ever to Putin himself.

Criticism of Moscow's military strategy and the way decisions are being made and implemented on the ground has brewed for weeks on social media channels popular among pro-war Russian military correspondents.

This week, however, it reached a new level.

General Andrey Kartapolov, who held a range of senior positions in Russia's Defense Ministry until he became a member of parliament and head of its defense committee a few years ago, has lashed out at the country's current military commanders over losses in the war.

"First of all, you have to stop lying," Kartapolov, who previously commanded the Western Military District, which is central to the Ukraine invasion, said on a popular online video show run by a top Kremlin propagandist.

"All border villages of the Belgorod region are practically destroyed," Kartapolov lamented, referring to settlements right on the Ukrainian border that have been caught in the crossfire as Russia uses the area as a staging ground for its attacks.

"We hear about this from anyone, from governors and military correspondents. But the reports of the Ministry of Defense do not change," the politician said. "The people know. Our people are not stupid, they see they are not telling them the truth and this can lead to loss of credibility."

Casting blame at Russia's top brass, including Defense Minister Sergei Shoigu who, at least in the past, has been considered a close friend and confidant of Putin, has become a central theme on Russian television and in public forums.

Direct criticism of Putin himself still appears to be off-limits on Russia's closely monitored and tightly controlled airwaves, and pro-Kremlin voices have been working hard to shelter the autocrat from the public discontent. But infighting between various political clans does seem to be disrupting the carved-in-stone hierarchy Putin has relied on to remain in power — and to quickly quash any inkling of dissent — for more than two decades.

A week ago, Russian troops were forced out of the Ukrainian city of Lyman. Retaking the railway hub in the Donetsk region deprived Russia of a crucial logistics hub and gave Ukraine's forces a route to attack the Russian occupied Luhansk region. Shortly after Lyman fell to Ukrainian forces, the powerful head of the Russian region of Chechnya, Ramzan Kadyrov, unleashed a sneering attack on the Russian military's General Staff, which leads the military campaign, and on Alexander Lapin, who Kadyrov said was responsible for that sector of the front line.

"The shame isn't that Lapin is talentless," Kadyrov wrote on his blog on the Telegram messaging app. "It's that he's being shielded from above by the leadership in the General Staff."

"If it was up to me, I would demote him down to a private, take away his medals and send him with a rifle to the front in order to cleanse his shame in blood," Kadyrov added.

The proxy leader installed by Russia in the largely-occupied Ukrainian region of Kherson, Kirill Stremousov, went even further, issuing rare scathing criticism of Defense Minister Shoigu over Moscow's recent military losses, including in Kherson.

"Many are saying that the Defense Minister — who allowed things to come to this — should simply shoot himself like a [real] officer," Stremousov said in a four-minute video posted Thursday to his Telegram channel.
Things are unraveling so much that what seemed unimaginable at the outset of the conflict—a complete Ukrainian victory that includes a rollback to the pre-2014 borders—now appears likely. It has been clear for months that we vastly overestimated Russian military superiority. But it's also true that years of surreptitiously training and equipping Ukraine have paid major dividends. Augmented with US intelligence and reconnaissance support—not to mention highly advanced rocket artillery—they may be a smaller force than the Russian invaders bring but they're not a technologically inferior one.
Putin has been crying "nuke" for a while now and President Biden seems to take the threat seriously, even as our intelligence community pushes back. He might be at the point where he's desperate enough to take the risk.