End Military Funeral Honors for Veterans?
Bill McClellan calls for ending military funeral honors for most veterans.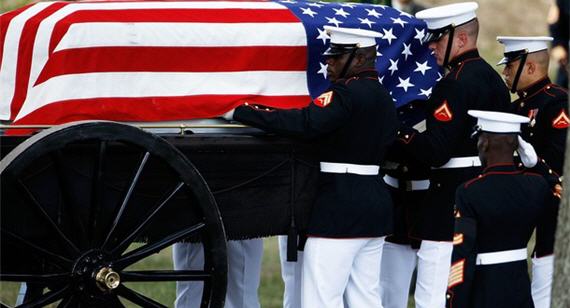 Longtime St. Louis Post-Dispatch columnist Bill McClellan calls for ending military funeral honors for most veterans.
Who is eligible for military honors at a funeral? According to the program's website, virtually all veterans who have received an honorable discharge are eligible. A veteran does not have to be buried at a national cemetery to receive military honors. The honors teams travel to private cemeteries.

Since the program began in Missouri in 1999, more than 114,000 veterans have received these honors. The program has been averaging 729 funerals a month.

According to the program's website, it is funded by the federal government and the Missouri National Guard Trust Fund.

Both the federal government and the state government are broke. So why are we providing military funeral honors for all veterans? It is a nice gesture we can't afford.

Certainly, men and women killed in combat deserve full military honors. It's a way for the country to say, "We honor the memory of those who died in our service." These military honors — and the thought behind them — are intended to provide some solace for the families of the fallen.

But what about the guy who spends a couple of years in the military and then gets on with his life? Bear in mind that most veterans did nothing heroic. They served, and that's laudable, but it hardly seems necessary to provide them all with military honors after they have died. In fact, it seems generous enough to provide veterans and their spouses with free space and headstones at a national cemetery.

[…]

Everybody knows government needs to cut costs.

This is exactly how you do it. You identify things you don't need, and you cut them. Maybe they're nice things, but if you don't need them, you cut them. Admittedly, this program is a small item, but as you go through the massive budget, you look for lots of small items. You try to trim big things, but that doesn't mean you overlook little ones.

Dropping these military funeral honors would not be a slap in the face to veterans. If these honors are important to a person, he or she can join a veterans organization.

We owe a lot to our veterans. They might not have been heroes, but they served. I hope they join with me in considering this a final chance to serve their country. Let's play taps for an unnecessary program.
Not surprisingly, quite a few people are upset by this suggestion.
Gateway Pundit Jim Hoft is exasperated that McClellan "'has been spewing his liberal worldview in the St. Louis Post-Dispatch for decades now" but apparently thinks the phrase "Most veterans did nothing heroic" is self-refuting, especially if you put it in boldface, which he does.
Over at The Blaze, Jason Howerton seems to vaguely disagree with McClellan but basically just rewrites his column as if it were a reported piece.
The proprietor of Weazel Zippers opines, "When it comes to crap like welfare liberals don't care what the cost is, but when it comes to honoring vets suddenly they're deficit hawks. It's absolutely pathetic." He describes the columnist in unflattering scatological terms and encourages readers to email.
Commenters follow suit, calling McClellan names, questioning his manhood and patriotism, and wondering what this liberal so-and-so ever sacrificed. They apparently don't have The Google. Bill McClellan is a Marine Corps veteran. He was drafted, which means his service began before 1973, but I haven't been able to figure out whether he went to Vietnam. He started at the Post-Dispatch in 1980 after four years at two universities, not quite graduating from either; spending some time as a crime reporter in Phoenix; and presumably at least two years in the Corps, so it's possible. [UPDATE: I'm reliably informed that he did in fact serve in Vietnam, in a logistical capacity.] Either way, assuming he was honorably discharged–and I do–he's talking about a benefit to which he himself is entitled. (McClellan was likely thinking of himself when he wrote "the guy who spends a couple of years in the military and then gets on with his life.")
Additionally, while I was heretofore unaware of his fine career, just a cursory search finds several touching columns about veterans and the life-long impact of combat. See, for example, "In a dark conflict, area Marine shines." Or "Marine's brief time with Marine company brings long-lasting bond.' Or "Veteran winning battle with stress." Or "Vietnam veteran still wages war for health." Or "Nun helps build life for Vietnam's lost."
Not that his biography or general attitude about veterans has any bearing on the merits of his argument, mind you. But it's nonetheless worth knowing where the man's coming from. And it's certainly not a place of disdain for those who served. Quite to the contrary, in fact.
Conservative radio host Dana Loesch considers McClellan a friend. She respectfully disagrees with his suggestion. Or, at least, she figures we should get rid of several programs that sound absurd on their face first. "Let's cut that waste, see what's left over, and then talk about military funerals. I think our men and women in uniform sacrifice enough already. They deserve the honor."
That's pretty much my instinct as well, although I think McClellan makes a pretty reasonable case. Indeed, left out of my already generous excerpt above is his call for those who want to be buried with military honors to join local or national veterans' associations to continue fellowship with those who've served and who provide such honors.
Further, character assassination and vitriol aside, I'm bemused by the tenor of the counter-arguments. McClellan is making an exceedingly conservative point: Honoring people who spent a couple of years in the military several decades ago with a flag, bugler, and honor guard is a nice thing to do. But, if we're not willing to jack up taxes to raise money, we've got to cut out things that are merely nice to do, spending our limited funds on those things that are essential. That he's attacked as a dirty pinko commie liberal for saying that is, well, odd.
As to the phrase that seems to be drawing all the venom —  "Most veterans did nothing heroic" — McClellan happens to be right. That includes most of us who answered the call to war. Even those of us in the combat arms. Honorable service? Sure. Sacrifice? No doubt. Courageous? Perhaps. But heroes? That's a word that gets thrown around too much. Most of us, thankfully, never wound up in a position to be heroes.  Alvin York. Audie Murphy. Jim Stockdale. Dakota Meyer. Those guys are heroes. So are John McCain, Jeremiah Denton, and Daniel Inouye. I'll even throw in Jim Webb and John Kerry and Bob Dole.
We're at a point where we're cutting services for the truly needy. We're talking seriously about cutting back on healthcare for the elderly and for those who spent twenty years in the military. Maybe we ought to talk about whether we need to send a bugler and an honor guard to bury a guy who spent two years peeling potatoes at Fort Dix several decades ago.
UPDATE: I'll be taping a segment on this later today for "The O'Reilly Factor" with guest host Laura Ingraham.
UPDATE TO THE UPDATE: Alas, they managed to book McClellan himself so gave me the boot.  Annoying but understandable.