English Riots
Some thoughts on the riots (especially some US partisan responses to it).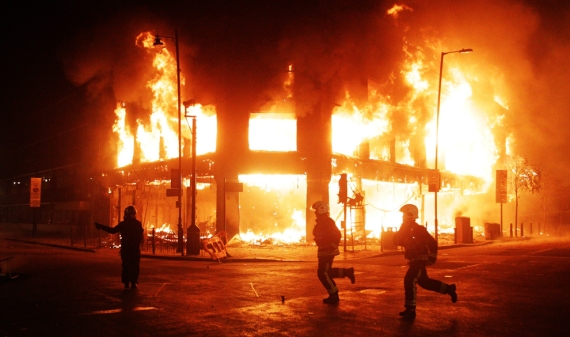 I will confess to still be digesting the news out of London (and elsewhere in England).
For those looking for info, the BBC has a page dedicated to the events in question.
Specifically I would note this timeline.
The Telegraph has David Cameron's statement in full.
The only comment I have at the moment is that I have seen a number of people (mostly on G+) who have taken these events as some kind of blanket critique of "the left" (posted, of course, by people who consider themselves of "the right") which strikes me as unseemly (to be kind).  Why is it that the immediate response of (some) people that whenever there is some sort of violent action that the event has to be made to fit into some simplistic left/right political narrative?  And it is always cast in terms of something like "see how bad the other side is!" so as to both make the person making the comment feel better about themselves while also painting with a very broad brush to taint people who are not involved.
A great example of what I am talking about is the American Glob blog (and boosted by InstaPundit who labeled the following as "some perspective"):
Meanwhile over in England, leftists who agree with Obama policies like wealth redistribution are burning London to the ground. Please remind me… Who are the terrorists again???
It takes a rather odd worldview to try and make riots in London into some sort of analog of American partisan politics.  Not only is it inappropriate tribalism, it is pretty lousy comparative politics.  It certainly doesn't qualify as analysis.
As best I can tell, the riots did not have a political motivation (the spark/excuse was the police shooting a suspect) and the general tenor appears to be wanton criminality rather than political statement.  Certainly the current economic situation (and the relevant politics) is feeding the behavior, but at this point I don't think that one can make broad political claims.
As Paul Campos correctly note:
Urban riots are usually complex events, in which people participate for many reasons, ranging from simple boredom and criminal opportunism on one end, to conscious political protest on the other.
These types of events are complicated and one suspects that understanding this particular event will take some time to accomplish.  I certainly am not going to claim to have answers at this point and am skeptical about those who claim to understand the event, especially if they think it fits some simplistic ideological worldview.