ESA's Rosetta Mission Set To Land On Comet This Morning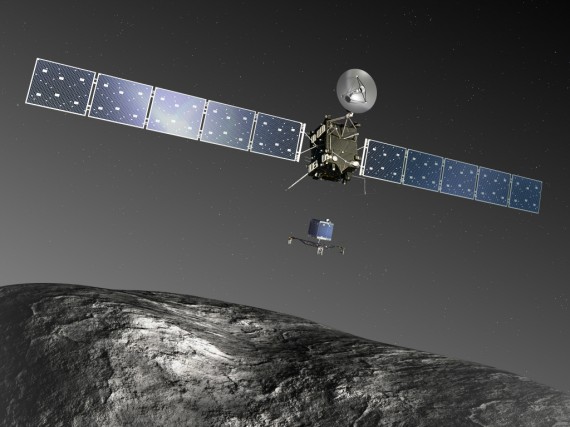 If everything goes according to plan, a lander roughly the size of a household washing machine will be touching down on a comet hurtling through space:
London (CNN) — The Rosetta mission to land a probe on Comet 67P is past the point of no return, the European Space Agency (ESA) announced on Wednesday.

"There is no going back now," the agency said after the spacecraft's lander was released for its trip to the surface.

If it succeeds it will be the first time a spacecraft as landed on a comet.

The Philae lander separated from the mother ship Rosetta around 3:30 a.m. ET to begin its 7-hour descent.

Philae, which has spent 10 years fixed to the side of Rosetta during the journey across the solar system, cannot be steered. Once it was released, it was on its own.

Before the announcement, ESA lander system engineer Laurence O'Rourke told CNN that the orbiter Rosetta has to be in the right position to allow the craft to "free fall" on the correct trajectory to the chosen landing site.

Scientists are hoping the probe will help us learn a lot more about the composition of comets and how they react when they get close to the Sun.

Weighing in at 220 pounds, it might be the size of a domestic washing machine but Philae is considerably smarter.

It is equipped with an array of experiments to photograph and test the surface of Comet 67P as well as finding out what happens when the roasting effect of the Sun drives off gas and dust.

But first it has to reach the landing site.

O'Rourke explained that hours before separation, Philae's on-board batteries were prepared and a fly wheel is started to give the probe stability on its journey to the comet surface. Without the gyroscopic effect of the fly wheel there's a danger that the lander could turn end over end, he said.

Mission controllers now face the long wait for Philae to reach the surface. The comet is so far away that a confirmation signal relayed from Rosetta, which remains in orbit around the comet, will take nearly half an hour to reach Earth.

Scientists should have word around 11 a.m. ET.
NASA TV is live streaming coverage, and has already started doing so even though we're still about an hour away from the really important part.
Artist's Depiction via European Space Agency