EU Bars Claim That Water Prevents Dehydration
From Europe, a case of regulation gone nuts.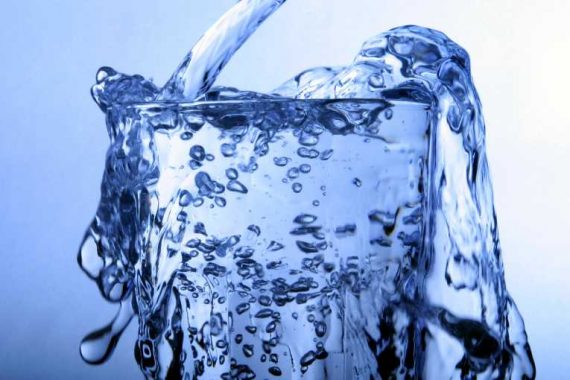 If you sell bottled water in the European Union, you'll no longer be able to make the seemingly self-evident claim that drinking your product will prevent dehydration, and it's a decision that is earning no small degree of ridicule from the British press:
EU officials concluded that, following a three-year investigation, there was no evidence to prove the previously undisputed fact.

Producers of bottled water are now forbidden by law from making the claim and will face a two-year jail sentence if they defy the edict, which comes into force in the UK next month.

Last night, critics claimed the EU was at odds with both science and common sense. Conservative MEP Roger Helmer said: "This is stupidity writ large.

"The euro is burning, the EU is falling apart and yet here they are: highly-paid, highly-pensioned officials worrying about the obvious qualities of water and trying to deny us the right to say what is patently true.

"If ever there were an episode which demonstrates the folly of the great European project then this is it."
The ruling came about in response to a proposal by two German scientists who are critical of many of the EU's food safety regulations:
German professors Dr Andreas Hahn and Dr Moritz Hagenmeyer, who advise food manufacturers on how to advertise their products, asked the European Commission if the claim could be made on labels.

They compiled what they assumed was an uncontroversial statement in order to test new laws which allow products to claim they can reduce the risk of disease, subject to EU approval.

They applied for the right to state that "regular consumption of significant amounts of water can reduce the risk of development of dehydration" as well as preventing a decrease in performance.

However, last February, the European Food Standards Authority (EFSA) refused to approve the statement.

A meeting of 21 scientists in Parma, Italy, concluded that reduced water content in the body was a symptom of dehydration and not something that drinking water could subsequently control.

Now the EFSA verdict has been turned into an EU directive which was issued on Wednesday.
The Guardian's Martin Robbins calls some of the reaction to the decision "daft hysteria":
Firstly, "regular consumption" of water doesn't reduce the risk of dehydration any more than eating a pork pie a day reduces the risk of starvation. If I drink half a pint of bottled water while running through a desert in the blistering sun, I'll still end up dehydrated, and if I drink several bottles today, that won't prevent me from dehydrating tomorrow. The key is to drink enough water when you need it, and you're not going to get that from any bottled water product unless it's mounted on a drip.

Secondly, dehydration doesn't just mean a lack of water, or 'being thirsty'; electrolytes like sodium are important too. If salt levels fall too far, the body struggles to regulate fluid levels in the first place. That's why hospitals use saline drips to prevent dehydration in patients who can't take fluids orally, and why people with diarhhoea are treated with salt-containing oral rehydration fluids. Presumably the next big investigation at the Express will expose the shocking waste of NHS money on needless quantities of saline solution, when jolly old tap water would work just as well.

So the ruling seems pretty sensible to me, or at least as sensible as a ruling can be when the claim being tested is vexatious in the first place. It's accurate advice, and it prevents companies selling bottled water from making exaggerated claims for their products, which is a good thing.
Exaggerated? Seriously?
Like regulators on this side of the Atlantic, the EU regulators and people like Robbins apparently believe that consumers are too stupid to think for themselves and that they blindly accept whatever claims are made by manufacturers. They also believe that they know better than the average person what's good for them, and that the government exists to protect them, not so much from those venal, evil corporations, but from their own stupidity. Does Robbins truly believe that the average European is too dumb to realize that you need to do more than just drink water to stay healthy? Sadly, based on my own observations of people like him here on this side of the pond, I think he does.
What, exactly, would be wrong with permitting bottled water manufacturers from mentioning dehydration in their ads? Personally, I don't see it, and I see far more evil in empowering a centralized state with the right to regulate the information that businesses are permitted to provide to consumers to such an absurd, paternalistic degree. People are smart enough to evaluate claims like this own their own, I say let them do it.
The most amusing thing about all of this, of course, is that, while the EU's financial system continues to descend into chaos, the EU's bureaucrats are wasting their time on nonsense like this. If Europe does survive as a united entity through all of this, it won't be because of people like Martin Robbins who apparently find regulating the advertisement claims for bottled water more important than, well, fixing the broken system that they see all around them.