Even Trump's Supporters Don't Believe Mexico Would Pay For Trump's Border Wall
Apparently, even people who support Donald Trump don't believe his claim that he can get Mexico to pay for his border wall.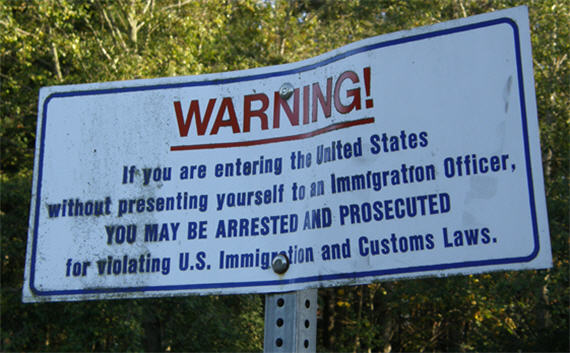 A new poll finds that voters don't believe that Donald Trump will succeed in getting Mexico to pay for his border wall:
Donald Trump has said hundreds of times — including after meeting with Mexican President Enrique Peña Nieto a couple weeks back — that Mexico will pay for his proposed border wall.

Not even Trump's supporters believe that will happen.

A new poll from the Washington Post and ABC News shows just 21 percent of Americans think Trump will make good on his long-promised pledge to force Mexico to pay for a wall that is aimed at keeping its own residents out of the United States.

Fully three quarters — 76 percent — say he won't accomplish it.

Even a majority of Republicans think Trump will fail on one of his signature policy initiatives, with 52 percent saying he won't be able to get it done, compared with 42 percent who think he will. Among Americans who say they are voting for Trump in the poll, 48 percent say he'll succeed, and 44 percent say he'll fail.

Hispanics find the idea particularly preposterous. Fully 88 percent of them say Trump won't be able to do it; 10 percent say he'll get it done.

And this poll might actually be somewhat understating just how little Trump's supporters actually buy into the idea. A CNN/Opinion Research showed 25 percent said it was at least "somewhat likely" he would get Mexico to pay for the wall. But it also offered more than just two options, and it turns out just 9 percent thought it "very likely" that he would succeed — including just 18 percent of Republicans and 20 percent of Trump voters.
The fact that the one proposal that has been at the center of Donald Trump's campaign, the border wall that Mexico will pay for, is so heavily doubted even by people who support Trump is, to say the least, quite interesting. Among other things, it suggests that attacks on Trump based on the fact that he's unlikely to actually accomplish the things he says he wants aren't likely to succeed as much as some people  might think because the people inclined to support him have already essentially given him a pass on the fact that he might be unable to fulfill a campaign promise. On the one hand, it's encouraging because it shows that these voters aren't as blind to reality as their support for someone like Trump might lead one to believe. On the other hand, it points out the fact that support for Trump isn't really based on rational factors such as his policy positions, but on emotional factors and, as a general rule, that kind of support generally leads to bad results as well as contributing to the polarization of American politics by leading supporters to take any attack on their candidate as a personal attack rather than an opposing point of view.
In reality, of course, any sane person should have known from the beginning that Trump's claim that he was going to build a wall that would encompass the entire U.S. border with Mexico and that he could get Mexico to pay for it was a canard from the start. First of all, there are the practical issues involved in building, maintaining, and monitoring a "wall" that would, if Trump is to believed, measure some 1,981 miles in length and make its way through a wide variety of environments ranging from arid deserts to treacherous mountain passes to residential and urban areas such as El Paso, Texas, which is literally just across the border from Vercruz Ciudad Juarez, Mexico. It also includes property that is privately owned, which would require the Federal Government to engage in an eminent domain taking in order to obtain access for construction, patrol, and maintenance. As it stands, we already have a border fence with electronic and human surveillance in the areas where immigrants are most likely to try to enter the country. Other areas, such as the mountainous areas, aren't as heavily patrolled because it's generally believed that anyone who tried to cross the border there would be more likely to die than make it across successfully. Insisting on a wall like Trump does accomplishes nothing of value. Beyond that, though, the idea we're somehow going to force Mexico to pay for the wall is simply absurd. Trump has suggested ideas ranging from a tax on imports from Mexico to confiscating remittances that Mexican citizens or immigrants in the United States, whether legal or illegal, send back home to relatives. Those proposals, however, would seem to be barred by either the terms of the North American Free Trade Agreement. or the property rights of individual citizens unconnected to the Mexican government. To put it bluntly, if the Mexican government doesn't want to pay for Donald Trump's wall, it can't be forced to, and there's nothing Donald Trump would be able to do change that.