Explaining 'Stand Your Ground' Laws
There's been far too much hysteria and hyperbole when it comes to 'Stand Your Ground' laws.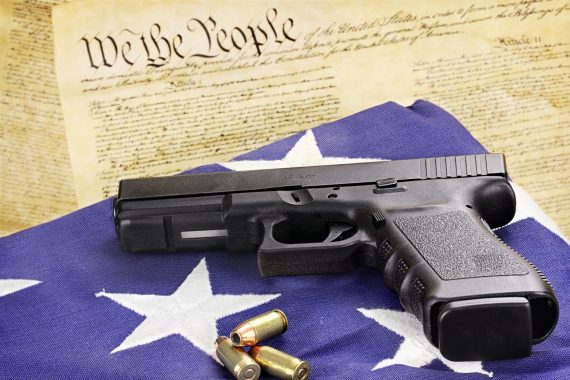 Ever since George Zimmerman shot Trayvon Martin on a rainy February night two years ago, there has been an ongoing debate about so-called "Stand Your Ground" laws, which have been adopted in some form or another in a majority of the states in the country over the past decade. Critics of the laws, who tend to be on the political left and strong proponents of gun control laws, argue that such laws essentially make it easier for people to legally justify shooting someone and later claiming that the action was done in self-defense. When Zimmerman was finally acquitted of the attempted murder and other charges against him, many national political leaders made a push to have such laws reconsidered or repealed, with their arguments often tinged with the always sensitive rhetoric of racial politics.
Throughout most of these discussions, though, it's become apparent that many people don't have a very good understanding of self-defense law in general and "Stand Your Ground" laws in particular. In that spirit, and in light of comments on his own blog about such laws in the light of the Supreme Court rulings on abortion clinic protesters, Eugene Volokh has put forth an excellent summary of exactly what "Stand Your Ground" laws are all about:
In all states, shooting someone who is simply impeding you, shouting at you, and moving towards you loudly and aggressively (absent more), is a crime. The crime is called, assuming you shoot and kill the person, "murder." (It could also be attempted murder if you miss, or aggravated assault if you hit and injure the person.) Yup, same crime as if the person wasn't impeding you, shouting at you, or moving towards you loudly and aggressively (though in some states, it's conceivable that if the person is shouting insults at you and that is viewed as "adequate provocation" — unlikely, but conceivable — you'd get lucky and get off with a voluntary manslaughter charge).

This is because "stand your ground" simply means that, if you reasonably believe that you face imminent death, serious bodily injury, rape, kidnapping, or (in most states) robbery, you can use deadly force against the assailant, even if you have a perfectly safe avenue of retreat. In non-stand-your-ground states, when you face such threats outside your home (and, in some states, your business), you can only use deadly force against the assailant if you lack a perfectly safe avenue of retreat. In no states are you allowed to shoot someone who is simply shouting at you or moving towards you loudly and aggressively, unless you reasonably believe that you're in danger of death, serious bodily injury, or the other harms I listed. (When the person is coming into your home, in many states you can indeed shoot, but that doesn't apply to confrontations on the public street.)

(…)

The stand-your-ground vs. duty-to-retreat distinction comes up in the relatively unusual case in which you are faced with a threat of death, serious bodily injury, etc., but you can escape with perfect safety. If you're facing an assailant with a gun, it generally doesn't matter what state you're in, because you generally can't escape a gun with perfect safety. So if you're in the fortunately very rare scenario in which you reasonably believe that the person outside the clinic will imminently shoot you, you can shoot him in any state (if you've got a gun, that is). And if you're in the much more common scenario in which you just think the person might slap you or block your entrance or insult you, you can't shoot him in any state. Only in the very rare scenario in which you think the person might kill or seriously injure you, but with a deadly weapon that you can flee with perfect safety would it matter whether you're in a stand-your-ground state or a duty-to-retreat state.
These are always very fact specific situations, so it's next to impossible to come up with a hard and fast rule that would apply to every potential situation where self-defense would potentially be a defense to murder or attempted murder. As a general rule, though, the general rule is that there has to be some reasonable fear of great bodily harm in order to justify the use of deadly force. What constitutes "reasonable" is something that ends up getting hashed out to some extent by the case law in each jurisdiction, and there are variations between jurisdictions on these issues.1 Additionally, whether or not a particular situation meets the criteria of the self-defense laws is something that will ultimately be decided by the trier of fact, either a judge or a jury. That's why I think it's improper to blame "Stand Your Ground" laws, or self-defense law generally for some perceived uptick in people shooting people in confrontations where "Stand Your Ground" laws might apply.
More importantly, though, the important thing to remember about "Stand Your Ground" laws is that they are really nothing more than the regular law of self-defense set forth in statutory form and often, as in Florida, with some procedural protections that give people charged with a crime the option of attempting to get charges against them dismissed before trial. Arguing against these laws is, in the end, nothing short of arguing against the idea that people ought to have a right to defend themselves to begin with, which I would argue goes against both human nature and a proper understanding of individual liberty. If the right to life includes anything it includes the right to defend that life when it is threatened. Arguing against such a right makes no sense whatsoever.2
On a final note, I will readily admit that there concerns to be raised about how these laws are applied, especially in a state like Florida and other part of the country where there are racial issues below the surface in many criminal cases. That, however, is not an argument against "Stand Your Ground" laws in particular or self-defense in general.
H/T: Jazz Shaw
1 Interestingly, some of the states with the most liberal guns laws and with cultures that are open to gun ownership and carrying weapons in public are also among the states with the most restrictive self-defense laws.
2 One area of law not addressed here that is related to both "Stand Your Ground" laws and self-defense concerns the so-called "Castle" Doctrine, which deals with the right of people to defend themselves in their homes or on their property.