Factory Orders Drop In April, Signaling More Bad Economic News
Another sign this morning that the economic has been slowing, and may be contracting.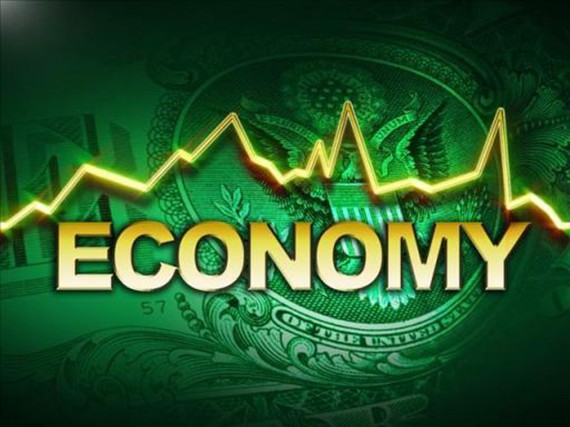 Last week saw a downward revision in First Quarter GDP, followed by a very disappointing May Jobs Report. This week we're starting out with yet another indication that economic activity has been slowing down over the past several months:
New orders for U.S. factory goods fell in April for the third time in four months as demand slipped for everything from cars and machinery to computers, the latest worrisome sign for the economic recovery.

The Commerce Department said on Monday orders for manufactured goods dropped 0.6 percent during the month. The government also revised its estimate for new orders in March to show a steeper decline.

Economists had forecast orders rising 0.2 percent in April.

The report showed broad weakness in a sector that has carried the economic recovery, adding to a growing body of soft economic data.

(…)

Outside transportation, orders dropped 1.1 percent, with machinery down 2.9 percent and orders for computers and electronics off by 0.8 percent.

Orders for non-defense capital goods excluding aircraft — seen as a measure of business confidence and spending plans — dipped 2.1 percent in April.
This kind of number would seem to indicate that we are indeed headed for, if not already in, an economic slowdown. It may not turn into a recession, but if this continues much longer I'd expect to start seeing major analysts cutting back their growth forecasts for the year.
At the very least, though, it makes clear that the recent bad reports we've been seeing are not an anomaly. Indeed, there's a good indication that factory orders were likely down in May as well:

The manufacturing industry in the New York region showed surprising weakness in May, new data out of the Institute for Supply Management shows.

The key ISM index fell to 49.9 from 61.2 in April, where a reading below 50 indicating contraction. There was no consensus estimate for the May report.

The Institute blamed the fall on declining purchase volumes and a sudden contraction in employment, with 21 percent of businesses reporting a shortage of skilled labor as an impediment to business.

Expectations of economic performance also declined in the May report.
It's worth noting, I suppose, that the head of the Federal Reserve Bank of Cleveland said this morning (before the Durable Goods report was released) that the recent spate of bad economic news has not caused her to change her outlook for the economy. Speaking of the Fed, this latest spate of economic news is likely to increase pressure on the Federal Reserve Board for some form of monetary stimulus, although interest rates are so low at this point it's likely that the best they could do is another round of Quantitative Easing, which has proven to be have only a modest impact on the economy the last two times that it was tried.  Not to mention the fact that the ongoing crisis in Europe is likely to force the Fed to take action in the near future:
The president of the New York Federal Reserve Bank, William Dudley, said on Wednesday that U.S. bank exposure to troubled countries on the periphery of the euro zone is "very modest" and that U.S. banks are in a much better position than in the past to withstand contagion from Europe.

Still, he warned, the United States would not be immune if Europe's situation were to worsen.

Officials worry that stock markets, already under pressure from European events, could plunge as investors dumped risky assets, weighing on the value of assets on bank balance sheets.

The Fed's initial response would likely be in the form of providing liquidity facilities to financial institutions similar to the ones it deployed during the 2007-2009 financial crisis. These facilities provided access to funds for banks, money market mutual funds, and business, consumer and student lenders to prevent a financial panic and a credit freeze.

However, the possibility that the upheaval could throw the modest U.S. economic recovery into a tailspin would open up the prospect of the Fed extending or reviving the Twist portfolio rebalancing effort, or perhaps even launching a fresh round of bond purchases – known as quantitative easing.

"If we do have a major disruption, that would auger for quantitative easing to forestall any deflation risk," Mulraine said.

Officials at the central bank, however, think they could get a meaningful amount of stimulus by extending Operation Twist, which has one advantage over outright bond buying: it avoids raising anxiety that an expanding Fed balance will provoke a damaging bout of inflation.

"I don't think expansion of the balance sheet, in any way, compromises the Fed's ability to keep inflation in check over the longer term," Dudley said last week.

"But it doesn't matter just what I think," he added. "If people in the market think that expansion of the balance sheet could cause future inflation, we have to take those expectations into consideration as a potential cost of monetary policy."
"Operation Twist" did seem to have some stimulative effect, but it occurred mostly in the stock markets because of the extent to which it helped boost investor confidence in equities, at least over the short term. The extent to which that helped the economy at all is doubtful to say the least.  Whatever the Fed does, though, one thing is clear; the economic really has slowed down. The question now is whether this just a temporary hiccup, or something likely to last longer.