February Jobs Report Better Than Expected, Still Nothing To Write Home About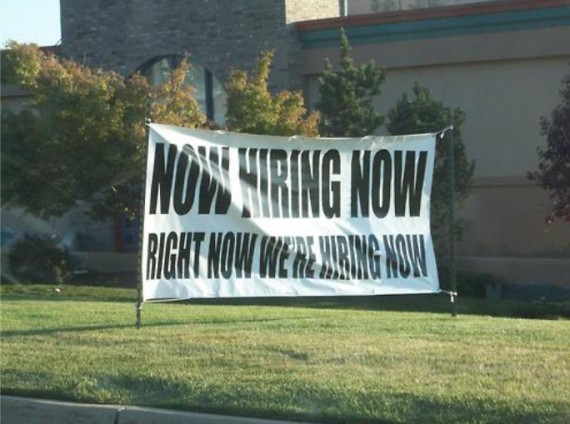 After two months in which the monthly jobs report fell far below expectations, analysts weren't expecting very much out of February's numbers before they came out this morning. In addition to the fact that it's the shortest month of the year, it also happened to be a month in which large segments of the country were hit with sub-zero temperatures and snow and ice storms that paralyzed metropolitan areas from Boston to Chicago to Atlanta. Earlier this week, those presumptions seemed to be confirmed when the ADP jobs report, which sometimes correlates to what we say from the Bureau Of Labor Statistics and often doesn't came in with one of its more dismal reports in some time. As it turned out, though, we ended February in better shape that anticipated:
The American economy stirred to life last month, creating more jobs than in the previous two winter months and raising hopes that momentum in the labor market would gradually pick up as the cold weather in many parts of the country eases with the arrival of spring.

The report from the Labor Department for February, which came on Friday after job figures for December and January that were much weaker than the underlying trend, eased fear that the economy was downshifting to a slower pace. The data led some experts to conclude that weather, not a fundamental slowdown, was a major factor behind the recent shortfalls.

With employers hiring 175,000 workers, the payroll gain in February was hardly cause for celebration — it was still well short of the pace needed to return the economy to full employment in the next few years. But it was twice the number added in December, when the cold and snow arrived.

"It's a normalization," said Julia Coronado, chief economist for North America at BNP Paribas. "It's not clear just how much effect the weather had, but it seems like we're on a moderate but steady hiring trend."

The unemployment rate rose 0.1 percentage point to 6.7 percent, a reversal of the sharp downward trend recorded since last summer. Some experts argued that was not cause for alarm, but rather a sign that more people were moving back into the labor force and searching for jobs as openings increased.

The Labor Department announcement had been awaited eagerly and was viewed as a wild card, with economists struggling to estimate the impact of wintry weather in many parts of the country as well as seasonal adjustments by government statisticians.

Before Friday's report, the consensus among economists on Wall Street called for employers to have added 149,000 positions in February, with the jobless rate remaining flat at 6.6 percent.

In December, the economy added 84,000 jobs, and in January, it created 129,000 positions. Both numbers fell well short of expectations among experts on Wall Street.
The December and January numbers were revised upward by a net total of 25,000 jobs, which makes the disappointing numbers from those months slightly more respectable, although not by much. As for February, it's hard to tell what these numbers mean without seeing what happens as we head into the spring, and hopefully better weather than we've had the past three months or so. As it stands, we're still averaging monthly net job creation around 182,000 per month, which is okay but far from ideal given the depths of the jobs recession that we experienced in the wake of the 2008 economic crisis. Indeed, at this point a major concern is that the jobs market may not fully recover before the economy gets pushed back into another recession which, given the law of averages, ought to happen at some point before President Obama leaves office. If it does, then we could be looking at a Presidential election in the midst of another economic downturn and a large number of unemployed people looking to someone for an answer. At the very least, that would make things interesting.