December Jobs Report Comes In Way Off Estimates, 300,000+ Leave Labor Force
A surprisingly disappointing jobs report for December.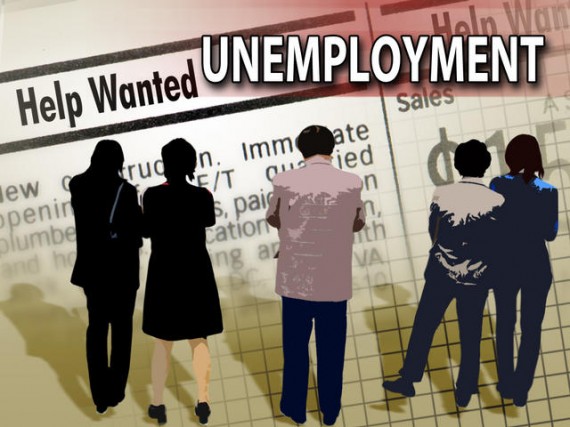 The past two months of Jobs Reports from the Bureau of Labor Statistics had shown what seemed to be good news, and perhaps signs that the jobs spigot on the economy was starting to open more than it had been in the past. October, which many had thought would be impacted adversely by the government shutdown, came in at a pre-revision number of 204,000 net jobs created, a number that was revised downward to 200,000, still a respectable number. November's number came in at a seemingly healthy 203,000 net new jobs. These numbers, as well as previous good numbers going back to the summer and healthy Gross Domestic Product numbers, led many to believe that we'd see strong jobs growth in December, especially given the fact that it is typically a month when retailers and delivery services typically beef up their employment numbers for the Christmas season. The consensus forecast was for roughly 190,000 net new jobs, while the ADP report that came out, and which often diverges significantly from the official BLS numbers, showed 238,000 net new jobs created. As it turned out, though, the first round of numbers out regarding the labor market in December was way off estimates, and not in a good way:
The United States economy created just 74,000 jobs in December, the slowest pace in three years, disappointing both economists and policy makers who had concluded that the labor market was finally gaining some sustained momentum.

Experts had expected the economy would add just under 200,000 positions in December, and the huge shortfall also stood in sharp contrast with the overall pace of job creation in 2012 and 2013. In those years, employers added an average of 182,500 positions a month.

Just last month, the Federal Reserve announced it would begin pulling back on its enormous stimulus program after several months of healthier job gains. But the latest data calls into question whether the central bank's optimism was premature.

The unemployment rate seemingly improved in December, falling to 6.7 percent from 7 percent in November. But there was a 0.8 percentage-point plunge in the labor participation rate, meaning that people were dropping out of the work force rather than finding new jobs.

Although some sectors, like retailing, posted decent gains, other sectors that had been healthy during 2013 reversed course in December, significantly lowering the overall performance of the job market.
From the BLS Report:
The number of unemployed persons declined by 490,000 to 10.4 million in December, and the unemployment rate declined by 0.3 percentage point to 6.7 percent. Over the year, the number of unemployed persons and the unemployment rate were down by 1.9 million and 1.2 percentage points, respectively. (See table A-1.)

Among the major worker groups, the unemployment rates for adult men (6.3 percent) and whites (5.9 percent) declined in December. The rates for adult women (6.0 percent), teenagers (20.2 percent), blacks (11.9 percent), and Hispanics (8.3 percent) showed little change. The jobless rate for Asians was 4.1 percent (not seasonally adjusted), down by 2.5 percentage points over the year. (See tables A-1, A-2, and A-3.)

Among the unemployed, the number of job losers and persons who completed temporary jobs decreased by 365,000 in December to 5.4 million. The number of long-term unemployed (those jobless for 27 weeks or more), at 3.9 million, showed little change; these individuals accounted for 37.7 percent of the unemployed. The number of long-term unemployed has declined by 894,000 over the year. (See tables A-11 and A-12.)

The civilian labor force participation rate declined by 0.2 percentage point to 62.8 percent in December, offsetting a change of the same magnitude in November. In December, the employment-population ratio was unchanged at 58.6 percent. The labor force participation rate declined by 0.8 percentage point over the year, while the employment-population ratio was unchanged. (See table A-1.)

The number of persons emplo-yed part time for economic reasons (sometimes referred to as involuntary part-time workers) was essentially unchanged at 7.8 million in December. These individuals were working part time because their hours had been cut back or because they were unable to find full-time work. (See table A-8.)

(…)

Total nonfarm payroll employment edged up in December (+74,000). In 2013, job growth averaged 182,000 per month, about the same as in 2012 (+183,000 per month). In December, job gains occurred in retail trade and wholesale trade, while employment declined in information. (See table B-1.)

(…)

The average workweek for all employees on private nonfarm payrolls edged down by 0.1 hour to 34.4 hours in December. The manufacturing workweek was unchanged, at 41.0 hours, and factory overtime edged up by 0.1 hour to 3.5 hours. The average workweek for production and nonsupervisory employees on private nonfarm payrolls edged down by 0.1 hour to 33.6 hours. (See tables B-2 and B-7.)

In December, average hourly earnings for all employees on private nonfarm payrolls edgand ed up by 2 cents to $24.17. Over the year, average hourly earnings have risen by 42 cents, or 1.8 percent. In December, average hourly earnings of private-sector production and nonsupervisory employees increased by 3 cents to $20.35. (See tables B-3 and B-8.)

The change in total nonfarm payroll employment for October remained at +200,000, and the change for November was revised from +203,000 to +241,000. With these revisions, employment gains in October and November were 38,000 higher than previously reported.
Some data points worth taking away from these numbers:
In total, some 347,000 people left the work force in December. This would include both those who retired either on time or early, and those who simply gave up looking for work. This puts the Labor Force Participation Rate at 62.8%, the lowest it has been since February 1978;
There were 2.9 million fewer people in the labor force in December 2013 than there were in December 2012, and 1.4 million more people employed this past December than there were in December 2012;
If labor force participation were at the same level it was a year ago, the U-3 Unemployment Rate would be 7.9%, if it were at the same level it was in December 2008, the U-3 Unemployment rate wold be 10.1%; and,
As noted in the BLS Report, average months jobs growth in 2013 stands, prior to final revisions to November and December, at 182,000 net new jobs. This is roughly consistent with the average for 2012, which was 183,000 new jobs
Also, just as reference, here's a chart showing historical movement in the Labor Force Participation Rate: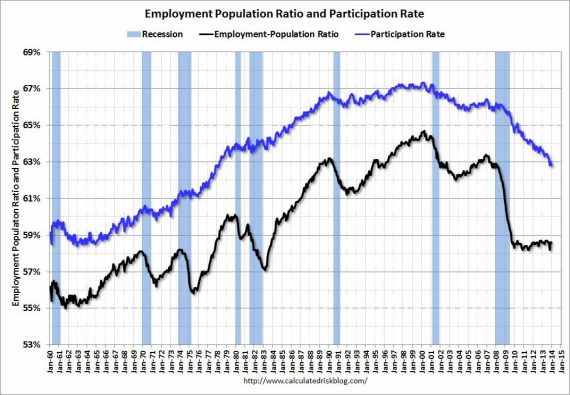 As you can see, Labor Force Participation and the population of those employed continues to fall. To some degree, obvious, this is due to demographic factors such as the aging of the Baby Boom Generation. However, it's also fairly obvious that there is a significant part of the population that has simply given up, and that group has apparently ended up either on welfare rolls, on Social Security Disability, or relying on savings or family, which obviously won't last forever. These people could present a serious social problem in the coming years unless the jobs market turns around enough to bring them back into the labor force. This is also one reason why looking at the U-3 number alone is deceptive, because it will fall both due to jobs growth and because people are leaving the labor force. This month's drop below to 6.7% seems as though it should be almost completely attributed to the fact that some 347,000 people left the labor force, and that isn't good news.
As Reuters notes, this was the weakest jobs report in three years, but they blamed it on the weather:
(Reuters) – U.S. employers hired the fewest workers in almost three years in December, but the setback was likely to be temporary amid signs that cold weather conditions might have had an impact.

Nonfarm payrolls rose only 74,000 last month, the smallest increase since January 2011, and the unemployment rate fell 0.3 percentage point to 6.7 percent, the Labor Department said on Friday. The unemployment rate was the lowest since October 2008 and in part reflected people leaving the labor force.

The step back in hiring is at odds with other employment indicators that have painted an upbeat picture of the jobs market. The data showed that 38,000 more jobs were added in November than previously reported.

Construction employment fell for the first time since May and leisure and hospitality payrolls rose marginally, suggesting that cold weather in some parts of the country had held back hiring. There were also declines in government employment.

The smaller survey of households showed an increase in the number of people who stayed at home because of the bad weather.
Of course, the Household Survey doesn't really show that. It shows that many people stopped looking for work in December, but it doesn't specifically note the reasons why the stopped doing so. Indeed, it's possible that weather may have had something to do with it, but December is quite often a bad month weather wise and that hasn't necessarily stopped people from looking for work during those time periods. It's just as plausible that people stayed home because they were getting back signals that there were no jobs out there to apply for, or at least not jobs that made it worthwhile for them economically to invest the time, money, and shoe leather to try to track down. Moreover, as Ed Morrissey points out, these BLS numbers are seasonally adjusted, meaning that factors such as the weather should already be taken into account in the numbers that are being reported. Blaming the weather for as weak a report as this is kind of like blaming the rain for the fact that people didn't buy Edsels back and in the day.
CNBC, meanwhile, brings up the inevitable issue of what this means for Federal Reserve policy:
Fed policy has been contingent on two factors—a declining unemployment rate and low inflation. The central bank in December voted to cut its monthly quantitative easing program by $10 billion to $75 billion a month. Chairman Ben Bernanke has said that a 7.0 percent unemployment rate would serve as a rough guidepost for cutting the asset purchases, while 6.5 percent would be a benchmark for when to consider raising rates.

The numbers immediately sparked debate over whether the Fed would continue to pare back or reconsider.

"The economy, based on any number of other indicators, has been picking up steam of late which makes today's number….curious," Dan Greenhaus, chief market strategist at BTIG. "We aren't sure how the Fed should react to this number but we think another reduction at the January FOMC meeting is probably unlikely. Investors though have already cast their vote; bad news is bad news."

The data indeed have been stronger, with ADP reporting private job growth in December at 238,000. Weekly jobless claims have been consistently below 350,000 and Institute for Supply Management indicators also have pointed to stronger hiring.

But the combination of a declining labor force and a structural unemployment issue in which employers are reluctant to add jobs has made the labor dynamic more difficult to decipher, both for the markets and the Fed.
Of course, the other possible lesson for the Fed here is that perhaps they have less influence over the economy than they think they do. Over the last three years or so that Quantitative Easing has been in effect, the best we can say is that monthly jobs growth have averaged approximately 173,000 net jobs created over a period of 36 months. That's better than nothing, of course, but still far below the level needed to even meet population growth. And all of this while the Fed has kept interest rates near zero — indeed, if you factor inflation into the mix, real interest rates for some Treasury obligations are actually below zero — and that's all they have to show or it. Well, not really, the one area of the economy that has benefited from Fed policy is the stock market, which has not only fully recovered from the post-2008 crisis crash, but reached record highs for the Dow and S&P 500 and ten-year highs for the NASDAQ. That doesn't do much to help the average American, of course, and it suggests that the good news out of Wall Street will end as soon as the Fed stops artificially priming the pump there, which it naturally must start doing at some point in the near future.
To be fair, these numbers are likely to be revised in January and February, probably upward. At the same time, though, one cannot dismiss the reality that they are particularly disappointing number in a month that, ordinarily, sees strong jobs growth just because of the Christmas season alone (on that note, it's possible that November's number was artificially high because retailers started hiring early to to earlier than usual Christmas sales traffic.) More importantly, the average job growth for the year is not likely to be impacted substantially by any such revisions, and that number is particularly disappointing, as this chart shows: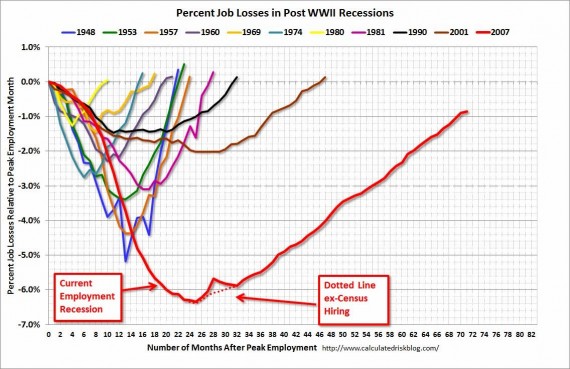 Based on this chart, it will be at least another year before we're back to where the labor market was before the recession started, and that assumes that the economy doesn't hit another snag before then. Even at that point, though, it seems unlikely that the economy will be robust enough to sustain a recovery that has now lasted more than four years without much stronger numbers than we've seen so far. Hopefully, we'll see those numbers in 2014 because, otherwise, we may be talking about another slowdown that, even if it doesn't become a recession, would likely have a huge impact on an already weak jobs market.
Update: Matthew Yglesias adds this:
The particular demographics of labor force participation are difficult to untangle. But we know for a fact that there are more Americans today than there were at the start of 2008. And yet there are fewer jobs.
Yep.