October Jobs Report Stronger Than Expected
A better than expected jobs report in October, but one that comes with a few caveats.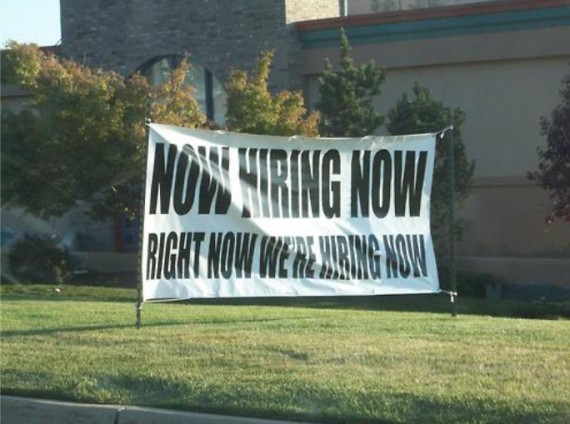 With the Federal Government shutdown for more than two weeks and the economy sent into uncertainty during that same period over the approaching debt ceiling limit and the question of just how close the Ted Cruz-led kamikazes would take the American economy to the edge of potential catastrophe, most analysts were not expecting a particularly good Jobs Report for the month of October. The ADP report, which came out last week, was nothing to write home about, and the estimates approaching today ranged from 120,000 to 140,000 new jobs added to the economy, not exactly a good number at all. As it turns out, though, things seem to have been much better on the jobs front than many people anticipated:
Forget the shutdown: Job creation surged in October despite dimmed expectations from the impasse in Washington.

There were a net 204,000 new jobs created for the month, though the unemployment rate rose to 7.3 percent and households reported a huge drop in employment, the Bureau of Labor Statistics said. A separate measure that includes the underemployed and those who have quit looking also moved higher, from 13.6 percent to 13.8 percent.

The numbers easily topped economist expectations of 120,000 new nonfarm payroll jobs for the month, though it matched estimates for a slight increase in the headline jobless rate.

"I find this bizarre," Moody's economist Mark Zandi told CNBC. "I wouldn't be surprised if this gets revised to some degree…down."

(…)

Leisure and hospitality led the way in job creation with 53,000 new positions, 29,000 of which came from bars and restaurants. Professional and technical services added 21,000 while manufacturing contributed 19,000, according to the establishment survey of businesses.

Though the jobs creation number jumped, there was a mixed bag of news. The civilian labor force tumbled by 720,000 and the labor force participation rate fell to its lowest since March 1978.

Most startlingly, the household survey actually saw employment fall by 735,000 for the month.

"While the furloughed government workers technically should be counted as employed in the nonfarm payroll count as part of the establishment survey, at the same time they are counted as temporarily unemployed in the household survey," said Kathy Bostjancic, director of macroeconomic analysis at The Conference Board. "The negative impact from the partial government shutdown on the nonfarm payroll employment count doesn't seem to have affected the private sector at all."

The government's birth-death model, which estimates jobs created and lost through recently opened and closed businesses, added 126,000 to the total.

The numbers were expected to be noisy due in large part to the government shutdown and generally speaking have been on a modest downward trajectory lately.

Numbers from previous months saw upward revisions. August's total jumped from 193,000 to 238,000, while September's disappointing 148,000 got pushed up to 163,000, pushing the 12-month average up to 190,000.
Some details from the BLS Report:
Job growth averaged 190,000 per month over the prior 12 months. In October, job gains occurred in leisure and hospitality, retail trade, professional and technical services, manufacturing, and health care. Federal government employment continued to trend down. There were no discernible impacts of the partial federal government shutdown on the estimates of employment, hours, and earnings from the establishment survey. (See table B-1.)

Leisure and hospitality employment rose by 53,000 in October. Within the industry, employment in food services and drinking places increased by 29,000, the same as its average monthly gain over the prior 12 months.

Employment in retail trade increased by 44,000 in October, compared with an average monthly gain of 31,000 over the prior 12 months. Job growth was widespread within the industry in October, with gains in food and beverage stores (+12,000), electronics and appliance stores (+10,000), sporting goods and hobby stores (+8,000), general merchandise stores (+8,000), and building material and garden supply stores (+7,000). Clothing and clothing accessories stores lost 13,000 jobs.

Professional and technical services employment rose in October (+21,000) and has grown by 213,000 over the past 12 months. Within the industry, employment in management and technical consulting services rose by 8,000 in October.

Manufacturing added 19,000 jobs in October, with job growth occurring in motor vehicles and parts (+6,000), wood products (+3,000), and furniture and related products (+3,000). On net, manufacturing employment has changed little since February 2013.

Health care employment increased over the month (+15,000). Job growth in health care has averaged 17,000 per month thus far this year, compared with an average monthly gain of 27,000 in 2012.

In October, employment showed little or no change elsewhere in the private sector, including mining and logging, construction, wholesale trade, transportation and warehousing, information, and financial activities.

Federal government employment declined by 12,000 in October. Over the past 12 months, federal government employment has decreased by 94,000. Federal employees on furlough during the partial government shutdown were still considered employed in the payroll survey because they worked or received pay for the pay period that included the 12th of the month.
That last part, of course, is crucial to the underlying numbers because things would be looking much bleaker this morning if the several hundred thousand Federal Government employees that were out of work for sixteen days because of the Republican Party's idiotic stunt. More interestingly, though, is the fact that some of the various layoffs we did see elsewhere in the economy resulting from the shutdown, especially in the defense contracting industry, didn't seem to have a major impact on job growth either. That may be in part because Defense Department operations were mostly fully up and running nearly a week earlier than the rest of the government, though. In any event, though, on the surface it appears that there was very little impact on the jobs market from the shutdown.
There are several caveats to keep in mind with this report, though.
First of all, as we were reminded when the delayed September report came out just about two and a half weeks ago, it's likely that the data in the October report itself may be incomplete due to the shutdown. During that period, ,there were literally only a handful of employees working at the Bureau of Labor Statistics and the Labor Department readily admitted that the normal surveying that this office does as part of the data collection it does to put the monthly report together. So, we may not be looking at entirely "clean" data here and will have to wait for the revisions to come in December and January to see what the true picture is. Part of the impact of the shutdown in that regard can be seen in the rather odd dis-congruities between the employer survey and the household survey. Second, to the extent the underlying numbers can be trusted, they aren't necessarily all that great. Labor force participation was at its lowest rate since Jimmy Carter was just beginning his second year in office, for example, and average job growth for the past year is still stubbornly below the 225,000-250,000+ level that is generally considered necessary to even cover population growth. What that means is that, as much as we're getting ahead, we're still falling behind. Additionally, the fact that growth in an important area like manufacturing has been essentially stagnant for most of the year is not a very good sign. Also worrisome is the lack of growth in the construction field, since this would be indicative of a stronger housing market as well as business expansion. So, don't exactly go popping champagne corks over this one.
Nonetheless, this was a modestly good report, which I suppose is something to be pleased with. Hopefully it will hold up when the revisions come out over the next two months.