Foreign Policy Debate Substantive Analysis: Defense Planning
One of the few areas of disagreement was how big our military should be.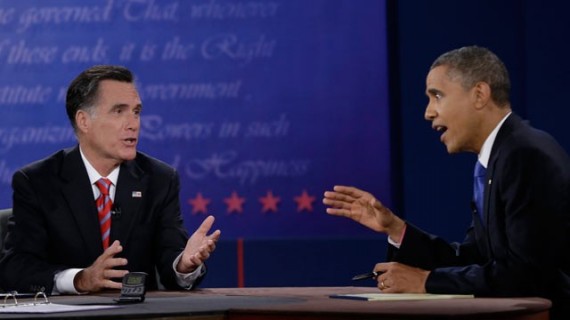 Sandwiched between a far too-long discussion of Middle East policy, including an absurd over-emphasis on Israel, followed by a diversion into economic issues that weren't supposed to be debated at all, the debate finally turned to military planning.
Schieffer asked, "Governor, you say you want a bigger military. You want a bigger Navy. You don't want to cut defense spending. What I want to ask you — we were talking about financial problems in this country. Where are you going to get the money?"
Romney talked about cutting Obamacare, Medicare, and the like before Obama jumped in, arguing "The math simply doesn't work." Then, he declared, "But when it comes to our military, what we have to think about is not, you know just budgets, we've got to think about capabilities. We need to be thinking about cyber security. We need to be talking about space. That's exactly what our budget does, but it's driven by strategy. It's not driven by politics. It's not driven by members of Congress, and what they would like to see. It's driven by, what are we going to need to keep the American people safe?"
Actually, budgets are very much driven by Congress–whose constitutional role is, after all, to craft and pass budgets. But, yes, it would be ideal to base the budget based on an honest threat assessment rather than politics. But there's always the security dilemma: not only is it impossible to know how much security you really need ahead of time, but the mere act of arming against certain risks often increases said risks.
Romney jumps in to talk about how he balanced budgets as governor and Olympic chairman. But that's apples and oranges; those jobs don't allow budgets not to be balanced whereas it's inconceivable that he or anyone else would balance the US federal budget over the next four years.
Next, he shifts to what's likely been the most talked-about portion of the debate.
"Our Navy is old — excuse me, our Navy is smaller now than at any time since 1917. The Navy said they needed 313 ships to carry out their mission. We're now at under 285. We're headed down to the low 200s if we go through a sequestration. That's unacceptable to me. I want to make sure that we have the ships that are required by our Navy. Our Air Force is older and smaller than at any time since it was founded in 1947."
Obama retorted that, "Well, Governor, we also have fewer horses and bayonets, because the nature of our military's changed. We have these things called aircraft carriers, where planes land on them. We have these ships that go underwater, nuclear submarines. And so the question is not a game of Battleship, where we're counting slips. It's what are our capabilities."
Obama's line was clever, if factually incorrect and misleading. It's absolutely true that the sheer number of ships isn't the only thing that matters; but it does in fact matter. Will a fleet in "the low 200s" be adequate to our future security needs? Well, it depends on what we ask of it. If we're going to continue to expect our Navy to cover the entire globe simultaneously, maintain a presence in key hot spots, perform humanitarian and counterpiracy missions, and also pivot to Asia—a naval theater—then it may well not be.
Further, while Romney left himself open to ridicule with the " our Navy is smaller now than at any time since 1917" irrelevancy, his very next line was that "The Navy said they needed 313 ships to carry out their mission." We have far fewer ships than that now and Obama proposes to cut them.
What's interesting here is how little time was spent on this relative to so many less important issues. And Obama never responded on the issue of the Air Force—much less introduced a discussion of the appropriate size of the Army and Marine Corps or the future combat role of the United States military.
There was no discussion of the military planning implications of the pivot to Asia—or of the merits of the pivot.
Even on what they did talk about, Romney really didn't provide any useful insights on how he would pay for what would be a much larger force that he's proposing. On that, Obama is right: the math simply doesn't add up. The military is just too expensive to pay for with what amounts to change under the seat cushions.