Former Illinois Senator, And Republican Moderate, Charles Percy Dies At 91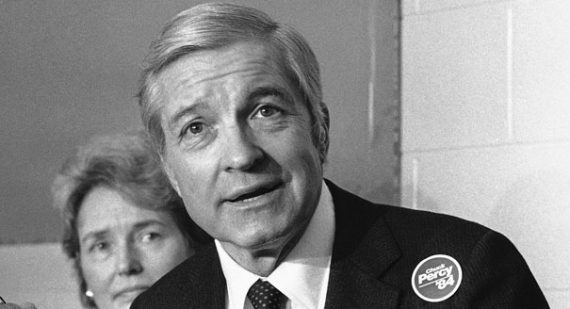 Charles Percy, who was one of the stalwarts of the moderate "Rockefeller" wing of the Republican Party, which pretty much died off after the 1980 election, has died at the age of 91:
Charles H. Percy, the wonder boy from Illinois, president of Bell & Howell at 29, a United States senator at 47, and for four years chairman of the powerful Senate Foreign Relations Committee, died early Saturday morning in Washington, D.C.

He was 91, and had struggled with Alzheimer's disease in recent years.

Percy won his seat in 1966, less than two months after the brutal murder of his daughter Valerie, a crime that shocked Chicago and the nation. The murderer was never caught, and to this day the case is often the first thing Chicagoans think of when remembering Percy, despite his many accomplishments.

He might have been president. Upon taking office, the dapper, handsome Percy immediately was pegged as presidential timber, one of the "New Breed" Republicans, by a GOP eager to move beyond the disastrous Barry Goldwater campaign of 1964. He was on the cover of Time magazine, and no less a figure than Dwight D. Eisenhower predicted he'd be president.

But it was perilous to be both an outspoken liberal and a Republican, and Percy's presidential hopes were thwarted by more conservative Republicans such as Richard Nixon.

Percy also was hobbled, paradoxically, by his honesty, energy and ambition, traits which some viewed as character flaws.

"He seemed to be a whirlwind of self-promotion, obsessed with public relations," George Will wrote in 1974. "He seemed to be a blend of two disagreeable and until then unblendable character traits: cynicism and naivete."
Before he joined the Senate, Percy distinguished himself in the business world. He started working at Bell & Howell right out of college, by 23 he was on the Board of Directors, and at 29 he became the youngest person to ever serve as President and CEO of a major American corporation. After joining the Senate, Percy quickly got on to the short list of potential Presidential candidates of a party that had been deeply hurt in the 1964 election (interestingly, Percy was a Goldwater delegate at the 1964 Republican Convention in San Francisco), and he was an outspoken member of the Senate:
Percy was an outspoken critic of the war in Vietnam, which he visited in 1967. During a tour of the Dak Son refugee camp near the Cambodian border, his party came under mortar and rifle attack and had to be rescued by U.S. helicopter gunships.

"I never got lower to the ground in my life," Percy later said.

Percy did not abate his criticisms of the war when it ceased being Lyndon Johnson's war and became Richard Nixon's war.

"Is it worth tearing ourselves apart inside and spending a half billion dollars a week?" he asked in 1969. "I say it's not worth it."

Nixon disagreed, and placed his fellow Republican on his infamous Enemies List.

In 1970, Percy joined the Senate Foreign Relations Committee, which he chaired for his last four years in office. The same year, Percy persuaded Nixon to give future Supreme Court Justice John Paul Stevens a spot on the Court of Appeals for the Seventh Circuit — Percy was known for having an excellent eye for judicial talent.

In 1972, Percy won re-election by more than a million votes.

The biggest controversy of his second term came when Sen. Percy, the State of Israel Bonds Committee's 1970 Man of the Year, made a visit to the Middle East in 1975 and called on Israel to "take some risks for peace" by negotiating with Yasser Arafat and withdrawing to its 1967 borders.

Pro-Israel groups never forgave Percy — though, ironically, his suggestions were embraced in subsequent peace efforts.

He was elected to a third term in 1978, but in 1984, his image was tarred in a bitter Republican primary, and he was defeated in the fall by Democrat Paul Simon.
That 1978 campaign is significant for another reason. The Republican Party of 1978 was broad enough to include Ronald Reagan and Charles Percy, and that year Reagan campaigned vigorously for Percy even though the two disagreed on many issues, and despite the fact that there was a more conservative candidate running as an Independent. Could you imagine that happening today?
Photo via Politico