Former President George H.W. Bush Out Of Intensive Care
Good news for the 41st President of the United States and his family.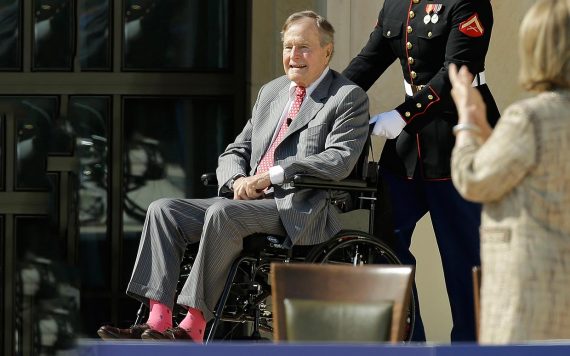 As James Joyner noted earlier this week, former President George H.W. Bush was hospitalized with a blood infection just hours after his late wife Barbara's funeral this past weekend. This afternoon, his spokesperson announced that Bush's condition had improved sufficiently that he was moved out of intensive care and is now in a regular patient room:
Former President George H.W. Bush has been moved out of the intensive care unit to a regular patient room after earlier contracting an infection that spread to his blood, a family spokesman said Wednesday.

The 41st President is "alert and talking with hospital staff, family and friends, and his doctors are very pleased with his progress," the spokesman, Jim McGrath, said in a statement, adding that Bush is expected to remain at Houston Methodist Hospital for several more days.

"President Bush naturally thanks everyone for their prayers and good wishes. He also wants to assure everyone that, as good as he feels now, he is more focused on the Houston Rockets closing out their playoff series against the Minnesota Timberwolves than anything that landed him in the hospital."

Earlier Wednesday, a source close to the Bush family said the 41st President was doing much better, pointing to a tweet from Bush's Twitter account that thanked Houston authorities for their handling of Barbara Bush's funeral as a positive indication of Bush's recovery.

Bush, 93, was admitted to the hospital Sunday morning after contracting the infection, McGrath said, a day after a funeral was held for his wife.

According to McGrath, the 41st President has said he is determined to get healthy and get to Maine this summer. On Monday, McGrath said Bush was "responding to treatments and appears to be recovering."

According to a source close to the former Republican President, Bush was admitted to the hospital with an infection that led to sepsis, which can be life-threatening. He was in critical condition, the source said.
Here are the tweet's from Bush's spokesperson:
My family and I thank Mayor @SylvesterTurner, his terrific staff, @houstonpolice, @METROHouston, @SBCHouston, @StMartinsDOK — and really all Houstonians — for your professionalism and obvious care in making Barbara's visitors and funeral guests feel so welcomed. Thank you all.

— George Bush (@GeorgeHWBush) April 25, 2018
Herewith an update on the health of former President @GeorgeHWBush: pic.twitter.com/vfhKBv8EFD

— Jim McGrath (@jgm41) April 25, 2018
Sepsis is a serious condition in even a young and healthy person, and even more so when you're dealing with someone of Bush's advanced age who already is dealing with a number of adverse health conditions, most notably including Parkinson's Disease. It's likely that Bush wasn't feeling well before being admitted to the hospital on Sunday, and likely during the funeral on Saturday, but that he was compelled to stick it out to honor the person who he'd been married to for 73 years and who had been part of his life since they met in 1941. No doubt the stress of her final days and death contributed to his condition.
In that respect, it's good to see that Bush has improved sufficiently that he was able to be moved out of Intensive Care. Hopefully, he'll continue to recover sufficiently to get home soon and that he'll be able to spend the summer in Maine as he has done for nearly all of his life. As James said on Monday, even at his advanced age Bush is a fighter and if anyone can pull it off he can.