Furloughs Killing Productivity at Pentagon
Sequestration is even dumber than we thought.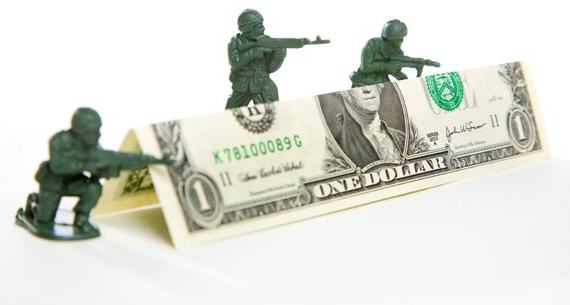 Sequestration is even dumber than we thought.
Defense News ("US Furloughs Wreak Havoc On DoD Productivity"):
The furloughing of civilian US Defense Department employees as a result of federal spending cuts is wreaking havoc on productivity and frustrating DoD and industry officials.

Scheduling meetings has become extremely difficult as the already jam-packed calendars of senior defense officials are full-up for weeks now that the vast majority of DoD's more than 700,000 civilians must take off one day each week through September. With employees limited to working 32 hours each week, defense officials worry that employees could become clock watchers, decreasing productivity even more.

Since furloughs began in early July, many DoD civilian workers have scheduled their days off without pay on Mondays and Fridays. But that has created problems, particularly in arranging meetings with higher-ups and accomplishing day-to-day tasks, sources say.

"Things have come to a standstill on Mondays and Fridays," said one DoD contractor who works in the Pentagon.

With many civilian workers off the job these two days, Tuesday has become a day to prepare for meetings on Wednesday or Thursday, these sources say. Moreover, it has delayed decisions on procurement programs and regular interactions with industry.
There's much more in the report but, since it's subscriber-only, I'll refrain from excerpting more of it.
I was, of course, aware of the furloughs and the fact that they were taking place on Mondays and Fridays. Given that we're giving these employees a 20 percent pay cut, quite possibly in contravention of the law, it only seems reasonable that they at least get a long weekend out of it.  I was even aware, for reasons I'm not free to share, that commands were alternating furloughs such that some people were off Mondays and others on Fridays, thus essentially doubling the impact of inefficiency.
What I didn't realize—although it's blindingly obvious in hindsight—was that the furlough came with a 32-hour-a-week cap. Again, this makes perfect since when you think about it. Otherwise, we'd be screwing people out of a fifth of their paychecks but then making them cram all of their work into the other four days. That would be great for the taxpayer but demonstrably unfair.
But here's the thing: many if not most Pentagon civil servants have something other than a 40-hour workweek. While lower level administrative personnel pretty much work eight hour days (or, quite often, four twelve hour days or alternating three and four ten hour days in order to get more long weekends) managers—and the Pentagon is overrun with them, given that it's after all a headquarters—are exempt employees who work as many hours as needed to get the job done. But, with the furloughs in place, they're not able to do that. So, instead of working five 10 hour days, they're now working four 8 hour days. So, instead of being a 20 percent cut in hours worked, it's probably more like a 40 percent cut for these people.
Of course, bureaucratic organizations have a strong incentive to be as dysfunctional as possible during sequestration. If they could somehow function nearly as well with 20 percent fewer workers, that would be a pretty powerful argument for getting rid of 20 percent of the workforce. That's true even if the surge in productivity was temporary and unsustainable. But, combined with the twin morale hit of being forced to swallow a pay cut with the anxieties caused by a looming reduction in force, there's not much incentive to try to make it work even aside from bureaucratic cynicism.
The report notes that employees are being turned into "clock watchers" as a result of the restriction. And, understandably so: If you're being treated like an hourly employee, you're going to start acting like one. I can't help but wonder, though, whether this attitude won't remain even after the furloughs are gone.