White House and House of Representatives Clash on Civilian Pay
The two ends of Pennsylvania Avenue are clashing on defense appropriations.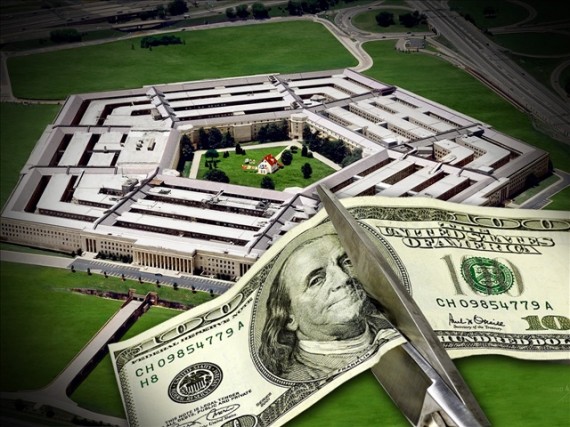 The House passed a defense appropriations bill at odds with the White House on DoD civilian pay.
Bloomberg ("House Passes Pentagon Spending Bill With No Aid to Egypt"):
The House voted today to give the U.S. Army and Navy more procurement money than they sought for fiscal 2014 — funds designated for Blackhawk helicopters made by United Technologies Corp. and Patriot missile interceptors from Lockheed Martin Corp.

[…]

The measure would appropriate $129.6 billion for pay and benefits for active duty, reserve and National Guard members, an increase of $2.1 billion from the fiscal 2013 enacted level, though $750 million less than the White House request.

A pay increase of 1.8 percent, rather than the 1 percent raise requested by the Pentagon, would go to all military personnel starting Jan. 1, 2014. Service members received a 1.7 percent pay raise for this year.

Civilian personnel wouldn't receive an increase under the bill; their pay has been frozen for three years. The Obama administration has requested a 1 percent increase for civilian personnel.
Army Times ("House votes to block more DoD furloughs in 2014"):
The House added a whole new wrinkle to concerns about military readiness and budget cuts on Tuesday by passing legislation barring furloughs for civilian workers in fiscal 2014.

Passed by voice vote as an amendment to the 2014 defense appropriations bill, the legislation sponsored by Rep. Doug Lamborn, R-Colo., prohibits the Defense Department from spending any money to implement civilian furloughs beginning Oct. 1, 2013.

Lamborn said the vote is "a first step toward restoring sanity to the defense budget and restoring pay to our nation's civilian defense workers."

[…]

The vote comes as 650,000 defense civilian workers are just starting to take 11 scheduled furlough days as a cost-cutting measure to cope with the $37 billion across-the-board sequestration cuts required when Congress and the White House failed to reach an agreement earlier this year on spending and deficit reduction.

There are increasing concerns that an even bigger, $52 billion sequester would occur in fiscal 2014, which begins Oct. 1, because the Obama administration and Congress appear no closer to an agreement.

In preparation for possible 2014 cuts, DoD does not intend to do more civilian furloughs, but is instead planning for potential layoffs. In a so-called "Plan B" letter to Congress, Defense Secretary Chuck Hagel did not rule out more furloughs but said an involuntary reduction-in-force of civilians is one of the steps being planned in case sequestration carries into 2014.

Barring furloughs would limit Pentagon options, making layoffs not just more likely but also deeper, according to congressional aides. Inability to absorb short-term budget cuts from civilian furloughs also could force DoD to make deeper cuts in other programs, such as military personnel.

Hagel has already warned sequestration in 2014 could result in a freeze in promotions and reassignment moves and lead to the cancellation of discretionary recruiting and retention bonuses.
So, to recap:
The House upped the military procurement budget to pay for helicopters and interceptors the Pentagon didn't ask for, raised pay for uniformed military at almost double the rate the White House asked for, and didn't raise civilian pay again for the third straight year while the White House asked for a smaller but across-the-board raise for all DoD employees. Meanwhile, they've signaled that another year of sequestration is baked in but would forbid furloughing civilian workers, thus all but ensuring layoffs.
We'll see what comes out of the Senate. As to the House version, my instincts are:
While the increased funding for Blackhawks and Patriots is likely pork, it's a perfectly legitimate Congressional role to push back. And, even if the primary motivation is jobs in the district, there may also be sound military reasons to buy more of these systems. It's not as if the White House or even the Pentagon are without political motive.
The White House position on pay strikes me as reasonable and, indeed, has been my default position for decades. That is, cost-of-living increases should be fixed across government and apply not only to current workers but pensioners as well. So, our fighting men in Afghanistan, our retired grandmothers, military retirees, and Members of Congress should get the same pay raise each year, based on a calculation of the actual rate of inflation and the state of the national treasury. To the extent that we determine that some group is underpaid, either in terms of value to the nation or competition from the private sector for talent, we should address that separately.
In terms of the uniformed-civilian divide at DoD, we've been skewing the gap far too much in the direction of the former for decades. For a variety of reasons, we lionize the former as heroes and the latter as bureaucratic drones. As a consequence, however, people doing comparable work and at comparable "rank" within the system are being paid quite differently depending on whether they wear a uniform or a coat and tie to work. Add in the fact that military retirement remains lavish (half of one's base pay for life after twenty years of service, starting as early as age 38) while civil service workers have long since shifted to a 401k-style system and the balance is completely out of whack.
Incidentally, the Obama administration has threatened a veto if this inequity remains in the final bill. That is, they're demanding that, whatever pay increase there is apply to both uniformed and civilian alike. We shall see.
I have mixed feelings about the furlough issue. On the one hand, I consider it outrageous (and quite possibly illegal) to force people to take unpaid leave as a means of cutting costs. People in the lower grades, especially, are being deeply hurt by the practice as they tend to live paycheck-to-paycheck. On the other hand, until Congress and the White House decide to end their stand-off and make rational decisions about how much and what kind of government services to buy, furloughs are probably a better way of handling the situation than firing people outright. Given the state of the economy, I'd rather be forced to take a pay cut than lose my job entirely.