Gabby Giffords on the Gun Lobby
Gabby Giffords writes an emotional diatribe filled with non sequiturs that does nothing to advance the debate.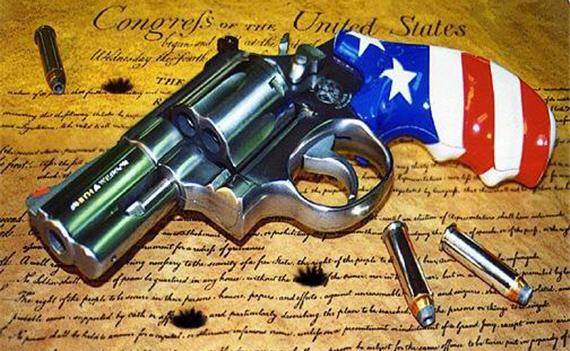 Gabby Giffords' NYT op-ed "A Senate in the Gun Lobby's Grip" is an emotional diatribe filled with non sequiturs that does nothing to advance the debate. The lede encapsulates the logic of the piece:
SENATORS say they fear the N.R.A. and the gun lobby. But I think that fear must be nothing compared to the fear the first graders in Sandy Hook Elementary School felt as their lives ended in a hail of bullets.
The two are absolutely unconnected. All of us, including the US Senators who voted down the bill yesterday, are sick about the kids who were murdered that day and grieve for their parents. Most of those Senators have children of their own; many have grandchildren.
On Wednesday, a minority of senators gave into fear and blocked common-sense legislation that would have made it harder for criminals and people with dangerous mental illnesses to get hold of deadly firearms — a bill that could prevent future tragedies like those in Newtown, Conn., Aurora, Colo., Blacksburg, Va., and too many communities to count.
To call something "common-sense legislation" is to say nothing. Indeed, common sense often makes for bad legislation; the Senate is supposed to actually listen to testimony, look at the research, and make decisions based on evidence. Now, I support making it "harder for criminals and people with dangerous mental illnesses to get hold of deadly firearms." The question is whether the means of doing so also makes it harder for the rest of us to exercise our rights and what other trade-offs are at work. And, indeed, nothing in the bill would have stopped Newtown, Aurora, or Blacksburg. A first-time spree shooter isn't going to fail a background check.
Some of the senators who voted against the background-check amendments have met with grieving parents whose children were murdered at Sandy Hook, in Newtown. Some of the senators who voted no have also looked into my eyes as I talked about my experience being shot in the head at point-blank range in suburban Tucson two years ago, and expressed sympathy for the 18 other people shot besides me, 6 of whom died. These senators have heard from their constituents — who polls show overwhelmingly favored expanding background checks. And still these senators decided to do nothing.
But that may well be a good thing! Making unpopular decisions even in the face of emotional connections is often a sign of wisdom, not callousness.
These senators made their decision based on political fear and on cold calculations about the money of special interests like the National Rifle Association, which in the last election cycle spent around $25 million on contributions, lobbying and outside spending.
Giffords provides not a hint of evidence of this. It's pure assertion. And assertion that seems ludicrous on its face. $25 million divided by 535 (100 Senators plus 435 Representatives) comes to $57,471 per Member. That's chump change. Even if we exclude those in safe seats and presume the NRA is concentrating its donations, it's not that much. And, indeed, those in safe seats would seem immune from the NRA's pressures.
I am asking every reasonable American to help me tell the truth about the cowardice these senators demonstrated. I am asking for mothers to stop these lawmakers at the grocery store and tell them: You've lost my vote. I am asking activists to unsubscribe from these senators' e-mail lists and to stop giving them money. I'm asking citizens to go to their offices and say: You've disappointed me, and there will be consequences.
There was a lot of this sort of nonsense on "Morning Joe" this morning before I got tired of it and shut it off. One doesn't get to the United States Senate by being a political moron. This was a high visibility vote on an extremely contentious issue. Each and every Senator thought long and hard about "consequences" before casting their vote. Obviously, 41 percent of them made a calculation that No was the prudent way to go.
The fact of the matter is that this is a low salience issue for the overwhelming majority of voters. It doesn't matter that the polls show them overwhelmingly favoring the bill; few actually care about it and most of those oppose it with a purple passion.
Correction: The original post misstated the vote on the bill.