Gaddafi's Dead. Now What?
The post-Gaddafi era has been made permanent. What comes next?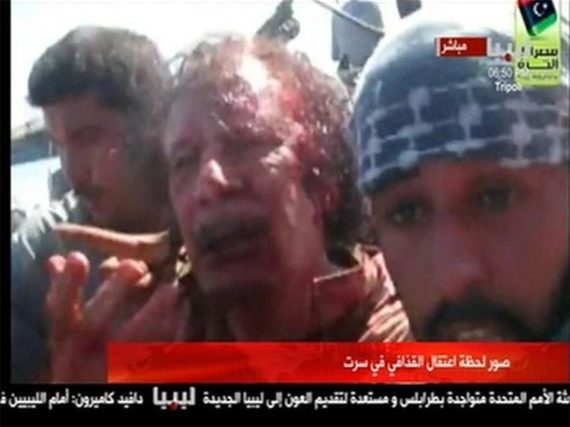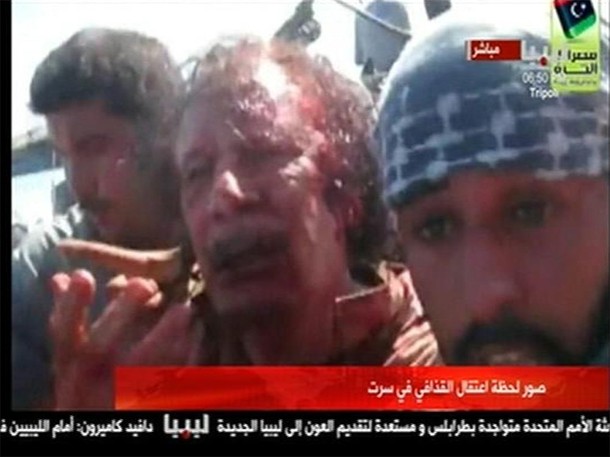 In my New Atlanticist essay "Post-Gaddafi Era Made Permanent," I take a look at the unanswered questions left now that a certain Libyan strongman with Michael Jackson's fashion sense has assumed room temperature.
1. Who killed Gaddafi? It's almost certainly the case that NATO took out his convoy but it's not at all clear at this juncture how Gaddafi sustained the wounds seen at capture. Were they sustained in the air attack? By a guard, as claimed? NATO clearly doesn't want the credit.
2. Did Gaddafi die from his wounds or from post-capture abuse? We don't know yet. But he was certainly alive at capture, which raises troubling questions about the rule of law in post-transition Libya.
3. What now for NATO? Every indication is that NATO is going to pull the plug on the mission, perhaps as soon as tomorrow. How long the transition will take or what form it will take is as of now unclear. The Pentagon estimates that as of September 30, the US military mission in Libya has cost $1.1 billion. Given the economic and political situation, this alone is powerful incentive to wrap things up quickly.
Most importantly:
4. What's next for Libya?
Obviously, it's still to soon to say. Reports over the last several months have made it clear that there was little appetite in NATO capitols–or anywhere else, for that matter–for post-regime-change stability operations. So Libya may well be left to its own devices.

Many of us have drawn parallels to Iraq, where the capture of Saddam Hussein turned out not to end things but actually led to the escalation of a civil war. There's little reason to think this will be the case in Libya, in that regime change was initiated by local action rather than foreign invasion and we're not going to see power turn from a hated religious minority to a bitter majority.

On the other hand, Iraq had strong institutions and Libya has none. It remains to be seen how well the National Transitional Council manages to set up viable elections, what constitutional structures will emerge, and how well a new government manages a delicate situation.

The safe bet, though, is that whatever emerges will be better than what was permanently left behind by today's actions.
There's a hell of a lot more uncertainly in all of this than I'd prefer. But that's the nature of this sort of undertaking.
Photo credit: Reuters