Gallup: Sarah Palin's Unfavorable Rating Hits New High At 52%
The numbers just don't look good for Sarah Palin:
PRINCETON, NJ — More than half of Americans, 52%, now view Sarah Palin unfavorably, the highest percentage holding a negative opinion of the former Alaska governor in Gallup polling since Sen. John McCain tapped her as the 2008 Republican vice presidential nominee. Her 40% favorable rating ties her lowest favorable score, recorded just over a year ago.

The latest results come from a Nov. 4-7 Gallup poll, conducted shortly after the midterm elections delivered some big wins as well as losses for Tea Party movement candidates Palin had actively campaigned for in the past year.
And yet, there's still the bizarre disconnect between the public as a whole and the GOP that I noted on Wednesday: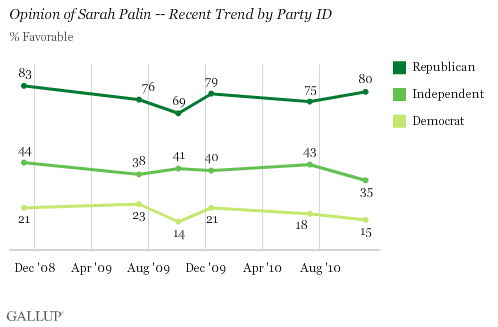 Republicans, look at that chart. Then, look at this one: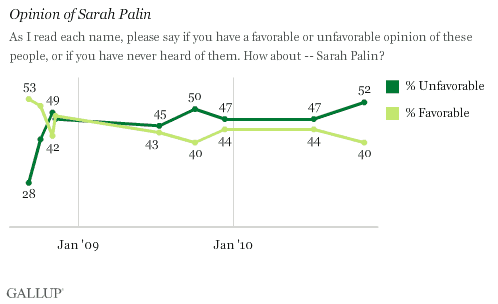 If you actually want to in in 2012, you know what to do.