Gary Cohn Resigns as Trump Economic Advisor
The chairman of the White House Council of Economic Advisors is out after failing to convince the boss not to impose tariffs.
This screenshot from Bloomberg News at 5:57 pm says a lot about the state of the Trump White House: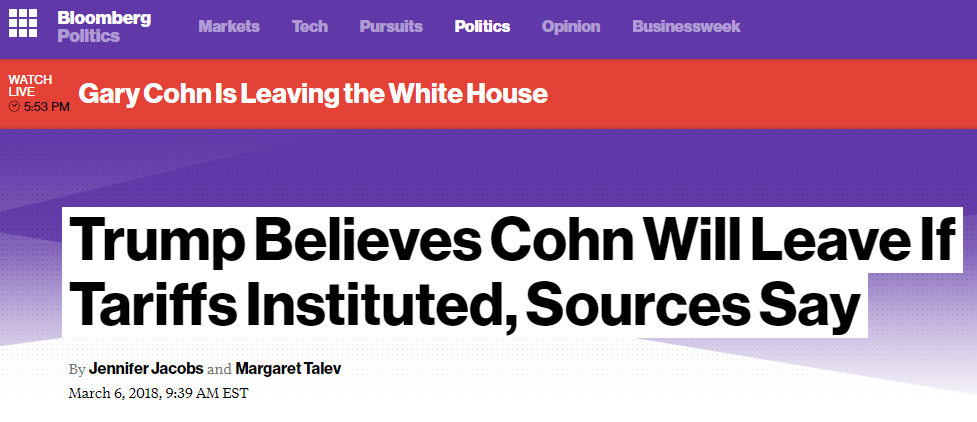 NYT ("Gary Cohn to Resign as Trump's Top Economic Adviser"):
Gary D. Cohn, President Trump's top economic adviser, plans to resign, becoming the latest in a series of high-profile departures from the Trump administration, White House officials said on Tuesday.

The officials insisted there was no single factor behind the departure of Mr. Cohn, who heads the National Economic Council. But his decision to leave came after he seemed poised to lose an internal struggle amid a Wild West-style process over Mr. Trump's plan to impose large tariffs on steel and aluminum imports.

"Gary has been my chief economic adviser and did a superb job in driving our agenda, helping to deliver historic tax cuts and reforms and unleashing the American economy once again," Mr. Trump said in a statement to The New York Times. "He is a rare talent, and I thank him for his dedicated service to the American people."

Mr. Cohn is expected to leave in the coming weeks. He will join a string of recent departures by senior White House officials, including Mr. Trump's communications director and a powerful staff secretary.

In a statement, Mr. Cohn said he had been pleased to work on "pro-growth economic policies to benefit the American people, in particular the passage of historic tax reform." White House officials said that Mr. Cohn was leaving on cordial terms with the president and that they planned to continue discussing policy even after his departure.
The Bloomberg story, posted eight hours earlier, is obviously OBE. Trump was apparently incorrect.
While there are credible economic analysts who might argue for retaliatory tariffs against China and others for violating their obligations under the WTO, it's doubtful any would argue for blanket tariffs on steel and aluminum that mainly affect close allies in Canada and Europe. I suppose Cohn was not one of the latter. And, if you can't persuade the President on something that fundamental, you have no influence.
UPDATE (0547 March 7): More details and analysis are coming in.
Bloomberg ("Trump Confronted Cohn on Trade Hours Before Resignation, Sources Say"):
President Donald Trump demanded economic adviser Gary Cohn's cooperation on tariffs in a meeting in the Oval Office Tuesday — asking Cohn directly if he would support his decision to move forward with the plan.

Cohn would not offer his support, according to two people familiar with the episode — and just hours later, the White House announced Cohn's resignation.

In a way, Cohn's resignation as director of National Economic Council was exactly as Trump had predicted this week, telling associates that he expected Cohn to quit if Trump went ahead with the tariffs. Trump is expected to announce the moves — a 25 percent tariff on steel and 10 percent on aluminum — as early as this week.

Cohn is a free-trade advocate who vociferously opposed Trump's plan, so his views were well-known. But the moment in the Oval Office brought the two men — president and adviser — into direct conflict.

Trump, during the trade policy meeting in the Oval Office Tuesday, asked for an update on the legal paperwork that will make the tariffs official and discussed the timing of the signing of the tariffs order. He then sought confirmation that everyone — and especially Cohn — was willing to stand behind him.

According to one source with knowledge of the exchange, Trump specifically asked Cohn: We're all on the same team, right? He then asked if Cohn was going to support the president on the issue.

Cohn didn't answer, the people said.

A source familiar with Cohn's thinkng disputed that Trump demanded loyalty on tariffs in the meeting or asked Cohn to change his mind.

This person also said that Cohn even agreed with Trump on the need for a tougher stance on China. but that any metals tariffs that also hit Canada, Mexico and the European Union seemed counterproductive. Still, Cohn is prepared to stay until the end of the month to help Trump pick his new economic adviser, this person said.
Ah, a man of principle.
Not only that, the person said, Cohn would be willing to come back for an even larger job, including possibly a cabinet post, the person said. All of Trump's cabinet positions are currently filled.

Cohn told the president in February that he was underutilized and should have a bigger role, the person added, and if there wasn't a bigger for him, that he was considering moving on.
Okay, so maybe not.
POLITICO ("'It means disaster': White House aides fear more policy chaos after Cohn departure"):
For many longtime Republican policy wonks and senior aides on Capitol Hill, Gary Cohn served as a touchstone. He was seen as the rare Trump administration official who did a good job of navigating substantive policy questions as well as the sometimes opaque decision-making process in President Donald Trump's White House.

But with his resignation announcement Tuesday, Cohn joins the long list of policy experts who have departed in recent months — a brain drain that leaves the president with fewer people around him who know how to get policy made, and how to stop Trump from moving ahead with unworkable ideas.

Some worry the White House could return to the uncontrolled days immediately following Trump's inauguration, when many West Wing jobs were still unfilled and former strategist Steve Bannon was writing executive orders with policy adviser Stephen Miller, including the disastrous travel ban that was ultimately knocked down by multiple courts.

"The number of bad ideas that have come though this White house that were thankfully killed dead — there are too many to count," a White House official told POLITICO. "With Gary gone, I just think, from a policy perspective, it means disaster."
After stuffing his head with facts so that he could debate Walter Mondale wonk-to-wonk didn't work out so well, President Reagan's team resolved to "let Reagan be Reagan." It worked out quite nicely in the second debate, where a relaxed Gipper won over the audience with his charm and good humor. Team Trump is quickly shedding the so-called "adults" who have been trying to made Donald Trump more like a "normal" president. Somehow, I don't think "let Trump be Trump" is going to work out so well.