Gaza Truce Ends As Hamas Refuses To Extend Humanitarian Ceasefire
Well, it was nice while it lasted.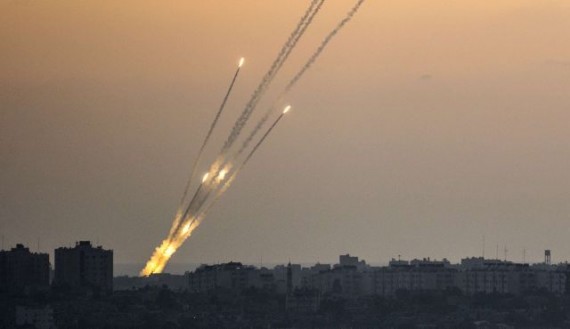 The three day ceasefire that had brought some measure of peace to Gaza ended earlier today when Hamas forces refused to agree to an extension of the cease fire and resumed firing into Israel:
JERUSALEM — As a 72-hour truce in Gaza expired at 8 a.m. Friday, Palestinian militants fired barrages of rockets into Israel and the Israeli military responded with airstrikes, one of which killed a 10-year-old boy, according to relatives.

The renewed hostilities interrupted the indirect talks in Cairo, brokered by Egypt and backed by the United States, for a more durable cease-fire agreement. While the rocket fire signaled Hamas's refusal to extend the temporary lull and its desire to apply pressure for its demands to be met at the talks, the Israeli government said in a statement that "Israel will not hold negotiations under fire."

Israel had said it was willing to extend the truce unconditionally, but the Cairo talks, which began on Wednesday, appeared to have yielded few results.

After three days of quiet, the Israeli military said, at least 33 rockets and mortars were fired into southern Israel between 8 a.m. and 1 p.m. Some were intercepted by Israel's missile defense system, while others fell in open ground and a few landed short in the Gaza Strip. An Israeli civilian and a soldier were injured in one of the attacks, according to the military, and a building was damaged. The Israeli military also reported two launchings of rockets or mortar shells from Gaza before dawn.

In Gaza, Ibrahim Dawawsa, 10, was killed in a strike from an Israeli drone as he played in the yard of a mosque in the Sheik Radwan neighborhood of Gaza City, according to his brother, Zuheir, 19.

Sami Abu Zuhri, a spokesman for Hamas, wrote in an Internet posting on Friday morning that it did not accept an extension of the lull, adding, "We will continue negotiations." Islamic Jihad, a militant Palestinian faction that has taken part in the fighting alongside Hamas and is represented at the talks in Cairo, took responsibility for firing rockets.

Lt. Col. Peter Lerner, a spokesman for the Israeli military, said in a statement: "The renewed rocket attacks by terrorists at Israel are unacceptable, intolerable and shortsighted. Hamas's bad decision to breach the cease-fire will be pursued by the I.D.F. We will continue to strike Hamas, its infrastructure, its operatives and restore security for the State of Israel."

The Israeli government statement said that Israel had informed the Egyptians that it was ready to extend the cease-fire by another 72 hours before the rocket fire resumed. "Israel will continue to act by all means to defend its citizens, while making an effort not to harm civilians in Gaza," it said. "Hamas, which violated the cease-fire, is responsible for the harm to Gaza's citizens."

Just at 8 a.m., as television correspondents stood on the beachside road in Gaza City to do their live reports, the first rocket marking the end of the cease-fire was launched. The signature white plume of the Israeli interception was visible in the air for miles. A few more booms were heard in the next 15 minutes, but they hardly disrupted the trickle of donkey carts on the street.

(…)

The 72-hour truce came after 29 days of fierce fighting that left more than 1,800 Palestinians dead, many of them civilians. On the Israeli side, 64 soldiers and three civilians were killed. Israel said its military campaign, which began July 8 with an aerial assault and led to a ground invasion, was aimed at quelling rocket fire and destroying Hamas's network of tunnels leading into Israeli territory. Israel withdrew its ground troops from the Gaza Strip but left them on alert along the border and kept its air force on standby.

Hamas is demanding a lifting of the blockade on Gaza imposed by Israel and Egypt and an opening of all the border crossings to allow the free movement of people and goods in and out of the Palestinian coastal territory. Israel is demanding measures to prevent Hamas from rearming and, eventually, the demilitarization of Gaza.
What happens at this point is, of course, entirely on Hamas's head. They had the opportunity to continue a humanitarian ceasefire that had held for three consecutive days, longer than any previous ceasefire in this conflict, and instead they chose to launch rockets in to Israel yet again. Given that, it is hard to see why Israel would even bother to agree to another ceasefire at this point since it seems clear that all Hamas used this period for was as an opportunity to regroup its forces for further attacks. All of this despite the fact that Israel has fully withdrawn its forces from Gaza after having destroyed as many of the tunnels that were clearly designed to be conduits for future attacks as they could find.
As for the negotiations in Cairo, it seems fairly clear that Hamas is going to offer something other than a mere cessetion in the current hostilities if it really does want the blockade that has been in force against Gaza for years now lifted. Specifically, it's worth noting that the primary reason that this blockade was put in place was because Hamas had been crossing the border between Gaza and Israel to conduct suicide bombings against Israel. Similarly, it was using the border with Egypt to smuggle in military equipment and supplies that it was then using against Israel. This is why Israel and Egypt have both imposed their own blockades against the region that require all traffic and commerce to go through approved and manned checkpoints. Under the circumstances, it's an entirely understandable and rational response to the threat the Hamas poses. If they want the blockade lifted, then they are going to have to provide some assurance that Gaza is not going to once again becoming a launching point for terrorist attacks against Israel. Barring that, Israel's demand that the Gaza Strip be demilitarized would seem to be the only reasonable outcome. After all, if Hamas cares about the people of Gaza like they claim to then they don't need to turn the place into an armed camp do they?